Dean Foods (NYSE:DF) is up 14% today. The company announced spinoff details of their WhiteWave Foods Company (NYSE:WWAV). Healthy food equities have been strong performers. Consumers are buying healthier foods to provide nutritional benefits. The products are benefiting by society's desire to reduce obesity and reduce salt intake. The spinoff will create shareholder value. I will highlight the spinoff benefits to current Dean Foods investors.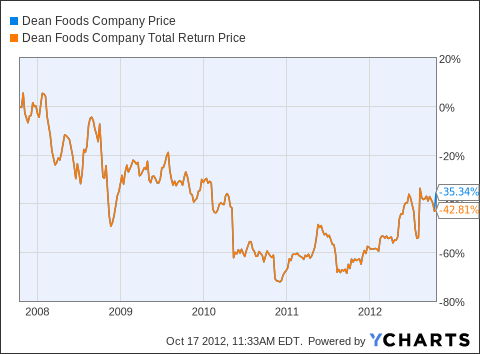 Dean Foods Today
Dean Foods is a leading producer of dairy products and foods in the US, and of plant based foods in Europe. Dean Foods has three divisions: 1) Fresh Dairy Direct, 2) WhiteWave-Alpro, and 3) Morningstar Foods.
In addition to its three main business segments, Dean Foods holds a 25% stake in the Consolidated Container Company which is a leading US producer of plastic bottles and containers, many of which are used by Dean Foods.
Businesses
Fresh Dairy Direct is amongst the largest milk processors and distributors in the US with over 50 popular brands. This segment also distributes bottled water, cultured products, ice cream, juices and teas as branded and private label dairy products. This business has 77 manufacturing facilities in 33 states across the US. Its biggest customers are retailers, food service outlets, and food distributors. To service its clients, Fresh Dairy Direct deploys roughly 13,000 trucks, tractors and trailers to deliver its products to over 150,000 locations.
Fresh Dairy Direct's business strategy includes increasing sales volumes by acquiring new customers, maximizing profits by managing highly volatile commodity costs that go into making its products and aligning its staff and operations to enhance productivity.
WhiteWave-Alpro focuses on dairy, soy milk, almond milk, creamers and other beverages and foods, with a stable of well-known brands that include Silk (most synonymous with soy products but also known for its almond milk), Horizon Organic, Land O'Lakes and its International Delight range of coffee creamers. Alpro is a leader in the European market for soy beverage and food products under the Provamel and Alpro brands. The company has five manufacturing facilities in the US under the WhiteWave brand and four soy-based manufacturing facilities in Europe under the Alpro brand. WhiteWave-Alpro prides itself on being socially and environmentally responsible with business practices that promote the use of sustainable energy.
WhiteWave-Alpro's business strategy includes maintaining its leadership in plant based foods by extending its portfolio beyond almond and soy to coconut and hazelnut beverages, maintaining innovations in its existing soy and almond lines, expanding its sales footprint through national and domestic alliances, centralizing production to increase efficiency and rein in costs and ensuring sustainable, socially responsible organizational operations and growth.
Morningstar Foods produces and distributes items such as blended ice-beverages, coffee creamers, ice cream mixes, cultured dairy products (sour cream, cottage cheese), whipped toppings and milks - to food service companies and major retailers. The company has 11 manufacturing facilities in the US. Its largest customers are retailers and grocery stores, and restaurants.
Morningstar Foods' business strategy includes expanding its distribution channels, promoting branded and private-labeled products to encourage customer adoption, enhancing productivity and manufacturing efficiency, and developing and commercializing new products that address its market niche.
Revenue by Segment
Financially, in calendar 2011, Dean Foods had consolidated revenues of $13.1 billion, operating income of $464 million and earnings per share of $0.77.
With $9.6 billion in sales and $349 million in operating profits, Fresh Dairy Direct was the biggest contributor to revenue, followed by WhiteWave-Alpro contributing $2.1 billion to revenue and $206 million to earnings. Morningstar Foods' revenues were $1.3 billion in revenue and earnings were $95 million.
Revenues were up 8.9% for WhiteWave-Alpro, up 10.9% for Morningstar and up 7% for Fresh Dairy Direct. Operating margins were 9.8% for WhiteWave-Alpro, 7.3% for Morningstar and 3.6% for Fresh Dairy Direct.
WhiteWave-Alpro was the only division that experienced volume increases and favorable pricing and product mix changes.
The company has seen revenues grow steadily from $11.7 billion in 2007 to $13 billion in 2011. Operating income too kept pace with revenue increases from 2007 to 2009. However, reorganization and facility closing costs, and a major goodwill impairment charge in 2011 caused losses - with a net loss of $1.58 billion in 2011 relative to profits of $240.3 million in 2009 and $91.5 million in 2010.
Business Climate
Dean Foods has seen margins erode as a result of a weaker global economy, lower consumer spending, declining sales volumes, higher milk and commodity input prices and increased competition and related price pressure.
WhiteWave-Alpro Spinoff
On August 7, 2012, Dean Foods announced the filing of shelf-registration with the SEC for the initial public offering (NYSEARCA:IPO) of its WhiteWave-Alpro division - the maker of Silk, Horizon Organic, Land O'Lakes, Alpro and International Delight products - which will now become The WhiteWave Foods Company.
This organic milk and plant-based foods pure-play is expected to grow much more significantly standalone, with continued innovations such as the addition of almond milk which is rapidly winning market share.
The IPO will offer 20% of WhiteWave shares to the public while Dean Foods will own the other 80%, which it will distribute to shareholders, tax free, after a 180-days lock-in period.
Gregg Engles will resign as Dean Food's current chairman and CEO, a position he's held for 18 years, and move to WhiteWave as its first CEO. He will continue to remain chairman of Dean Foods. Gregg Tanner will replace Mr. Engles as CEO of Dean Foods. Mr. Tanner is currently president of the Fresh Dairy Direct business, has over 30 years experience in the foods business and has helped restore revenue growth at Fresh Dairy Direct.
Spinoff Rationale: The WhiteWave-Alpro division has leading brands that continue to grow in volume and market share. Its focus on healthy soy, almond and organic categories, innovative products such as International Delight and stable of Land O'Lakes products, have higher revenue growth and better operating margins than its traditional dairy and food distribution businesses - Fresh Dairy Direct and Morningstar Foods.
Silk, Horizon Organic and Alpro have leading market share (#1) in their various categories. Silk completely dominates the soy milk category with 75% market share in the US. WhiteWave-Alpro continues to experience solid growth with sales up 13.5% in the first half of 2012 to $1.1 billion and profits up 21% to $58 million, with gains in North America and Europe.
In the most recent quarter, WhiteWave-Alpro contributed 18% to Dean Foods' revenue but brought in 40% of operating profits.
Sales growth has been strong (nearly 20%) for WhiteWave's coffee creamers and beverages, in high single-digits for its Alpro business, and in the mid single-digits for its Horizon Organic products.
This spinoff is intended to unlock hidden value in the WhiteWave-Alpro segment which is currently weighed down by the other two businesses that face commodity and competitive pricing pressure and lower margins.
WhiteWave-Alpro has experienced solid sales growth - to $573 million in 2nd quarter 2012, up 11% over the year-ago quarter - with leading brands and increased volume.
The division has also delivered strong operating income - $58 million in 2nd quarter 2012, up 31% relative to 2nd quarter 2011.
WhiteWave-Alpro is also weighed down by the high debt load at Dean Foods, $3.55 billion as of June 30, 2012.
WhiteWave IPO Valuation and Proceeds: WhiteWave plans to offer 20% of its equity for roughly $300 million, giving it a valuation of $1.5 billion, 14 times WhiteWave-Alpro's operating income for 2011.
Money raised from the IPO will go to Dean Foods and will be used to pay down term loans. In addition, an unencumbered WhiteWave Foods plans to raise $800-$925 million from new credit facilities, at lower interest than possible at Dean Foods. This will reduce debt at Dean Foods. WhiteWave's IPO and pristine balance sheet will aid Dean Foods and significantly reduce its existing debt load.
Morningstar Sale
On September 26, 2012, Dean Foods announced plans to explore options to sell its Morningstar business. To recap, Morningstar produces and distributes items such as blended ice-beverages, coffee creamers, ice cream mixes, cultured dairy products (sour cream, cottage cheese), whipped toppings and milks - to food service companies and major retailers. The company has 11 manufacturing facilities in the US. Its largest customers are retailers and grocery stores, and restaurants.
The company plans to only sell Morningstar if it receives a fair value for the business. Proceeds from this sale will likely help Dean Foods reduce debt significantly and increase its focus on the Fresh Dairy Direct business after the spinoff of WhiteWave-Alpro.
2nd Quarter 2012 Financials
For its second quarter ended June 30, 2012, Dean Foods saw strong revenue and margin growth across all its operating segments, and saw adjusted diluted EPS double. The company also reduced debt by $196 million.
Total revenues of $3.1 billion were lower than $3.3 billion in Q2 2011 because of lower commodity costs that were passed through to customers through lower prices. Operating income was $146 million and net income was $56 million.

In addition to WhiteWave-Alpro, its Fresh Dairy Direct and Morningstar divisions also delivered solidly.
Fresh Dairy Direct saw operating income increased 41% to $125 million from $89 million in the 2nd quarter 2011 on higher sales and gross margins and lower expenses.
At Morningstar, volume growth was 10%, less than the prior two quarters. Operating income was $32 million, up 19% over 2011 based on higher volumes and operating efficiencies.
Debt is a major issue at Dean Foods and the company is focused on reducing its debt, partly through its spinoff plans also. At quarter end, Dean Foods had net debt of $3.5 billion, with $196 million paid from strong cash flows. Its leverage is now down to 3.96x EBITDA and is expected to come down significantly after the spinoff.
In the 2nd quarter 2012, Dean Foods reported consolidated adjusted operating income of $157 million, a significant increase from $114 million reported in 2011. Adjusted interest expense fell 17% to $53 million. Adjusted diluted earnings per share (EPS) were up 100% to $0.36.
Cash from operations increased by about 33% while capital expenditures decreased, significantly improving free cash flow to $143 million.
Dean Foods ended the quarter with cash and cash equivalents of $60.37 million, total assets of $5.55 billion, short-term debt of $206 million and long-term debt of $3.35 billion. Shareholders equity was -$3 million (a deficit).

Outlook
Heading into the rest of the year and 2013, Dean Foods expects strong sales growth at WhiteWave-Alpro; solid profit growth for Fresh Dairy Direct despite increasing raw milk prices with mid-teens operating income growth; and continued momentum and product innovation delivering mid-teens operating income growth at Morningstar.
At the corporate level, Dean Foods plans to reduce expenses by about $190-$195 million and deliver consolidated operating income growth in the mid-20s in percentage terms, with adjusted EPS of $1.18 to $1.28 for FY 2012.
Summary
Dean Foods has major reorganization plans underway - with its spinoff of WhiteWave-Alpro and contemplated sale of Morningstar. The company plans to use proceeds to reduce debt. The company's market capitalization of $2.77 billion appears fairly low for an industry leading franchise in Europe and America, across multiple segments. Its plans to reduce debt and focus on Fresh Dairy Direct will likely unleash significant hidden value. At current valuations, Dean Foods appears attractive and undervalued.
Investors could consider buying shares outright and/or selling puts to reduce their cost basis.
Studies have shown that spinoff and parent company shares dip immediately after and up to a year after the transaction as large mutual fund companies sell to adjust their holdings. Dean Foods is part of the S&P 500 Index (NYSEARCA:SPY), so expect more index rebalancing action. So patient investors may want to take a balanced approach and buy some shares now and acquire more after the spinoff.
Investors likely should not limit their upside through covered calls because there appears to be significant upside here. Dean Foods is a solid franchise and current share price levels likely do not reflect the company's full potential.
Disclosure: I am long DF. I wrote this article myself, and it expresses my own opinions. I am not receiving compensation for it (other than from Seeking Alpha). I have no business relationship with any company whose stock is mentioned in this article.