What is a great stock to you? Everyone has differing definitions of this, but mine is good value, good growth and fundamentals, desirable chart (I'll elaborate further later) and of course, a strong balance sheet. One stock that satisfies all of these conditions is Jos. A Bank Clothiers (NASDAQ:JOSB), an apparel store. With 562 stores in 44 different states, Jos. A Bank Clothiers sells all kinds of apparel for men. It also operates through its website.
A snapshot of the company:
Price (16.10.2012)

$49.86

Market Cap

1.37B

Income (2011)

97.12M (P/E: 14.37)
(Forward P/E: 11.79)

Sales (2011)

1.02B (P/S: 1.37)

Book Value Per Share

$22.35 (P/B: 2.22)

EPS Growth Past 5 Years

17.29%

ROE

16.90%

Current Ratio (Assets/Liabilities)

4.65

Debt

$0.00
There are many evident merits that is evident from the snapshot above, ranging from the fact that it has no debt to its steady growth over the past 5 years.
1. Good Value
Jos. A Bank Clothiers is trading at a P/E of 14.4 and a forward P/E of 11.8. These numbers may be slightly high compared to its average of around 12X earnings, but is still lower than some of its competitors, like Abercrombie & Fitch (NYSE:ANF) or ANN Inc. (NYSE:ANN). Its P/B of 2.2 is also low compared to ANN Inc.'s 4.8, Urban Outfitters' (NASDAQ:URBN) 4.6 and Ross Stores' (NASDAQ:ROST) 8.4.
Although there are companies like Men's Wearhouse (MW) which are deemed cheaper than Jos. A Bank in terms of the ratios, they are not as fundamentally strong as Jos. A Bank's.
2. Good Growth and Fundamentals
As seen from the above snapshot, the company has grown at a rate of 17.3% over the past 5 years and is expected to grow at 15% over the next 5 years. Furthermore, it has never experienced an EPS decrease over the past 10 years, as seen from the below chart. (Although analysts are expecting its EPS to fall to $3.49 for 2012 before increasing again).
| | |
| --- | --- |
| EPS 2002 | $0.51 |
| EPS 2003 | $0.72 |
| EPS 2004 | $0.98 |
| EPS 2005 | $1.38 |
| EPS 2006 | $1.60 |
| EPS 2007 | $1.85 |
| EPS 2008 | $2.14 |
| EPS 2009 | $2.59 |
| EPS 2010 | $3.11 |
| EPS 2011 | $3.51 |
Its growth is not the only one that impresses, the many fundamental indicators also indicate that the company is in a good financial condition which is sustainable.
Firstly, it has zero debt and a current ratio of 4.65. Not having any debt- both short term and long term is a sign that the company has enough money to expand itself over the long term and its high current ratio, which is Assets/Liabilities, signals that it will be able to pay off any taxes or debts (which is something it does not have).
Secondly, it has a lot of cash. With $10.46 of cash per share, it makes the stock look a lot more attractive and gives another margin of safety if it faces any short-term difficulty.
Thirdly, it has a high ROE of 16.9%. ROE is the return on shareholders' equity, which is how much they have generated using the money shareholders invested in the company. 16.9% is a number considered to be high, and shareholders can be assured that their money does not go to waste.
3. Desirable Chart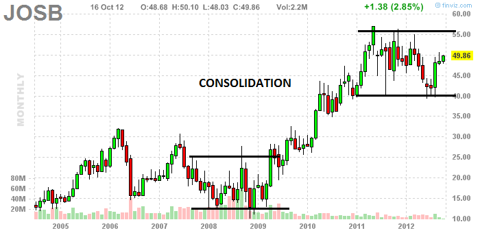 From the daily chart of the company, nothing much about desirable technicals can be seen but if one takes a look at the weekly chart, one would realize that Jos. A Bank is within some kind of a consolidation after a big run up from late-2008 to mid-2011, which is actually a run up of more than 300%, from the low teens to the mid fifties. The last time it was in a consolidation was 2008, during the recession, before the big run up of 300%.
4. A Strong Balance Sheet
Here is the link to its balance sheet, on Yahoo Finance.
If you take a look at its balance sheet, it can be seen that its Cash and Cash Equivalents have been rising steadily, from 21.85M for the year ending Jan 29, 2010 to 87.23M for the year ending Jan 27, 2012.
Besides this, its total assets have increased from 556.36M for the year ending Jan 29, 2010 to its present amount of 813.61M, having grown 46.24% over the past 3 years. Although its liabilities have also increased, it has increased at a slower rate of 39%, from 163.05M to 228.68M over 3 years.
It also does not have preferred stock, which is very good for the company- it does need to pay extra special dividends which would only drain its cash hoard faster. A company which has preferred stock also shows how cash-strapped it is, to have to borrow money from its shareholders, technically, for higher interests (special dividends, etc.).
The Bad Points
Every good company, regardless of how perfect it seems, has some flaws. Jos. A Bank has some risks and flaws too.
Firstly, its days inventory, which is under the ratios section here, which is also how many days the average stock in their inventory stays there, is a very high 299 days, as of Jan 27, 2012. This might drain quite a lot of their resources, especially their cash, as they will need to pay quite a lot for the storage. This might also be a sign that sales are slowing and that their clothing may have been losing popularity with customers. Their inflating inventory is emphasized further by the fact that its accounts payable had increased from 31.5M to 66.6M in just one year, from the year ending Jan 28, 2011 to the year which ended Jan 27, 2012. Their inventory, on the quarter-over-quarter basis, has also increased 4%.
Secondly, Jos. A Bank has been diluting shares. If you take a look at the chart below, its shares outstanding had increased from 21.79M in 2002 to 27.83M today. Although the rate of dilution has been slowed in recent years, after many years of this "little by little" dilution can still be detrimental to shareholders over the long term. Remember, buying shares is not equal to buying the whole company, share dilution will mean that we own less and less of the company with the same amount of shares.
| | |
| --- | --- |
| Shares Outstanding 2002 | 21.79M |
| Shares Outstanding 2003 | 24.63M |
| Shares Outstanding 2004 | 25.12M |
| Shares Outstanding 2005 | 25.72M |
| Shares Outstanding 2006 | 27.02M |
| Shares Outstanding 2007 | 27.27M |
| Shares Outstanding 2008 | 27.38M |
| Shares Outstanding 2009 | 27.44M |
| Shares Outstanding 2010 | 27.63M |
| Shares Outstanding 2011 | 27.83M |
Although there are some flaws in some areas, but the company, as seen previously, has overall a good balance sheet, good value, good growth and fundamentals and a good chart. I believe that all these merits, especially with its steady growth and strong fundamentals, can make up for these blunders.
Entry Of Position
Courtesy of bigcharts.com
Now it is decided that the stock is worth the buy, here are some calculations. With its company on its way to achieving its $3.49 estimate, we shall use that as a starting number for estimates instead of the 2011 number. Our aim is to achieve a 15% year over year gain for Jos. A Bank Clothiers.
We will use a more conservative 13% growth in EPS for calculations compared to its expected 15% growth. (Its 2013 EPS estimate of $4.23 is obtained from here.)
| | |
| --- | --- |
| EPS 2013 (est.) | $4.23 |
| EPS 2014 (est.) | $4.78 |
| EPS 2015 (est.) | $5.40 |
| EPS 2016 (est.) | $6.10 |
| EPS 2017 (est.) | $6.90 |
Its EPS in 2017 will be $6.90 after calculations. Using its average P/E of 12.38, it will be at $85.42 in 2017, a 74% increase from today's prices. But, its price will have to be $42.47 to satisfy our 15% growth rate over 5 years, which is 13.7% lower from today's prices.
One can choose to wait for Jos. A Bank to return to that price before buying (which is not impossible, considering that its 52-week low is $39.54), or buy at any price between $42.47 and today's price. Here is a list of buy points to consider:
| | |
| --- | --- |
| 0% Higher | $42.27 |
| 5% Higher | $44.59 |
| 10% Higher | $46.72 |
| 15% Higher | $48.84 |
| Price Now | $49.86 |
(Eg. Buy 100 at $48.84, buy 100 at $46.72, 100 at $44.59, adjust accordingly.)
Overall, I believe that Jos. A Bank is a quality company with a quality price. Although it may be slightly overvalued to some, its long term growth prospects and strong fundamentals make up for its flaws in terms of value and inventory.
Disclosure: I have no positions in any stocks mentioned, but may initiate a long position in JOSB over the next 72 hours. I wrote this article myself, and it expresses my own opinions. I am not receiving compensation for it (other than from Seeking Alpha). I have no business relationship with any company whose stock is mentioned in this article.