I have not been the first nor will I be the last to point out the troubles of Big Pharma; however, how can you as an investor take advantage of the weak sub-sector and transfer your investments to another attractive area of Healthcare that will be reaping the benefits? In this article, I will point an attractive industry that will be benefiting from what I like to call the "Big Pharma Effect".
What's happening in Big Pharma?
The patent expirations are building up and margins are getting squeezed. We'll take a closer look at exactly what is coming off of patent. The following chart details the top twenty branded U.S. drugs from May 2008. 
click to enlarge images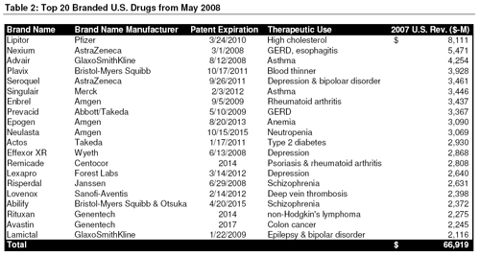 Graph from IMS, FDA Orange Book, and Company Filings and Jefferies & Company, Inc.
Looking at the graph, you will notice that many common household branded drugs will expire and the generics are rushing in to gain exclusivity. Pfizer (NYSE:PFE) [19.08, (0.00%)] has been brought up recently in the courts as they attempt to block other companies releasing the generic version of Lipitor, the world's most-prescribed cholesterol-lowering medicine. Pfizer reached a settlement with Ranbaxy Laboratories in June over some patent disputes, and has allowed the Indian based company to launch a generic version of Lipitor on November 30, 2011. Ranbaxy was the first generic company to challenge Lipitor's patent; therefore, Ranbaxy holds the rights to 180 days of marketing exclusivity in the United States.
The next graph I would like to point out shows the volume of top 20 patent expirations through 2015.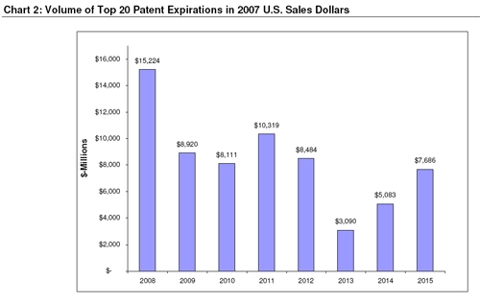 Graph from IMS, FDA Orange Book, and Company Filings and Jefferies & Company, Inc.
As you can see, 2008 encompasses 22.75% of the top 20 patent expirations through 2015 according to 2007 sales, and slightly over 75% through 2012. With revenues depleting signicantly, how can Big Pharma maximize their R&D and SG&A expenses without having it cut into the bottom line too much? Are these mega-cap companies prepared to take a hit in earnings and are they fullfilling their due diligence to their investors? I would not hesitate much to answer with "NO".
We have seen many large companies start to make cuts in their employees, but more is needed.
An effective way to minimize costs and maximize efficiency is to outsource. Well, finally, here we arrive at CROs. You are probably thinking "what is a CRO?" They are not in the news very often; however, if you take a look at the stock appreciation in the last couple years of many of the large players, you will want to read further. 
A CRO, or Contract Research Organization, is an organization that offers clients a wide range of pharmaceutical research services, including product development and formulation, clinical trial management (preclinical through phase IV), central laboratory services for processing trial samples, data management services for preparation of an FDA New Drug Application [NDA] or an Abbreviated New Drug Application [ANDA], and many other complementary services.
Basically, Pharma companies outsource clinical trials to these CROs in order to reduce costs, and since the FDA has come down hard on companies like Merck (NYSE:MRK) and Schering Plough (SGP) in recent months, Big Pharma want to make sure the most complex, comprehensive, and efficient tests are run to pass the drug onto consumers and not be struck with FDA infringements.
Who are some of the big players?
First, let's break it down my market cap.
Since CROs provide many services, the group can easily be broken down into what area of work they specialize in. We will have a closer look now at Covance and Icon, two of my favorites.
According to Jefferies & Company, as a percentage of 2007 revenue:
Covance does 29% Preclinical, 6% Phase I, 32% Phase IIA/Phase III, 8% Phase IIIb/IV, 28% Central Lab, and 7% Bioanalytical
Icon does 5% Phase I/Phase IIA, 60% Phase IIB/Phase III, 20% Phase IIIb/IV, and 10% Central Lab
Varying from firm to firm, each company has its niche where it prefers to specialize. Covance is heavily involved in early stage testing through Phase II while Icon focuses primarily on Phase II through Phase IV.
The CROs may look expensive when looking on a multiple basis; however, take into account the future expected revenue that will be coming in due to the Big Pharma Effect.
Disclosure: The author does not hold any positions in the stocks mentioned above.