As we've seen in recent months, the stock market can be a tough place to play. Sooner or later, every sector, every country, and every region takes its lumps. That's been obvious in 2008.
Among the wide range of mutual-fund categories tracked by Morningstar, no domestic or international stock categories are in the black for 2008. The S&P 500, the Dow Jones Industrial, and the NASDAQ Composite are all off between 10% and 14%, while the MSCI EAFE (Europe, Australia, and Far East) is down 20.7% year to date and nearly 17% in the last three months (through Aug. 22).
ProShares Short MSCI EAFE ETF (NYSEARCA:EFZ), which promises the inverse of the well-known global index, has delivered on its promise, posting a year-to-date gain of 22% and a three-month jump of 20.45%, both among the top 20% in Morningstar's Bear Market category. To explain how EFZ works, let's start at the beginning of a trend that's developed over less than two years in the ETF space.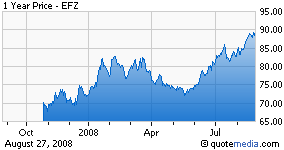 Savvy investors build diversified portfolios capable of riding out the market's short-term swoons and capturing longer-term gains. When markets tank, SmartMoney columnist Rob Wherry recently wrote, "most long-term investors chalk up these wild rides to ... the business cycle." But, he said, "a growing number aren't content to sit back and watch their account balances shrink."
For them, fund and ETF companies have been rapidly introducing bear market funds and now, "short" or "inverse" ETFs, including EFZ. (ProShares now offers about 40 such funds, including "ultrashort" funds that promise to double the inverse of an index, as well as more than two dozen "ultralong" funds that aim to double an index's performance.) The Bear Market category carries an average year-to-date return of 6.91%, despite—or thanks to—the year's difficult environment.
For years, short selling has been largely a strategy for high-end investors—through hedge-fund or separate-account management—and sophisticated advisors. Now, thanks to ProShares, these strategies are available to everyone.
First introduced in 2006, these ProShares short ETFs are designed to go up when their indexes that underlie the benchmarks go down (and vice versa). The goal? An investment vehicle that comes with all the ease and low expenses of ETFs—EFZ charges a management fee of 0.75% and a gross expense ratio of 1.22%, according to ProShares—and that can be used by savvy investors to seek profit in a market downturn or to hedge an investment.
The underlying index aims to include 85% of the free float-adjusted market cap for each major industry group in developed markets, excluding the U.S. and Canada.
Launched on Oct. 23, 2007, EFZ uses derivative contracts called swaps to get the inverse return of the MSCI EAFE (NYSEARCA:EFA). Essentially, swaps are contractual agreements for an exchange of returns between two financial institutions. So, to bet against the index, the fund enters a swap agreement with a counterparty—usually an investment bank or hedge fund—that agrees to pay it 1% for every 1% the MSCI EAFE falls. On the flip side, the money manager would pay 1% for every 1% rise.
Such swaps made up the overwhelming majority of assets in the EFZ portfolio, according to proshares.com, but the fund could use any number of complicated derivative instruments, such as exchange-listed futures, options on futures contracts, forward agreements, and listed options on individual securities. Assets not currently invested in derivatives or securities are frequently invested in short-term debt and/or money market instruments.
Few investors know a lot about such vehicles, but given current market conditions, these inverse funds have enjoyed increasing popularity. In June, ProShares celebrated its second birthday with an announcement that assets have grown to $20 billion. (Recently, EFZ held about $26 million.)
ETFs such as EFZ, paired with long-oriented strategies, can enhance returns by lowering the portfolio's correlation with broader markets. Done correctly, such a strategy can reduce the overall risk of the portfolio and deliver higher risk-adjusted returns.
Judging by the last bear market, many of these funds will continue to shine while much else suffers. During the 2001-2002 downturn, the typical bear fund rose 20%, while diversified stock funds fell almost 16%, according to Morningstar.
The downside is risk. The majority of bear funds tend to hibernate during bull markets: The category suffered an average loss of 7.7% annually over the last five years, according to Morningstar—and some losses have been potentially devastating.
Used correctly, especially in times such as these, EFZ and its inverse mates can help your portfolio, but it's important to remember the risk. David Kathman, a Morningstar mutual fund analyst, recommends taking no more than a 5% stake in bear funds.
Kathman says that buying an inverse ETF now is "essentially betting that the market will continue to go down." These days, that's exactly what many investors believe. But Kathman also says that using these ETFs as market-timing devices is "extremely risky" and has "burned many investors in the past." EFZ and its ilk have a role in a portfolio, but most investors should remember the risk involved and keep their allocation small.