Global X FTSE Greece 20 ETF (NYSEARCA:GREK) has vaulted 50% in three months to lead all unleveraged ETFs, despite lingering worries that the financially troubled country may default on its debt or exit the eurozone. Few investors would've predicted the Greek ETF to be the best-performing ETF in the past three months.
Greece has dealt with riots, austerity measures and concerns over the long-term health of the economy, but the stock market has been able to weather the storm. Pledges from the European Central Bank to keep the euro intact have also fueled the rally.
"It is truly sad that Greece should be one of the wealthiest nations in all of Europe but instead the country is going through the worst economic depression that it has experienced in modern history. It is kind of like a homeless man that sleeps on the streets every night without realizing that a relative has left him an inheritance worth millions of dollars. Greece is not poor at all, and hopefully the people of Greece can learn the truth about all of this wealth and chart a course out of this current mess," Michael Snyder wrote for ETF Daily News.
GREK's rally is a sign that investors are more optimistic that the country will not default or leave the eurozone. This is also evidenced in the yield of a 10-year government bond in Greece, which has fallen to its lowest level of the year. Overall, investor appetite for Greek debt has improved, raising hopes that the country will be given the breathing space it needs to stay in the euro, reports Stelios Bouras for The WSJ.
The yield on the bond maturing in 2023 -- the closest Greece has to a 10-year benchmark -- fell by roughly two-thirds of a percentage point to 17.2%, according to Tradeweb.
GREK has about $27 million in assets, and has top exposure to the financial sector. A top holding in GREK, Coca-Cola Hellenic Bottling Company, will be leaving the country due to the risk-off sentiment in the Greek market. The stock accounts for 16% of GREK, and when the firm leaves the ETF, there will not be any exposure to the consumer discretionary sector.
The Greek government faces many challenges, such as unpopular labor measures, an unemployment rate of 24%, and an economic contraction of 6.6% in 2012.
Global X FTSE Greece 20 ETF
(click image to enlarge)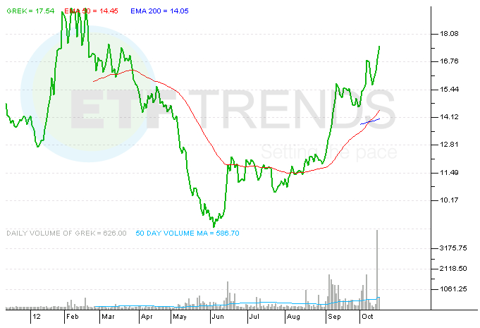 Tisha Guerrero contributed to this article.
Disclosure: I have no positions in any stocks mentioned, and no plans to initiate any positions within the next 72 hours. I wrote this article myself, and it expresses my own opinions. I am not receiving compensation for it. I have no business relationship with any company whose stock is mentioned in this article.