Alcatel-Lucent (ALU) reported today that its Chinese arm, Alcatel-Lucent Shanghai Bell, has been awarded another sizable contract from the world's largest mobile telecommunications company, China Mobile (NYSE:CHL). This time around, China Mobile has tapped the struggling century-old French company to assist in the creation of its new TD-LTE trial network. The new contract calls for the Alcatel-Lucent subsidiary to deliver about 3,000 base stations in the cities of Shanghai, Nanjing and Qingdao, which have a combined population in excess of 30 million.
ALU 2 Year Chart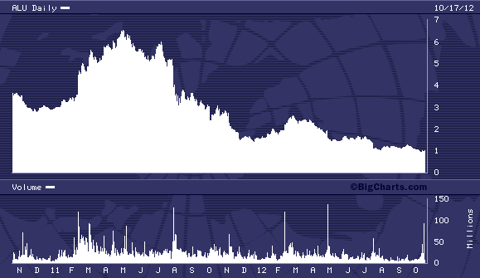 Alcatel-Lucent's CEO, Ben Verwaayen, from the press release:
It is our honor to be selected by China Mobile for the world's largest TD-LTE network. With our industry leading LTE solutions and expertise in deploying LTE networks worldwide, we will help China Mobile dramatically reduce technical complexity, power consumption and operating costs in the face of sharp traffic growth.
Alcatel-Lucent recently reported having $6.29B in debt on its books to go along with -$103.58M in operating cash flow. While the Chinese market might seem a great place for the debt saddled company to continue to expand its global footprint, Alcatel-Lucent has simply spread itself far to thin to truly benefit from this new contract in any meaningful way. The company has not been able to negotiate any of its deals from a position of strength for quite some time and, though the financial terms of this new contract have yet to be disclosed, I believe it is safe to assume that China Mobile has again exploited the company's current weaknesses, forcing it to take a deal that will yield little in the way of profit margin, while its nimbler and more aggressive competitors with superior cost structures, such as Ericsson (NASDAQ:ERIC), continue to land the more lucrative contracts and gain greater market share.
With smart phone usage having tripled last year and mobile traffic having more than doubled, you would think Alcatel-Lucent would be well positioned, today, to truly capitalize on the rapidly growing market with its small cell technology and begin a path toward regaining some semblance of its former stature and prosperity. Unfortunately, it isn't. The company, having shed roughly 80% of its market cap over the last 18 months, simply wasn't proactive when it needed to be and only recently announced $1.6B in cost cutting measures as it stages an 11th-hour effort to become a leaner and more maneuverable, lower-cost entity in a developing and highly competitive market. The reality here is that as Alcatel-Lucent attempts to cut its oppressive weight, its competition is building lean muscle mass and there just aren't enough Chinese telecoms to keep the company in the contest.
Disclosure: I have no positions in any stocks mentioned, and no plans to initiate any positions within the next 72 hours. I wrote this article myself, and it expresses my own opinions. I am not receiving compensation for it (other than from Seeking Alpha). I have no business relationship with any company whose stock is mentioned in this article.