Level 3 Communications (NASDAQ:LVLT) has been attempting to grow through acquisitions over the years. Beginning with the late-2005 acquisition of WilTel, Level 3 has established itself as an industry consolidator. During 2006, the company went on to acquire Progress Telecom, ICG, TelCove and Looking Glass Networks. In 2007, Level 3 acquired Broadwing, the Content Delivery Network services business of SAVVIS, Inc. and Servecast but the crown jewel is there latest acquisition of Global Crossing. Many believe the GLBC acquisition could be the catalyst LVLT has been looking for to kick-start growth, returning it to valuations of past.
Digging through SEC filings, LVLT press releases and/or financial sites one can plot top line growth along with other metrics. The graph below represents a visual for growth highlighting both revenue and EBITDA.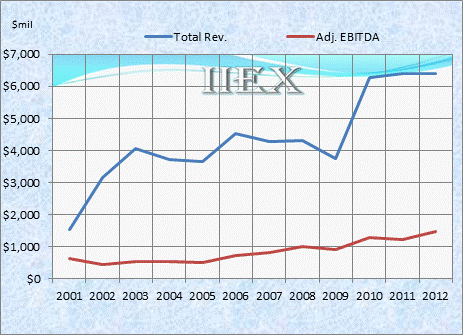 2012 numbers are projected based on guidance combined with actual results to date. 2010 and 2011 reflect pro-forma numbers for Global Crossing.
The above graph looks upbeat, showing an upward trend. Management reinforced this view with the following guidance from the Q2 press release:
We are reiterating the guidance we provided earlier this year," said Patel. "We expect to see CNS growth performance improve in the second half of 2012 given the strong CNS sales we saw in the second quarter, and we remain confident in our expectations for 20 to 25 percent Adjusted EBITDA growth for the full year 2012 from the starting point of $1.216 billion of pro forma Adjusted EBITDA for 2011.
True but looks can be deceiving. The graph is distorted due to a problem LVLT has yet to get under control; dilution. A better measure of performance would be on a per share basis. The picture starts to look much different, as shown below: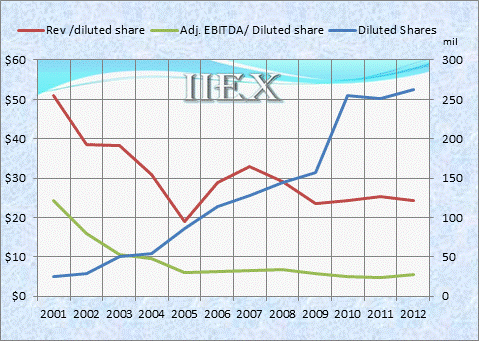 This graph indicates smaller growth over time due to soaring dilution. Revenue per share has yet to gain any traction and may trend down in 2012. EBITDA per share has started to trend up but at a slower rate than the guidance given above. The only question is will both these trends continue to lag the overall guidance due to continued dilution or will management slow the rate of dilution going forward. It appears that post acquisition of Global Crossing dilution has resumed its march upward in 2012.
Unless management can grow the top line at a much faster pace than dilution the share price will remain under pressure. Presently management's goal is to attain a 2% sequential growth rate per quarter, something they have yet to achieve on a sustainable basis. Last quarter the core network service revenue grew at 0.3% and overall revenue was 0%. The overall numbers may look good in a graph but dilution and low growth strips any shareholder value gained from the overall growth.
Conclusion:
In most cases it may be adequate measuring revenue and other metrics as reported in the income statement but it is important to check the history on dilution. The following is a partial list of what to look for in the SEC filings:
conversion or exercise of outstanding convertible notes
stock options
stock based compensation awards
outperform stock options
restricted stock units
warrants
Dig down into LVLT's 10-Q for the period ending June and the above adds an additional 41 million shares; no small number.
If LVLT can start to bend the dilution curve toward the horizontal and meet their 2% quarterly growth target shareholders will finally start to realize value from today's levels. "If" is the key word here. LVLT will release its third quarter 2012 results on Wednesday, Oct. 24, and will host a conference call at 10:30 a.m. ET.
The raw data used in this article can be found here.
Disclosure: I am long LVLT. I wrote this article myself, and it expresses my own opinions. I am not receiving compensation for it (other than from Seeking Alpha). I have no business relationship with any company whose stock is mentioned in this article.