It's amazing what the right type of leadership (our country could take note) does for a company. After being a long-lost laggard, the focus on business execution over science continues to benefit  Energy Conversion Devices (NASDAQ:ENER). Another very good earnings report, and while the stock valuation is in the stratosphere we don't worry about things like that any more - when companies trading at 10x PE for 100% growth are ignored, yet companies at 80x PE are run up, all that matters are charts. And ENER's has been fantastic for many months. We do, however, want to see a break over that mid June high of $82.50 - otherwise we could be forming quite the "double top"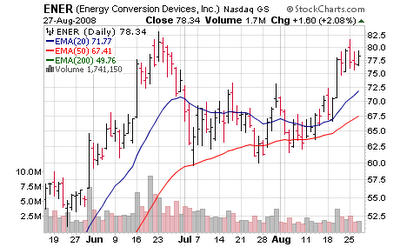 Back to the earnings report
Total consolidated revenues for the quarter were $82.4 million, up 18 percent from third quarter revenues of $70.0 million, and 129 percent higher than fourth quarter fiscal 2007 revenues of $36.0 million. Solar product sales were $77 million, a 19 percent sequential increase and a 161 percent increase over the prior-year quarter.
Net income for the fourth quarter was $9.9 million, or $0.24 per share, compared to net income of $7.0 million, or $0.17 per share, in the third quarter of fiscal 2008, and a net loss of $13.1 million, or $0.33 per share, in the year-ago period.
Gross margin on product sales in the solar business was 33.5 percent in the fourth quarter, compared with 30.7 percent in the third quarter.
United Solar Ovonic produced 26.2 MWs in the fourth quarter and 73.6 MWs for the fiscal year.
As of June 30, 2008, the solar product sales pipeline was $1.8 billion, as compared to $1.2 billion at the end of the fiscal third quarter.
SG&A as a percent of revenue in the fourth quarter declined to 16.9 percent from 30.8 percent a year ago (nice)
So gross margins up nearly 3% in just 1 quarter; solar continues to dominate their revenue stream, and backlog is booming. Analysts were in for $77M and $0.16 EPS so they beat nicely.
Guidance for Q1 09 and full year 09
Total consolidated revenues are expected to be between $95 and $98 million for the fiscal first quarter ending September 30, 2008, and between $455 and $485 million for fiscal 2009. Solar product sales for the first quarter are expected to be $89 to $91 million and $430 to $450 million for fiscal 2009. For the first quarter, gross margin is expected to be about 31 percent, and between 33 and 35 percent for the second half of the fiscal year. Restructuring costs are expected to be between $1.7 and $2.0 million for the first quarter and $2.5 to $3.0 million for fiscal 2009. Preproduction costs are expected to be between $1.5 and $1.9 million for the first quarter and between $7.0 and $9.0 million for fiscal 2009.
I am going to sell some into this rally as it has been a nice run and I anticipate some pullback; valuation is also extreme. As I continue to say, these solars have had a huge run and by this week I'd be looking for sell the news reactions. But I continue to like this company and the analysts love the fact there is no polysilicion exposure. We'll look to add on pullbacks. I'm taking it down to a
0.4%
exposure, from 1.5%, as it hits the $82 level.
I continue to sell rallies as we ping pong back and forth in a tight range in this market. After a big drop Monday, we now have spent 3 days making up the entire loss and we're right back where we started the week. Churn.