Stocks To Trade
Today, we are looking at an earnings trade in Trinity Industries (NYSE:TRN), longs in Baidu (NASDAQ:BIDU) and Urban Outfitters (NASDAQ:URBN), and shorts in Vivus (NASDAQ:VVUS) and Intel (NASDAQ:INTC).
For an earnings trade, we are looking at Trinity Industries. Trinity was one of our top five picks for earnings season. We believe the company's exposure to the railroad industry is a plus, and expect it to have a solid report this season. First off, TRN is expected to announce a 90% increase in EPS YOY, coupled with 26% growth in revenue. That type of growth is abnormal and should be reflected in the share price, but it's not. The company is trading at a future PE of 9, and we believe the stock is ready to get moving if it can break current resistance at 32.50. With a current TTM EPS at 2.60, adding 0.40 to it adds 15% of earnings. Either the stock needs to increase 15%, or the PE will drop below its already low level of 12. We like taking a long in TRN, as we believe it should see a nice pre- and post-earnings move.
Trade: TRN, Long
Buy Point: 32.50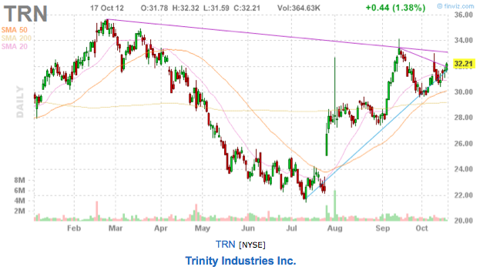 For longs, we like the looks of Baidu and Urban Outfitters. BIDU is looking spring-loaded right now for a solid move. The stock has shown a strong bottom at 105, pushed back over its 20-day MA, and looks ready for a bigger move over the 50-day MA. Tomorrow, the Chinese markets will get GDP data, industrial production, and other key information about the health of that economy. That news could be a big catalyst for BIDU, and we would expect to see the stock breakout on a good report. Look for that breakout to occur over the 50-day MA. BIDU acts as an ETF of Chinese markets. Those have been looking better as of late. If those reports are weak, BIDU will most likely suffer, and the trade idea is done.
URBN is also looking very good. What we like about URBN is its refusal to fail its 50-day MA or 36. The stock has held that line very well over the past two and a half months, since its last report gapped over that level. The company is looking at another good report potential on November 19, with 20%+ earnings growth and 10%+ revenue growth. We believe 36 is a very good line at which to build a bull put spread.
Stock Trade: Long, BIDU
Breakout Point: 50-day MA
Options Trade: URBN, Nov17, 36/34 Bull Put Spread
Max Gain: 18%
For shorts, we like the looks of Vivus and Intel. VVUS has had back-to-back weak days after a nice rally, and we worry that the stock may be topping out. VVUS rallied hard after its deal with Express Scripts last week, but it's had trouble at the 23 line. The company is several weeks away from earnings, and with the market strength we have had, we would expect VVUS to continue higher. While we see the deal as bullish for VVUS, we worry that the move was mostly a short squeeze/momo trader push, and now that it's over, traders are done. The line to watch for us is 21.50, which is the 50-day MA. If that line holds, this would be a classic bull flag, and a place to buy. If it breaks that line, as well as the 20-day MA, it could see some weakness. Keep on your radar, but just watch for now, as this stock is not performing well this week, despite ideal conditions.
INTC came out with earnings today that were so-so. While the company was able to beat expectations, it made comments that were as expected. The PC market is not strong, and does not look good for Q4, either. The issue for INTC is it has too much exposure to the PC market. Right now, we see little catalyst for the stock to move up. The company needs a bigger shift to focus on servers, tablets, phones, and televisions. The PC market may not come back for some time until fundamental consumer trends shift. For that reason, we think now is a nice time to place a bear call spread.
Stock Trade: VVUS, Short
Breakout point: Break of 21.50
Options Trade: INTC, Dec22, 23/24 Bear Call Spread
Max Gain: 15%
Tomorrow's Outlook:
The market has looked solid over the past three days, but slowed its charge today. The market did not get as good earnings data points from the likes of IBM (NYSE:IBM), Intel, and Bank of America (NYSE:BAC) as had been reported in the past several sessions. Yet that earnings weakness was combated by very strong housing data that showed a 15% increase in building permits/housing starts, pushing those to the highest level in five years. Moving forward, we will continue to see a lot of earnings movement, as well as data points that influence the market until Europe comes back into the picture. For tomorrow, the data to watch is a large slate of China data -- including GDP and Industrial Production, Philly Fed Index, and jobless claims. If claims stay low again for a second week, it could be pretty powerful. Earnings to watch tonight are American Express (NYSE:AXP) and eBay (NASDAQ:EBAY). Tomorrow, we would watch Morgan Stanley (NYSE:MS), Southwest Airlines (NYSE:LUV), and Verizon (NYSE:VZ).
Our Moves/Holdings:
We had a nice day in the market, as we were able to lock in a 1% gain in our Visa (NYSE:V) trade for 1/2. We exited our Polaris (NYSE:PII) bull call spread for a 33% gain. We exited our Travelers (NYSE:TRV) bull put spread for a 14% gain. We exited our long in BHP Billiton for a 3.7% gain. We added longs in cTrip (NASDAQ:CTRP) and Whiting (NYSE:WLL). We added a bull put spread in Urban Outfitters.
We have the following positions:
In our Short-Term Equity Portfolio we are long Visa, Ctrip.com, and Whiting Petroleum.
In our Options Portfolio, we are long Urban Outfitters, Discover (NYSE:DFS), Intuit (NASDAQ:INTU), Williams-Sonoma (NYSE:WSM), Wal-Mart (NYSE:WMT), and ExxonMobil (NYSE:XOM). We are short United States Oil (NYSEARCA:USO).
In our Earnings Alpha Portfolio, we are long Northern Oil & Gas (NYSEMKT:NOG), Allstate (NYSE:ALL), Michael Kors (NYSE:KORS), Disney (NYSE:DIS), Alexion (NASDAQ:ALXN), Crocs (NASDAQ:CROX), and Continental Resources (NYSE:CLR). We are short Polo Ralph Lauren (NYSE:RL).
In our Goldman Sachs Up/Down Paper Portfolio, we are long CSX (NYSE:CSX), Teradata (NYSE:TDC), Host Hotels (NYSE:HST), and Netsuite (NYSE:N).
Charts courtesy of finviz.com.
Disclosure: I have no positions in any stocks mentioned, and no plans to initiate any positions within the next 72 hours.
Business relationship disclosure: The Oxen Group is a team of analysts. This article was written by David Ristau, one of our writers. We did not receive compensation for this article (other than from Seeking Alpha), and we have no business relationship with any company whose stock is mentioned in this article.