"When diligent and extensive research and analysis makes an investment opportunity so obviously compelling that despite regular criticism, doubt and pessimism expressed by outsiders, your knowledge of the facts allows you not to waver; buy big and keep buying! "
T.T.
So as to not burden the reader with an exhaustive and complete narrative of our investment thesis on Bank of America Corp (NYSE:BAC) which has not changed, here is our past public analysis.
On Wednesday October 17th, Bank of America reported third quarter earnings which were extremely convoluted and noisy, but through a careful examination of the facts, it is clear that CEO Brian Moynihan has done a masterful job at building up capital and reducing risk. When Moynihan took over, the company was a complete disaster burdened by two massive and ill-fated acquisitions, and even worse the company was forced to deal with these problems with some of the lowest capital ratios of the large U.S. banks. Immediately, Moynihan focused on cutting fixed costs, building confidence in the company's capital structure and prospects through a strategic capital raise from Warren Buffett, and adjusting the business model to work in the new regulatory and economic landscape.
While these efforts have been painful and expensive, the company is finally beginning to see some green pastures in the distance. Bank of America now boasts some of the highest capital ratios in the industry and in the company's long and illustrious history.
Click to enlarge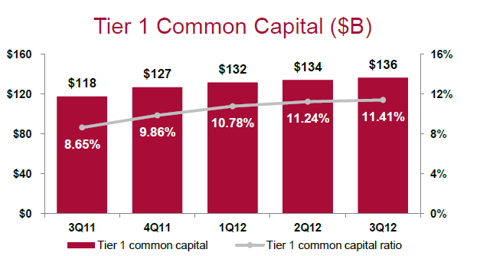 Source BAC 3Q Investor Presentation
Risk-weighted assets have declined steadily, highlighting the lower risk profile that the company is now taking. An example of this lower risk strategy is in Moynihan's strategic decision to halt wholesale and correspondent lending. While this has hurt short-term profits that are available due to the refinancing boom, Bank of America understands that it must focus on its own clients. This means increasing the cross-sell between the consumer and commercial franchises, with Merrill Lynch. This type of business origination is less costly, and less risky due to the increased knowledge of the client's situation. It also provides more customer loyalty to a company that already has the benefits of one of the most robust and low-cost deposit franchises in the world.
Click to enlarge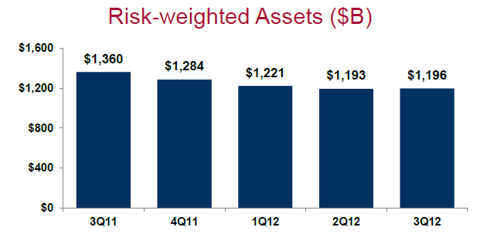 Source BAC 3Q Investor Presentation
Bank of America surprised analysts with its Tier 1 common capital ratio estimated to be 8.97% at 3Q 2012 on a fully phased-in basis under the final U.S. market risk rules and Basel III. This was up 102 bps from the second quarter, and Bank of America has an advantage in that its capital increases by about the same amount as its pretax profits due to the capital treatment of net operating losses. Therefore, I'd expect Bank of America to hit its Basel III targets within two quarters barring any drastic increase in litigation, claims etc. Brian Moynihan intelligently didn't even request a capital disposition during the 2012 CCAR process, but now with robust capital levels, Moynihan has made clear that once Basel III and SIFI conditions are fully met, the company will return all excess capital to shareholders via stock buybacks and/or dividends. I firmly believe Moynihan is intelligent enough to focus largely on share buybacks if the price is even close to current levels, as nothing operationally would be as accretive as buying the stock at 70% of tangible book value, and less than 50% of book.
Click to enlarge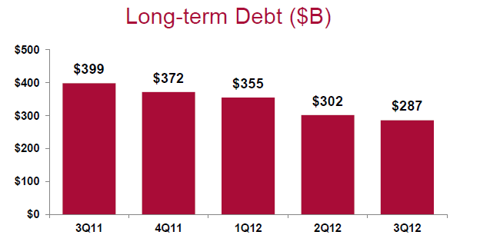 Source BAC 3Q Investor Presentation
Long-term debt is down a staggering 28% in the last year, which reduces net-interest costs, and concentrates BAC's liability profile toward its low-cost deposit base that really is one of the company's best assets.
Click to enlarge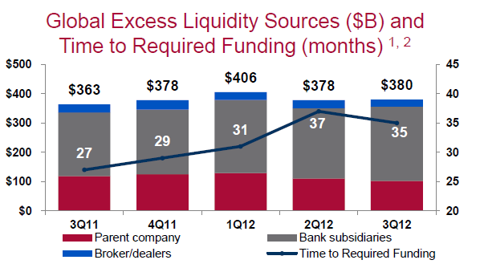 Source BAC 3Q Investor Presentation
Bank of America has $380 billion in excess liquidity. While many market pundits proclaim that the banking system would be safer if Glass-Steagall came back into play, it is important to note that the banks that failed lacked strong deposit franchises. Merrill Lynch has the ability to earn extremely attractive returns from its asset management and investment banking operations, buoyed by a low-cost of funds provided from the Bank of America franchise. Merrill Lynch's performance has been really strong although somewhat hidden due to all of the litigation issues pervading the company. In five years, I believe Bank of America will trade at a premium to book value based on the market's changed perception that Merrill Lynch offers 20%+ pretax returns in many of its businesses, and has the benefit of being a part of one of the best financed banks in the world. The table below highlights the performance of the Global Wealth and Investment Management division.
Click to enlarge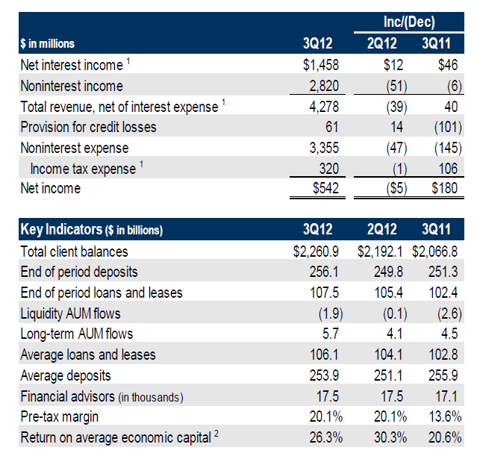 Source BAC 3Q Investor Presentation
Credit metrics have continued to improve steadily, and any improvement in housing will have a dramatic impact on reducing credit losses through improved loss severity performance on defaulted mortgages.
Click to enlarge

Source BAC 3Q Investor Presentation
The pig is almost out of the python as far as the legacy issues which are the only issues really keeping Bank of America from solid profitability.
Click to enlarge

Source BAC 3Q Investor Presentation
Legacy assets are down enabling the company to begin cutting some of the fat that has been taken on strictly for the purposes of dealing with these issues. Bank of America believes it can get non-core costs down by $10 billion per year once all changes are fully implemented.
Lastly, now that the Merrill Lynch litigation is mostly done, the majority of the remaining litigation is centered on mortgages and repurchases.
Click to enlarge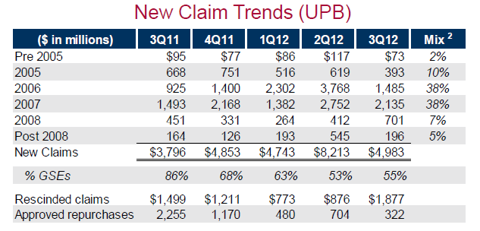 Source BAC 3Q Investor Presentation
Click to enlarge
Source BAC 3Q Investor Presentation
In the third quarter, Bank of America reached a milestone, in my opinion, in terms of coming to grips with a worst-case scenario of additional claims beyond the company's reserves. The most the company believes it could lose is $6 billion in excess of current reserves. While this is a large number, it is a manageable one for this behemoth, and it is a pretax number. BAC's market cap is around $100 billion, and for that price an investor gets over $130 billion of tangible equity, and $200 billion in equity. A 15% return on tangible book value puts normalized earnings at around $2.00 per share, meaning that the investor is getting BAC at under 5 times normalized earnings. When you combine a cheap price with a fortress balance sheet, and an improving credit environment, Bank of America offers one of the most attractive 3-5 year investment opportunities that I am aware of. While earnings this quarter were expectedly marginal, the business trends are moving the right way. Analysts and market commentators will focus on the "uncertainty" pertaining to ongoing litigation, but the reality is the worst case scenarios are more than priced in. If you aren't already in the stock utilize short-term spells of pessimism and naked puts to attain a lower-cost basis on your position. This company can handle whatever is thrown at it, and when BAC emerges from the smoke, hopefully under Moynihan's leadership, I expect to see an enterprise consistently posting in excess of $20 billion in annual profits, and paying an $8-10 billion per-year dividend.
Disclosure: I am long BAC. I wrote this article myself, and it expresses my own opinions. I am not receiving compensation for it (other than from Seeking Alpha). I have no business relationship with any company whose stock is mentioned in this article.