A healthy dividend yield of 2% and a long-term earnings growth projection of 12% make Limited Brands Inc. (LTD) an interesting option for investors seeking growth and income amidst this soft economic environment. This specialty retailer of women's intimate and other apparels attained Zacks #2 Rank (Buy) status earlier this month, and its stock has surged 31.5% year-to-date.
The catalysts behind LTD's stock momentum include its sustained focus on cost containment, inventory management, merchandise initiatives and its viable store expansion strategy. The impact of these factors was evident in its fiscal second-quarter, which included a positive earnings surprise of 4.2%.
Limited Brands Beats, Ups Outlook
On August 15, Limited Brands posted second-quarter earnings of 50 cents per share, which moved past both the Zacks Consensus Estimate and the prior-year quarter earnings by a couple of cents. The company has now put together 8 straight quarters of positive surprises, and hasn't missed since 2007.
Net sales of $2,399.1 million dropped 2% year-over-year, but was marginally ahead of the Zacks Consensus Estimate at $2,398 million. Limited Brands delivered comparable-store sales growth of 8% during the quarter, compared with 9% in the prior-year.
Sales at Victoria's Secret Stores & Victoria's Secret Beauty and Victoria's Secret Direct grew 10% and 3%, respectively. Total sales at Victoria Secret and Bath & Body Works & The White Barn Candle Co. both jumped 8%. However, sales at La Senza tumbled 17%.
Gross profit climbed 5% to $945.3 million, whereas gross margin expanded 270 basis points to 39.4%. Operating income inched up 1% to $308.9 million, whereas operating margin increased 40 basis points to 12.9%.
Management projects earnings of 15 cents to 20 cents per share for the third quarter and between $2.73 and $2.88 per share for fiscal 2012. Earlier, the company had forecasted earnings of $2.63 to $2.83 per share for the fiscal year. Limited Brands expects comparable-store sales to increase in the low-to-mid single digits in the third quarter and between 3% and 5% in fiscal 2012.
It will report again on November 14.
Earnings Momentum Climbing
The Zacks Consensus Estimate for fiscal 2012 is up 1.8% to $2.87 per share over the past 90 days, implying year-over-year growth of 10.2%. For fiscal 2013, the Zacks Consensus Estimate is $3.24 per share, increasing 1.6% and marking year-over-year growth of 12.9%.
Dividend Portraying Strength
Limited Brands has been actively managing its cash flows and returning much of its free cash to shareholders via dividends, while maintaining a healthy balance sheet and credit ratios that are necessary for an investment-grade rating. The quarterly dividend was increased 25% to 25 cents per share in January 2012, and currently yields 2%.
The company also paid a special dividend of $1 per share on September 7. Over the years, the company has steadily increased its dividend payout. Limited Brands' commitment toward enhancing shareholder returns reflects its sound liquidity position and well defined future prospects.
Valuation Stretched, Yet Lucrative
Limited Brands currently trades at a forward P/E of 17.31x, reflecting an 11.7% premium to the peer group average of 15.49x. Again, its price-to-sales ratio of 1.39 is at a substantial premium to the peer group average of 1.01. Given the long-term earnings growth projection of 12%, the PEG ratio comes in at 1.5, above the benchmark of 1 for a fairly priced stock. The return on assets (ROA) for the stock looks impressive. It has a trailing 12-month ROA of 12.5% compared with 10.3% for its peer group.
A Look at the Chart
Given the earnings growth potential, a series of positive earnings surprises and the ability to sustain dividend increases, the stock has enough ingredients to lure investors. A quick look at the price and consensus chart reveals that the stock's price line remains below the 2013 and 2014 earnings estimate lines, reflecting the fact that the stock is still undervalued.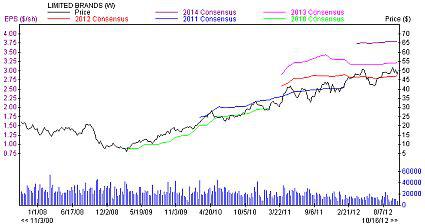 Limited Brands is a specialty retailer of women's intimate and other apparels, beauty and personal care products, home fragrance products and accessories. The company conducts its business primarily through two reportable segments - Victoria's Secret and Bath & Body Works. The Victoria's Secret segment sells merchandise under the brand names such as Victoria's Secret, Pink and La Senza. Limited Brands, which competes with Gap Inc. (NYSE:GPS), has a market cap of $14.26 billion.
Disclosure: None