In retrospect, 2007 was the year of the bond ETF, and it was the year the bond war began. You can't have a war with only one army, of course, and prior to 2007, Barclays had the field to itself. They introduced their first two bond ETFs in 2002 (iShares Lehman 1-3 Year Treasury Bond ETF (NYSEARCA:SHY) & iShares Lehman 20+ Year Treasury Bond ETF (NYSEARCA:TLT)), and added their third and fourth by the end of 2003 (iShares Lehman Aggregate Bond ETF (NYSEARCA:AGG) & iShares Lehman TIPS Bond ETF (NYSEARCA:TIP)). From then until January, 2007, there was not much to write about in the way of new products. Barclays simply consolidated their position and girded for the battle they had to know was to come.
Then came 2007. Barclays led off with nine new fixed income ETFs on January 5th and added six more by the end of the year. Oddly enough, looking at these developments, the first four iShares' funds now account for over $28 billion in assets under management--over half of their $40.2 billion in Barclays fixed income assets. The fifteen newer additions make up the balance.
Barclays was no longer alone in 2007, however. Two other heavyweight sponsors, Vanguard and State Street Global Advisors,  also launched major assaults on the once sleepy world of bond ETFs. Vanguard offered their fab four in April, and SSgA followed with five of their own in May (see Table 1 for a partial listing of their 2007 offerings). Also, during that year a number of smaller providers got into the act. I'll have a report on their efforts in my next post.
In mid December of last year I wrote a note about the many new bond ETF offerings for 2007. At that time about 40 had come to market. They continued through the end of '07 and into '08. This note is a report on how the upstart class of '07 stacks up with their older cousins. I also offer an update on a major competitor getting ready with a new entry—perhaps as early as this year.
First, look at how the majors are doing over the last year. Table 1 is a listing of assets under management for selected bond ETFs at the end of July, 2008,  as reported on the websites of each ETF. 
images
Assets Under Management in Millions of Dollars: 7/31/08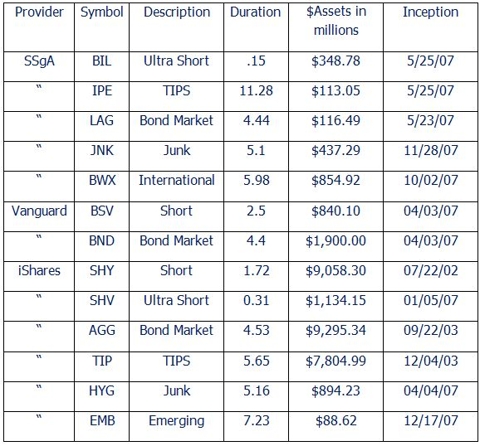 Four things stand out in this table:
All of the new ETFs are successful if you use the $100 million level as a minimum for success. All of SSgA's and Vanguard's ETFs have made it. 
Vanguard is the clear winner in the new offering category with its Lehman Aggregate Bond ETF, BND, at almost two billion dollars a few months past its first anniversary. Vanguard may lack pizzazz, but they have always had a solid stable of bond funds. It shows in their success in this new field.
The newest offerings in the junk and international  categories have done exceptionally well. iShares HYG is almost at half a billion in one year, and SSgA's JNK has exceeded the hundred million dollar mark in less than six months. The clear winner in the international area is SSgA. Their international bond ETF, BWX, has almost a billion dollars in assets. iShares takes the junk trophy.
iShares is still the one to beat. No one can match their 15 bond ETFs, and their assets under management dwarf everyone in terms of ETF assets. It won't be anytime soon that either Vanguard of State Street catches them in any category.
To get a better perspective on how they match up in market acceptance, the next tables compare funds that are alike from each provider.
Short Bond ETFs by Provider in Millions
The columns are arranged so that like products are side by side. The BIL and SHV ETFs are both ultrashort in duration, so they compete head to head. It doesn't look as if BIL will be catching SHV any time soon. 
BSV, the Vanguard short fund, is doing well against its larger competitor. Although less than a tenth the size, the Vanguard fund is growing faster for both the YTD and the latest month. 
The next table compares the three ETFs that follow the Lehman Brothers Aggregate Bond Index.
Lehman Brothers Aggregate Bond Index in Millions

iShares is still the clear leader, but Vanguard is closing in. It has added over half of what iShares has added YTD, but that itself is a strong showing, given the huge difference in the assets of the two funds. In the month of July, Vanguard added over $100 million more than iShares. In this category, Vanguard is showing great strength. 
By this time next year I'll probably have to add an extra column to the Lehman table, because none other than Pimco, one of the larger and most respected bond fund providers in America, will be entering this market. In an email exchange with their press agent on August 27th,  Pimco confirmed they have completed SEC filings for their first ETF, and it will follow the Lehman Brothers Aggregate Bond Index. He would not confirm that the ETF would be for sale before the end of the year, but I can't help wondering if this is not their target date.
The only part of this looming competition that is uncertain in my mind, is that Pimco has never been a low cost provider of mutual funds. They get about a ½-point premium for their bond funds, probably because of the reputation of Bill Gross, their Managing Director. He has twice won the bond fund manager of the year award and appears regularly on TV as a commentator on things bond-related. But, following an index does not play to his strong suit (Mr. Gross not only seeks alpha, he usually finds it!),  so it's hard to see how Pimco would have an advantage with a strict index fund. But, I expect they will eventually file something that might take advantage of his skill set. Following this will be interesting, to say the least. I should start an office pool on how the chart will look this time next year with the addition of Pimco to the mix.
The last table presented today covers the TIPs ETFs by SSgA and iShares. Again, these are directly comparable in that they follow the same index. But, they go about it differently, and their results are not identical.
Inflation Protected Securities ETFs in Millions

It doesn't look as if  iShares is looking over their shoulder in fear, at least not from SSgA.  Both Vanguard and Pimco run huge TIPS mutual funds, so both should be positioned to challenge iShares in this ETF category, if they decide to go that way.  Without some dramatic development, iShares has this market to themselves.
I'll leave the international and junk comparisons to the next time, when I'll also take a look at last year's offerings by some of the smaller players, and anticipated developments for the rest of 2008.  This year will not be close to 2007 in new ETFs brought to market, but there are still some interesting developments that are on the horizon.
Disclosure: Author owns AGG