Sometimes you just can't win. When you're running for president, your energy policy or lack thereof can't win either. The DOE has postponed its announcement of America's policy regarding natural gas exports. As frustrating as the situation is, I can understand why Steven Chu is being so quiet on the issue. Careful examination of the impact exporting natural gas will have is currently being hurled against the incumbent as a sign that he is capitulating to environmental groups that don't mind risking American jobs. On the flip side, promoting exports of natural gas to non-FTA countries, like China, would be twisted by the opposition as helping the enemy, and risking American jobs. In the meantime, the window of opportunity for profiting from the wide gap between domestic and global natural gas prices is closing.
Currently there is only one authorization granting authority to export LNG from Cheniere's (NYSEMKT:LNG) Sabine Pass LNG Terminal to non-free trade agreement nations. Even that order, granted in August of 2012 is on shaky ground as another order granting a rehearing for further consideration was issued earlier this month. There is a chance, however small, that no company in the US will be permitted to export LNG to China, the largest market outside of the US, Japan, or any other non-FTA country.
Chinese imports by pipeline on rise
Liu Tienan, the head of China's National Energy Administration, admits that "although the Chinese government is encouraging the development of shale gas, it takes time." He goes a step further and states that for "a very long time, China's natural gas supply will still rely on the imports." Unfortunately for US producers and exporters of natural gas, an increasing amount of Chinese imports will be purchased from Turkmenistan, Uzbekistan and Kazakhstan. China's State Council has approved construction of a third pipeline that should begin pumping gas from the country's western border with Kazakhstan in 2015.
images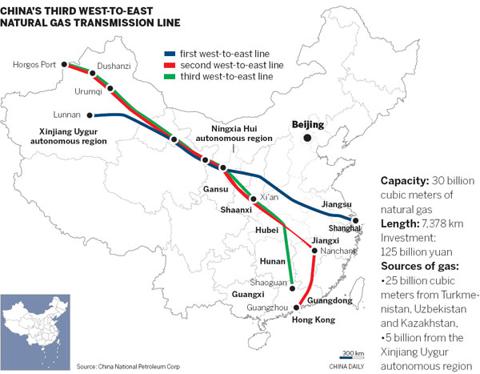 China's plans for a third west to east pipeline to be completed in 2015
Domestic production in China rapidly expanding
In March of this year Royal Dutch Shell (NYSE:RDS.A) secured China's first product sharing contract for shale gas. The company is firmly committed to invest at least $1 billion annually in a partnership with PetroChina (NYSE:PTR). China's latest 5-year economic plan has a domestic output target of 6.5 billion cubic meters (229 Bcf) per year by the end of 2015 and 60 billion cubic meters (2119 Bcf) per year by 2020. Shell is not the only foreign firm working with China to expand their domestic natural gas output, Exxon Mobil (NYSE:XOM), BP (NYSE:BP), Total (NYSE:TOT) and Chevron Corp (NYSE:CVX) are also scrambling to help China meet its domestic production goals.
Oil and gas price decoupling in Asia has already begun
In January, Cheniere Energy entered an agreement with Korea Gas Corp. to sell LNG based on Henry Hub spot prices. This is significant because until now gas in Asia was sold under 20-25 year long contracts pegged to the price of oil. Horizontal drilling and hydraulic fracturing have been so effective that oil and gas prices are already divorced. That divorce means Asian countries will be seeing much lower prices for natural gas in the future.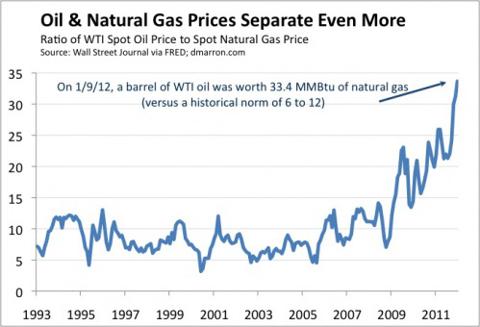 Natural gas is no longer linked to the price of oil.
Gas importers in Asia are increasingly rejecting oil linked pricing and forming their own trading hubs. Singapore is fully taking advantage of its position and quickly becoming a regional gas trading center. Singapore has a free trade agreement with the US, low tax rates, and is already a center for trading oil and oil products.
India's state run GAIL has been signing deals left and right to import natural gas. Earlier this month the Indian utility signed a 20-year deal with Russia's Gazprom. The two companies involved will be using Singapore's growing natural gas hub over the life of the contract.
Exporters in the US dreaming of huge profits from Asian countries are having their hopes crushed. The terminals currently under construction in the US will most likely become profitable or at least break even in the long run. Unless the DOE acts swiftly to define non-FTA export limits, there won't be anybody left in Asia willing to sign long term deals US exporters for $15/MMbtu gas.
Disclosure: I have no positions in any stocks mentioned, and no plans to initiate any positions within the next 72 hours. I wrote this article myself, and it expresses my own opinions. I am not receiving compensation for it (other than from Seeking Alpha). I have no business relationship with any company whose stock is mentioned in this article.