Below we highlight stocks in the S&P 1500 with the highest short interest as a percentage of float.  Investors like to look at these names to 1) find companies that investors are extremely negative on, and 2) find companies that could see big spikes on any hint of positive news due to short covering. 
As shown, JOS A Bank (NASDAQ:JOSB) is the most heavily shorted stock in the index, with 91.5% of its float sold short.  JOSB is followed by CORS, NTRI, LTM, HZO and NILE. 
Sears Holdings (NASDAQ:SHLD) is another name on the list of heavily shorted stocks, and even after a negative earnings report yesterday, it was trading higher, most likely due to short covering. 
There are some names on the list that have seen big gains this year.  These stocks have rallied in the face of bearish investor sentiment, and include TRLG, BWLD, BIG, WERN, ZLC, SYNA and ARO.
click to enlarge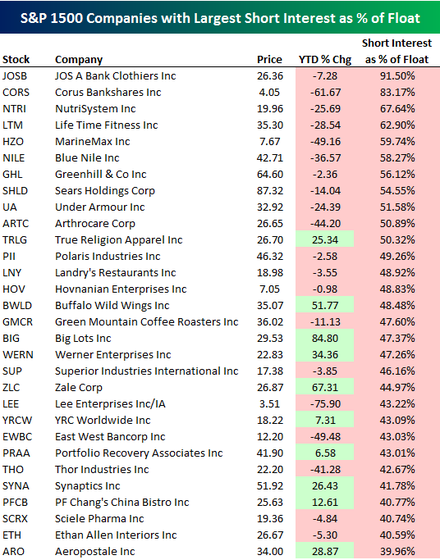 The list below highlights stocks that have seen the biggest increase in short interest over the last month.  For whatever reason, investors have taken a more bearish stance on these names.  (Note that some of these names could have an accelerated buyback going on.  This increases short interest because for the buyback to take place immediately, the bank involved in the buyback sells (shorts) the stock to the firm and then covers it over time.)  Notable names on the list include KFT, PCX, SNDK, GD, LLL and LMT.