Since the last time we discussed 3M (NYSE:MMM), compared to competitors, its common stock has underperformed that of General Electric (NYSE:GE) and has performed in-line with Johnson & Johnson (NYSE:JNJ). Also, it slightly outperformed the Dow Jones Industrial Average over the same period (see graph). 3M is continuing to expand its library product offerings that we discussed in June. Also, other segments have continued to perform strongly and the company recently acquired Ceradyne (CRDN) following its failed acquisition of Avery Dennison (NYSE:AVY). The acquisition, together with strong growth across segments and regions, should boost the share price of this S&P 500 dividend aristocrat in the foreseeable future.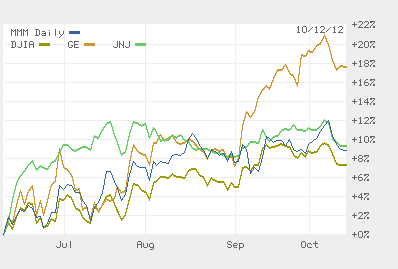 New Initiatives And Innovations To Drive Future Growth
During its latest quarter, 3M reported record sales and profits, despite a challenging economic environment. The company increased sales by 1.9% (in local currency) and its operating margin rose to 22.9%, or by 130 basis points from the same period last year. The company's sales in two high demand areas - aerospace and mining, oil & gas - grew by 24% and 20% with Nigeria and Saudi Arabia registering strong growth. In fact, 3M has been in Brazil since 1946 and is currently capturing growth opportunities in Africa and the Middle East.
In order to realign its growing businesses and geographic areas, the company recently announced that starting January 1, 2013, it will report in five new segments. These segments are Consumer, Industrial, Healthcare, Safety & Graphics, and Electronics & Energy and had 2011 sales of $4.2 billion, $9.6 billion, $5.0 billion, $5.5 billion, and $5.7 billion, respectively. For comparison, its six old segments were Consumer & Office, Industrial & Transportation, Healthcare, Safety Security & Protection, Display & Graphics, and Electronics & Communications with 2011 sales of $4.2 billion, $10.1 billion, $5.0 billion, $3.8 billion, $3.7 billion, and $3.3 billion. Also, 3M continues to control costs and invest in growth areas even in the current uncertain economic environment.
While 3M is managed well, given its size and global spread, the company is also introducing new products and services constantly. Many industrial companies, such as General Electric (GE) and Johnson & Johnson (JNJ) are losing their edge to newer technology-driven companies. However, 3M has been able to maintain an edge in a number of areas and despite strong competition from pure technology companies such as Oracle (NYSE:ORCL), Amazon (NASDAQ:AMZN), and Apple (NASDAQ:AAPL).
A few examples of these innovations include the recent partnership with Penguin Books in which the company expanded its cloud based book offering at the New York and Brooklyn public libraries. The 3M library cloud allows library patrons to borrow books wirelessly and libraries to purchase books through the 3M cloud. 3M library cloud counts more than 200,000 titles from over 300 publishers and is available on a number of operating systems and portable devices. Going forward, 3M's library innovative products and services should continue to contribute to growth as the industry evolves.
From books and library, we move to light bulbs. 3M recently entered the market for home light bulbs. Light emitting diode (a.k.a. LED) bulbs, while more expensive, save the most energy and emit the least amount of heat without compromising quality. The LED area is currently dominated by LSI Industries (NASDAQ:LYTS), General Electric, Philips (NYSE:PHG), Cree (NASDAQ:CREE), and a few smaller companies. Since we are currently phasing out the use of incandescent bulbs, LED bulbs present one of the best alternatives.
Other areas of recent innovations which should contribute to the company's top and bottom lines include kiosk touch systems and DIY water filtration products. Importantly, 3M was recognized for its long-term commitment and innovation in China by the National Committee on United States-China Relations. 3M was the first company to establish a wholly-owned subsidiary in China in 1984 (outside of the Shenzhen special economic zones) and currently has 11 manufacturing sites in the country supported by a number of offices and subsidiaries. China, despite slowing down recently, is still one of the fastest growing emerging markets.
Ceradyne Acquisition
3M decision to acquire Ceradyne for $35 per share will also contribute to future growth and profits. In particular, Ceradyne will bring over $500 million in annual sales and will complement 3M offerings in the advanced technical ceramic products, ceramic powders and components for a variety of industries including defense, automotive, and energy. In addition, 3M paid a reasonable price of six times enterprise value to earnings before interest, tax, depreciation and amortization (EV/EBITDA). For comparison, 3M, GE, and Johnson & Johnson have EV/EBITDA ratios of 8.7, 21.3, and 9.7. Also, the relatively small size of Ceradyne, compared to 3M's size, should not present significant integration problems.
Valuation
We will compare 3M's valuation to that of General Electric and Johnson & Johnson. In terms of size, 3M is the smallest company with EV of $65.5 billion compared to $594 billion and $189 billion for General Electric (inflated significantly by GE Capital loans) and Johnson & Johnson, respectively. Compared to GE, 3M does not have a financial arm, which can be very profitable but also bring volatility to the stock price as financial markets fluctuate. And compared to Johnson & Johnson, 3M is more diversified as Johnson and Johnson operates primarily in the healthcare and consumer product areas. 3M offers an attractive balance between a company that is not too risky and exposed to different areas, which is evident in its beta of 0.9, compared to betas of 1.6 and 0.5 for GE and Johnson & Johnson, respectively.
In terms of profitability, 3M has an operating margin of over 20% compared to about 12% and 18% for GE and Johnson & Johnson. All three companies trade around forward looking price to earnings ratios of 13 to 14. A declining U.S. dollar in the third quarter will likely provide a lift to revenues and profits for all three companies as they all operate internationally.
Conclusion
3M has been able to perform remarkably well, compared to other industrial conglomerates. This strong performance is underestimated by investors and its share price seems to be lagging. 3M is growing its revenues and profits at a healthy pace and a higher valuation for the company could be well deserved. There are risks, such as continued economic weakness, a strengthening U.S. dollar, and rising commodity prices. However, once the larger economic picture improves, 3M shares could outperform as investors become more comfortable with the company's innovation and navigation abilities regardless of the economic conditions.
Disclosure: I have no positions in any stocks mentioned, and no plans to initiate any positions within the next 72 hours. I wrote this article myself, and it expresses my own opinions. I am not receiving compensation for it (other than from Seeking Alpha). I have no business relationship with any company whose stock is mentioned in this article.