On October 3, and again on October 10, it was announced that there was a substantial increase in refinance activity, with a resultant increase in prepayments. Analysts are now predicting (as of October 17) that refinancing (and the resultant prepayments) will continue well into 2013. Certainly not very good news for mREITs - indeed, there has been little news that has been encouraging to investors in this once-high-yielding sector.
In my last article ("Have mREITs Got You Down…") I presented five companies that offered double-digit dividend yields, and that were alternatives to mREITs, which continue to get pounded by the specter of refinancing and prepayments. The companies that were identified were selected by screening for companies that met a set of criteria chosen by me to select for companies that seemed to be on sound foundation, and that offered dividend yields of 10% or greater. If you wish to examine the earlier article and familiarize yourself with the criteria used as filters for the stock screener, click on the link above. For convenience's sake, a brief summary of the criteria is offered here:
The company must be making a profit, however small [Net Profit Margin > 0%].
The company must be able to cover its current debt [Current Ratio > 1].
The company must have effective management [Return On Assets > 0; Return On Equity > 0; Return On Investment > 0].
The company must offer a dividend yield of 10% or better [Dividend Yield > 10].
The company must have positive, sustained, performance [Performance Year-To-Date > 0; Performance most recent Quarter > 0].
This time around, I relaxed the performance criteria. On the first run, I screened for companies with only the requirement that their year-to-date performance be positive; on a second run, I required only that the most recent quarter's performance be positive; on a third run, I dropped the performance requirement altogether. Only four companies could satisfy the PYTD > 0 criterion; for the rest, there were no substantial differences between the results of the positive-quarter criterion and the results with no specified performance (a few results of the PQ > 0 run were, after closer examination, disqualified for one reason or another), with 5 companies surviving the last two runs.
I was left, then, with a total of nine companies: Cellcom Israel Ltd. (NYSE:CEL); Cimatron Group Ltd. (NASDAQ:CIMT); City Telecom (H.K.) Limited (CTEL); Diana Containerships Inc. (NASDAQ:DCIX); Educational Development Corp. (NASDAQ:EDUC); Grupo Aeroportuario del Centro Norte (NASDAQ:OMAB); Portugal Telecom, SGPS (NYSE:PT); Rhino Resource Partners (NYSE:RNO); and Ship Finance International Ltd. (NYSE:SFL). As with the first group of mREIT alternatives, these companies were ranked using a system explained in the earlier article; the results are presented in the table below: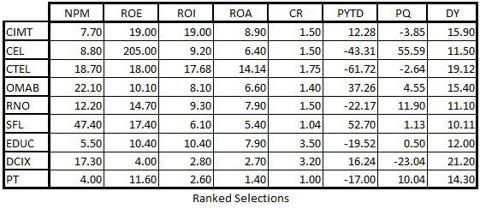 As in the previous article, in what follows I provide a "thumbnail" of each company, followed with a brief description of the company as well as some of the risks that might be associated with an investment in that firm. Before continuing, however, I have altered the thumbnails from what was presented in the previous article. Many readers express concern about the ability of the company to cover their dividends. Of course, no company can guarantee its dividends, but investors are correct to ask about a company's ability to sustain the dividends it claims to pay.
To help the reader, I have introduced a ratio that is more frequently used in England than in the U.S. - the "dividend cover." A company's dividend cover is determined by dividing the earnings-per-share by the dividend the company proposes to pay. The result will be a percentage that will determine whether the company's EPS is adequate to pay the dividend; a dividend cover of 100% or greater means the company's earnings are adequate (or more than adequate) to pay the dividend, while a cover of less than 100% means that there is a shortfall in the company's earnings. A fuller description of the dividend cover (and what it means for a company to have a shortfall in its EPS) can be found in my Instablog page.
(Note: for our purposes here, a company's dividend yield, and hence its dividend, is a projection, and the EPS given is year-to-date. Keep in mind that a shortfall that is fairly minor - associated, say, with a cover of 70% - may mean that the company will be able to make up the remainder of its cover in the rest of the year. As with any figure, one needs to weigh carefully the significance the data has for the overall performance of the company.)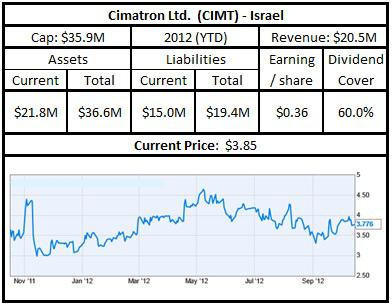 Cimatron Group , a micro-cap software developer, is headquartered in Israel, and has been in existence since 1982. It has subsidiaries in the U.S., Germany, Italy, China, Korea and India; it also maintains a network of distributors in over 35 countries. Its exclusive focus is on CAD/CAM software, and produces two lines of products: CimatronE and GibbsCAM. The software is designed by engineers with "on-the-floor" experience, making their products extremely user-friendly.
The company does have a dividend cover of 60%, but this cover reflects EPS through the second quarter, meaning that it has two quarters in which to make up the 40% shortfall. Its net profit margin is third-lowest in our group, and although returns seem healthy, there is otherwise nothing distinctive about the company. Israel does have an onerous 25% tax on investment income, so its $0.60 dividend is more like $0.45. On the upside, with a rebound in global economies inevitable, Cimatron's fortunes should improve, contingent upon the amount of competition it faces globally.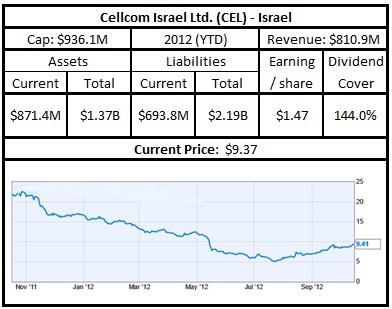 Cellcom, a small-cap communications company focusing on the Israeli cellular and landline communications systems, has been operating since 1994; it currently provides service to approximately 34% of the market share in Israel. It has maintained a position that approaches state-of-the-art technology in communications and multimedia. For the better part of a decade, Cellcom was one of three cellular providers dominating the Israeli market.
Recent developments have challenged Cellcom; in particular, while it is maintaining 3G service, some competitors have already upgraded to 4G networks. Swift response to the challenge of advancing technology is imperative, and Cellcom has not caught up with other companies in its market. Also, again, investment in Israel comes at the cost of a 25% tax on investment income. Financially Cellcom seems strong, as evidenced by the fact that it has a dividend cover of 144%, which - all things being equal - should increase as the year winds down. Its share price, however, has suffered over the past year, only recently beginning to regain some impetus; no doubt part of its 10.8% yield is accounted for by its loss in value over the past year.
Cellcom has advised the SEC that it would need to withhold 2nd Quarter (2012) dividends, and would evaluate further dividends as needed.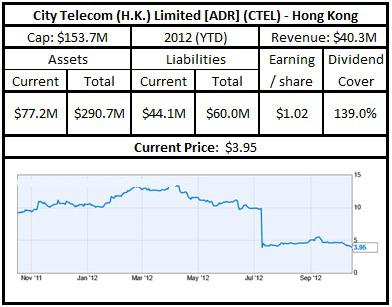 City Telecom began operating in Hong Kong in 1992, and is now a company in transition. Originally a telecom service that offered wireless and landline services, as well as television and multimedia programming. Gradually, City Telecom formed a subsidiary company, Hong Kong Broadband Network (HKBN) which assumed - for all intents and purposes - all of the broadband and telecommunications functions of City Telecom. In May, 2012, HKBN - along with all of City's broadband and telecom capabilities - was sold to CVC Capital Partners. City Telecom has assumed the role of producer of television programming, acquiring a substantial (400,000 sq. ft.) "TV & Multimedia Production Centre."
There is little doubt that the decision to sell HKBN played a substantial role in the 61% loss of share value City experienced this past year, most of it in July, 2012. The transition was undertaken to afford City Telecom the opportunity to pursue greater profit with less competition, as the programming in Hong Kong has been particularly weak. Such a move, however, will need time to play out - potential investors would need to be patient. It would be reasonable to suppose that the EPS, leading to a cover of 139%, is due in large part to the proceeds of HKBN; it only remains to be seen if those proceeds can sustain a company going through such a dramatic change in nature. Taxation seems very favorable for foreign investors.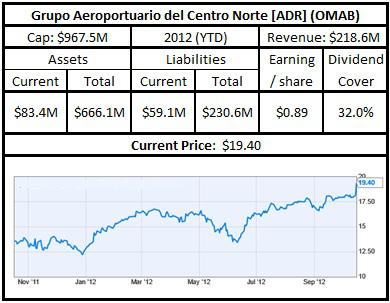 Grupo Aeroportuario del Centro Norte was formed in Mexico in 1998 as part of a government initiative to privatize airport systems. The group consists of the Servicios de Tecnologia Aeroporturia [SETA] - a joint venture of Aeroports de Paris Management and Aeroinvest S.A., and OMA, itself a joint operation by the companies already mentioned as well as the Mexican government. The privatization was completed in 2006 when government holdings were released to the Mexican Stock Exchange and NASDAQ. OMA is, ostensibly, the company that operates 13 airports in central and northern Mexico, as well as a hotel located within the Mexico City Airport; its revenues are derived from charges to airlines for use of airport facilities, as well as from operation of OMA Plazas - passenger centers for shopping within the airports - and the operations of the hotel.
Taxation in Mexico can be significant, but could also be free, depending upon whether or not the company paying the dividend also pays the tax on it. Mexico collects taxes on investments once, so if OMA were to pay the taxes on the earnings it uses to pay dividends, investors would pay nothing. If, on the other hand, OMA pays no taxes on earnings used for dividends, then the investor is responsible. The tax rate is variable, and could be as high as 62% (ouch!). After brief perusal of financial reports by OMA I have not been able to determine if they pay the taxes. Also, OMA's latest dividend payment (June 2012) was for the year 2010, and past records indicate that they are two years behind on dividend payments. This being the case, I do not know what to make of the dividend cover of 32%.
One must also take into account the socio-political environment in Mexico. Relations with the U.S. are - at times, at least - on the "iffy" side because of illegal immigration. More significantly for Mexico itself, however, is the persistent violence associated with the illegal drug business and its intent to force the Mexican government into submission with respect to drug trafficking. This violence has recently extended to areas near tourist centers, and one-third of OMA's airports serve tourist cities. In general, OMA's business may be sensitive to Mexico's tourism business.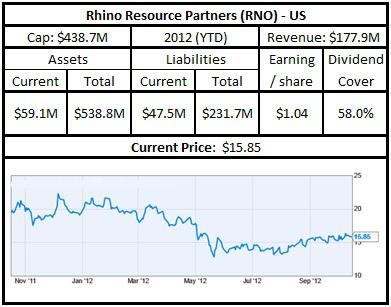 Rhino Resource Partners LP , which began operations in 2003, is primarily a coal-mining company that has taken advantage of opportunities to expand its business so as to maximize the profitability of its holdings. Their coal-mining operations focus in two areas: Central and Northern Appalachia and the Illinois Basin (Kentucky, Ohio and West Virginia), where they produce metallurgical coal for steel production, which is marketed globally; and the Western Bituminous region (Colorado and Utah), where various grades of steam coal are produced for use in electrical power production. The company also leases land for mining operations by other companies, and controls subsidiaries in trucking/coal transportation and mining engineering/reclamation. Rhino has also begun leasing some of its properties to oil and gas operations.
While the opportunities for coal mining and use are plentiful, this is a commodity which has attracted some controversy, both with respect to mining practices and the use of coal for energy production. At present levels of demand, Rhino projects coal reserves that could last for more than two centuries; this projection, however, does not take into account the possibility of federal legislation limiting the use of coal or protecting the environment from mining practices. Efforts by Rhino to lease property - particularly for gas and oil production - are directed at securing a revenue stream that would not be adversely affected by such regulations. Rhino also exercises stewardship of its properties in reclamation projects at the sites of exhausted mines.
An example of the problems confronting Rhino is its operations in Colorado, the coal from which is sold exclusively to Xcel Power (NYSE:XEL) for its Cameo Power Plant near Grand Junction, Colorado. At the same time, Xcel has been working towards the use of natural-gas-driven turbines which, presumably, could replace coal-powered steam turbines. Diversification in its revenue-producing activities is essential to Rhino's long-term survival.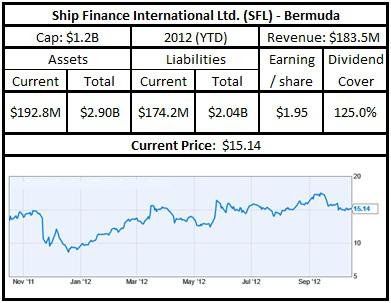 Ship Finance International Ltd. , a substantial small-cap shipping company operating out of Bermuda, was formed in 2003 as a wholly owned subsidiary of Frontline, a major operator of crude oil tankers. Gradually, Ship Finance has been spun off from Frontline, which at present owns only 1% of the company. Ship Finance owns and charters 62 vessels, from oil tankers, various dry and container ships, oil rigs and oil/bulk/ore [OBO] ships. The substantial portion of its fleet is under charters that extend up to 11 years, and the company actively pursues medium- to long-term charters to maintain a consistent revenue flow. It also has on reserve several vessels for short-term operations aimed at taking advantage of temporary market opportunities. It currently has long-term chartering agreements with 13 companies.
Having been spun off from an older company, Ship Finance is confronted with the issue of decreasing the average age of its ships. It currently has seven new buildings under contract, and actively pursues opportunities to purchase new and younger ships, while at the same time, selling its older ships as opportunities arise. The company does have only 11 ships on short-term contract; the rest are under long or medium-term arrangements. The variety of vessels under its control assures that Ship Finance is able to maintain a diversified clientele, avoiding the difficulties that could be encountered by companies with limited capabilities. Contracts usually require the contracting company to supply crew and maintenance, limiting Ship Finance's range of responsibility and operating costs.
Operating out of Bermuda has the advantage of giving investors a tax-free (at least with regard to Bermuda) investment opportunity, but tax laws are subject to legislation.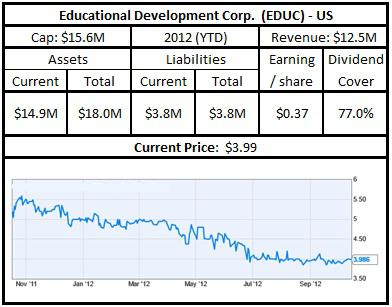 The Educational Development Corp. has been in operation in Tulsa, Oklahoma, since August 23, 1965, adopting its current name in June, 1968. The company is the sole U.S. distributor for Usborne Publishing Limited, a publisher of children's books located in the United Kingdom. The company has two divisions: the Home Business Division, which markets the books directly to individuals at home, through book fairs, direct and internet sales; and the Publishing Division, which markets the books to retail outlets. The books are designed to encourage children to read and learn - some can be packaged with toys and items complementing the material in the book (the packages are called "Kid Kits"). The material may be suitable for home education of young children.
While Educational Development may be in the admirable position of being the sole distributor of a line of products, there are some limitations to be recognized here. There is an increasing shift to digital material, e-books, internet and multimedia. There is little by way of such material in Usborne's product list, and this could be a serious limitation to the products' appeal. Further, the focus seems to be on very early education, which seriously restricts the target market. The material is high quality, and conscientiously produced, but it faces significant competition, and seems to offer as much as some of its competitors might offer. It is imperative that this company upgrade its product line to fit in more closely with the educational needs of today's children. As far as its earnings are concerned, Educational Development seems to be in excellent position to meet its projected dividend needs, as it had a cover of 77% at the end of the second quarter.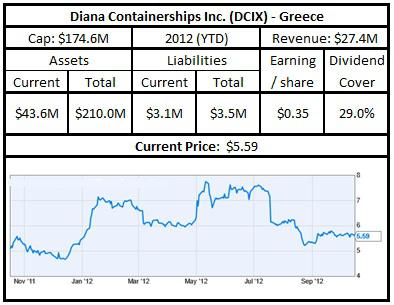 Diana Containerships Inc. is a small-cap Marshall Islands corporation that operates out of Greece, and was formed in 2010. It currently owns and operates nine containerships with the intent of increasing its fleet through secondhand acquisitions and possibly new building contracts. The company is managed by Diana Shipping Services S.A., a wholly owned subsidiary of Diana Shipping Inc. (NYSE:DSX). Currently, all nine of its ships are under contract, with five ships to be available for new contracts in 2013, and the remainder to become available in 2014 and 2015; however, all ship contracts may be renewed before completion of the original contract. Diana Containerships does, at present, offer the prospect of high current yields plus possibly significant future growth potential.
The average age of Diana's ships is 14.9 years, with two ships over 20 years old, and two ships relatively new, at two years old. Its fleet is small and would have to be increased in size for the company to be able to compete effectively. The philosophy behind Diana's expansion, however, is to avoid excessive acquisition of debt, as evidenced by the fact that a company with $210 million in assets only has a total debt of $3.5 million (its current ratio of 3.2 is substantially higher than those of the other companies in our list other than Educational Publications with 3.5). Unleveraged growth may be slow, resulting in only a gradual increase in profit, but there is much to be said for a company that is not at serious risk of losing assets to excessive debt. Until it is able to expand its growth, Diana is at a competitive disadvantage in terms of being able to take advantage of sudden opportunities.
In terms of financial performance, Diana has managed to increase its dividend payments each quarter for the past two years; thus, while its dividend cover is only 29%, Diana has been able to accrete to its EPS the additional funds it needs to satisfy its obligations to shareholders (due in large part, no doubt, to its light debt load). As a Marshall Islands corporation, taxes on earnings are paid to the United States at the rate of 10% - 15%.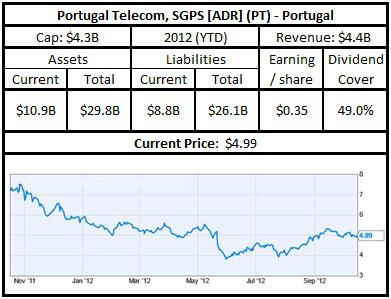 Portugal Telecom, SGPS was created in 1994 to unify the diffuse telecommunications environment in Portugal. Since that time, Telecom has become the largest telecommunications company in Portugal, and maintains a global presence in Europe, Asia, North America, Brazil and Africa. It provides land-based and wireless communications, television, satellite communications and corporate communications solutions. 58% of Telecom's revenue come from its global marketing, including 53% from Brazil, which is a major focus for Telecom's international activity.
Portugal Telecom does face significant competition. Vodafone (NASDAQ:VOD) is another global telecom system, and it has significantly greater presence in Asia, India, Africa and North America, not to mention its European base (Vodafone owns 45% of Verizon's wireless operations). The primary international impact of Telecom is in Brazil (which has historical ties to Portugal), where Telecom has made significant strides in bringing communications technology to state-of-the-art. As long as Telecom is able to focus its endeavors in those areas that are not currently being serviced by a state-of-the-art company, Telecom may be able to continue its success. Its efforts in Asia, however, may put it in direct conflict with Vodafone, which is committed to developing business presence in China, India and, through them, the Asian continent in general.
Portugal does withhold 25% tax of dividend earnings for nonresidents.
Disclosure: I am long DCIX. I wrote this article myself, and it expresses my own opinions. I am not receiving compensation for it (other than from Seeking Alpha). I have no business relationship with any company whose stock is mentioned in this article. I may initiate a position in SFL and/or RNO over the next 72 hours.
Disclaimer: In the above I try to inform the readers of potential tax implications involved with foreign investments. I am not, nor do I claim to be, a tax professional or tax consultant; the information I provide above is what I have been able to ascertain on the basis of a perusal of general tax information. Investors are advised to seek the advice of international investment specialists and tax professionals for more accurate information.
Sources: The original screens used to identify companies for this article were acquired from FINVIZ.com, but have been significantly altered after confirming the screening results achieved there with results achieved from other sources. Most data was acquired via Motley Fool, with confirmation and charts from YCharts.com. I was also able to utilize CNBC, Google and Yahoo! as means of confirming data. The information about each company was developed by reference to the websites of those companies. All data is current and accurate as far as I have been able to determine, but all investors are cautioned to use due diligence before initiating a position in any of the companies mentioned in this article.