Genesco Inc. (GCO) is positioned to perform well when it reports again late next month. This footwear and accessories retailer has beaten earnings estimates in nine of the past 10 quarters, including a strong-second quarter performance from late August. In addition to all this, Genesco is a true value pick with a price-to-book (P/B) ratio of 2.03, a price-to-sales (P/S) ratio of 0.60 and a price-to earnings ratio of 12.15.
Solid Second Quarter
Genesco reported fiscal second-quarter results on August 29, including earnings per share of 50 cents that blew past the Zacks Consensus Estimate of 27 cents by 85.2%. Earnings also jumped 127.3% from last year thanks to solid sales growth and a significant operating expense leverage.
Net sales climbed 15% year over year to $543.5 million and surpassed the Zacks Consensus Estimate of $534 million, benefiting from the inclusion of sales from Schuh Group and a 4% rise in comparable store sales (comps). Genesco acquired Scotland-based Schuh Group, a specialty retailer of casual and athletic footwear, in June 2011.
All operating divisions, including The Lids Sports Group, the Journeys Group, Schuh group, and Johnston & Murphy Retail, saw positive comps in the quarter.
Gross margin expanded 10 basis points to 50.5%. Adjusted operating income more than doubled to $20.3 million from $9.8 million last year, driven by operating expense leverage.
The third quarter is off to a good start with August comps up 9%, much improved from the second quarter's 4%. Genesco is scheduled to report its fiscal third-quarter results on November 22. Currently, the Zacks Consensus Estimate is calling for $1.33 per share.
Outlook Raised
Bolstered by the company's second-quarter performance, management raised its guidance for fiscal 2013. It now expects earnings per share between $4.88 and $5.00 from the previous range of $4.70 to $4.82. The raised guidance reflects a 19% to 22% increase from earnings of $4.09 in fiscal 2012. Comps are expected to grow 4%. Sales should increase about 13% to 14%, including benefits from the Schuh acquisition. Excluding Schuh, sales are forecast to increase 7% to 8%.
Earnings Momentum Advancing
Over the last 60 days, the Zacks Consensus Estimate for fiscal 2013 has gone up by 4.2% to $5.02, reflecting a year-over-year growth rate of 22.7%. The Zacks Consensus Estimate for fiscal 2014 has gone up by 3.5% to $5.64 over the same timeframe, reflecting year-over-year growth of 12.3%.
Impressive Valuation
The company has a price-to-book (P/B) ratio of 2.06, a price-to-sales (P/S) ratio of 0.6, and a price-to-earnings ration of 12.15, well under the parameters for a value stock. The PEG ratio comes in at 0.66, a 34% discount to the benchmark of 1 for a fairly priced stock. Going forward, there is an untapped potential locked in the stock.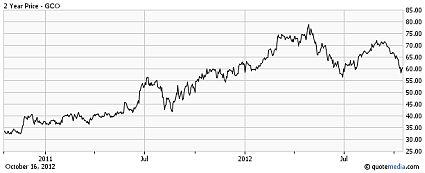 Genesco sells footwear, headwear, sports apparel and accessories in the U.S., Canada, the United Kingdom and the Republic of Ireland. Its principal brands are Journeys, Journeys Kidz, Shi by Journeys, Underground by Journeys, Schuh, Lids, Lids Locker Room and Johnston & Murphy. Genesco has a market cap of roughly $1.45 million.