Incorporated in 1882, Exxon Mobil (NYSE:XOM) is a behemoth in the major integrated oil and gas sector. The company's principal line of business is energy as it explores for, produces, transports, and markets crude oil, natural gas, and liquefied natural gas (LNG) in the U.S., South America, Canada, Europe, Asia, the Middle East, Australia, and Oceania. It also has significant operations manufacturing petro-based products including polyethylene and polypropylene plastics, aromatics, and a range of other specialty petroleum products, as well as some interests in electrical power generation services.
Operating through a global network of well-optimized divisions and affiliate entities including Exxon Mobil, Exxon, Esso, and Mobil, it distinguishes itself from its peers and competitors through better strategic capital allocation and superior execution of operational decisions. Inching up the Fortune 500 list of companies for 2012, Exxon has moved into second place (up from third in 2011), with last year's profits amounting to $41.1 billion, a staggering 35% increase over 2010.
Tracking Financials
With Q2 2012 revenues reported at $127.36 billion ($124.05 billion in Q1 2012) and a reported net income of $15.91 billion ($9.45 billion in Q1 2012), Exxon posted a healthy increase of almost 5% in its net margin -- 12.5% (7.6% in Q1 2012) -- more than the previous quarter. More interestingly, operating income dramatically increased to $26.18 billion ($17.52 billion in Q1 2012), which represents a 40% jump over the same quarter last year (18.66 billion in Q1 2012). This is indicative of the results achieved from the management's commitment to improving overall efficiencies across the company, especially when it comes to the execution of key projects.
Overall, almost all of the Q2 2012 financial reporting metrics were encouraging. However, with rapidly deteriorating refining and natural gas margins, the company is unlikely to maintain this level of financial and operational performance. In the words of CEO Rex Tillerson: "We are all losing our shirts today… We're making no money. It's all in the red." Additionally, with an almost 3% reduction in 2012 production outlook, the company is expecting a meager 1%-2% growth per year looking forward to 2016.
On a more positive note, Morningstar data available on Oct. 18, 2012, indicate that Exxon has a price/earnings ratio of 9.8, which is not significantly worse than its industry peers (9.7). However, the company is trading significantly below its five-year average P/E (12.2), which does make it look attractive on a P/E basis. The last 52 weeks have seen the stock rangebound between $73.90 and $93.36, which indicates significant stock price volatility over that period. However, over the last month the stock seems to have steadied somewhat, trading in a range of $89.41-$93.36, with the company's beta of approximately 0.51.
The company has consistently reported EPS growth over the last three quarters (Q2 2012, $3.41; Q1 2012, $2.00; Q4 2011, $1.97), and indeed over the last three years (2009, $3.98; 2010, $6.22; 2011, $8.42). While the short-term earnings outlook might be slightly dim, especially with depressed LNG prices, the bringing online of 22 key projects by 2014 is expected to boost production by 400,000 BOE/D in 2014, and over 1 million BOE/D by 2016. Those developments should add positivity to the company's long-term earnings outlook.
Stock Performance
Graphical analysis of Exxon Mobil's price performance indicates that the company's stock is trading significantly below the two major benchmark indices, the S&P 500, and the Dow Jones Industrial Average.
Click to enlarge image.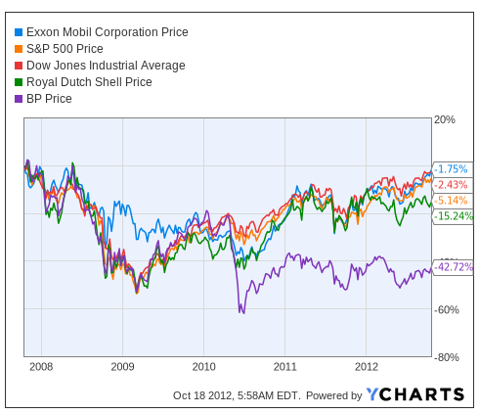 Exxon Mobil's most commonly associated peers are Royal Dutch Shell (NYSE:RDS.A) and British Petroleum (NYSE:BP). XOM seems to be faring better than its rivals as the chart above indicates. When compared to the integrated oil and gas industry as a whole, XOM is presently trading at a significantly lower price based on the company's TTM P/E (9.6) and forward PEG (1.4) metrics. The forward PEG of 1.4 indicates a drop of about 7% over its five-year average value (1.5), compared to the S&P 500 Index average (1.7). It is also trading 17% lower than its five-year average ttm P/E (11.5), compared to the index average of 21.7.
What Does the Future Hold?
There's no doubt that a large part of Exxon's efficiency and success comes from strong implementation of technology, improvements in operational processes, flawless execution of capital projects and the management team's overall clarity of vision. Bringing the Angolan Kizomba Satellites Phase 1 project online ahead of schedule in May 2012 will have brought an addition of approximately 100,000 gross BOD to the company's output at its peak. An additional 70,000 gross BOD is expected to be added, as the Nigeria Satellite project appears to be on track for construction later this year.
Also later this year, the company is expecting to start initial production of about 160,000 BOD at its Kearl Initial Development oil sands project in Fort McMurray, Alberta, Canada. Jointly owned by Imperial Oil and Exxon Mobil Canada, as of Q2 2012 the Kearl development stands at around 95% completion and is slated to generate roughly 500,000 BOD of diluted bitumen at peak production. The offshore Arkutun-Dagi Sakhalin Island project in Russia is scheduled to begin in 2014, which should see up to 4.5 million tons of additional annual oil production added to Sakhalin-1's capacity.
While all these oil development and exploration projects bode well for Exxon's future, the company is betting big on natural gas to supply much of its growth in the long term. Construction is progressing on the Papua New Guinea LNG project, which remains on schedule for a 2014 startup, while exploration for additional natural gas resources is continuing in Hadrian North in the Gulf of Mexico.
Although CEO Rex Tillerson's bet is that natural gas will be the long-term savior (25-30 years), sagging LNG prices in the U.S. and globally, coupled with a near glut in supply, have kept short-term prices of this particular resource unexpectedly low. Some smaller natural gas players have even had to cap their wells due to the unfavorable economics of continuing production at these low prices. If conditions do not improve in the immediate future, sagging LNG prices may cause a further drop on future earnings.
Make or Break for Investors
Out of five Wall Street analysts evaluating XOM, two indicate a Buy rating, whereas the other three recommend a Hold. Thus, Wall Street has quite diverse opinions to the company's future, making it more difficult for investors to make sensible investment decisions.
Making my position, I keep in my mind that the idea of buying cheap while the stock value rises is a straightforward concept that applies to Exxon's stock. The pivotal aspect in this regard is timing the buy just before the stock begins its upturn. The discounted earnings plus equity model, developed by EFS Investment Partners and applied to XOM, suggests the following: At a price of about $93, Exxon's stock is extremely undervalued. EFS's fair stock price valuation indicates that currently undervalued XOM stock has at least 50% upside potential to reach its fair value.
In addition, along with stability in its revenues and efficiencies in operations XOM enjoys exceptional earnings and dividend growth. With tremendous growth potential in its deepwater, Black Sea, and Arctic projects, and uncertainties surrounding global oil supply (problems with the Iranian supply and possible issues with other Middle Eastern supplies such as in Egypt and the Sudan), XOM is likely to be a long-term beneficiary of the global macro environment.
Bottom Line
Thus, I currently consider Exxon Mobil to be a buy. With anticipated dividend growth -- at a considerably undervalued price -- XOM might be the right option for investors in the long run.
Disclosure: I have no positions in any stocks mentioned, and no plans to initiate any positions within the next 72 hours. I wrote this article myself, and it expresses my own opinions. I am not receiving compensation for it (other than from Seeking Alpha). I have no business relationship with any company whose stock is mentioned in this article.