By Brad Zigler
The currency dodged a bullet in July, going into the month worth 14.59 U.S. cents, peaking at 14.70, then sliding into August at 14.66.
The renminbi dipped to 14.57 cents on August 19.
Chinese Yuan Renminbi Vs. U.S. Dollar (July '05 - August '08)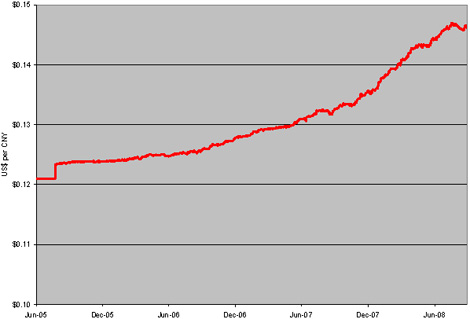 Whether this is just a "bump in the road," as some think, or a symptom of capitulation to inflation, remains to be seen. China's growth, of course, has been a driver of the global commodities boom. Weakening Chinese demand loosens a big peg in the commodity cycle's underpinnings.
Let's take a quick tally of the damage.
The Chinese producer price index hit 10% in July, its twelfth consecutive monthly rise, to attain a level not seen in a dozen years. Rising energy and commodity prices have ratcheted up costs in the Chinese supply chain so much that analysts are now jawboning a 2% decline in the GDP growth rate from the 10% level clocked in the first half of the year. (China's not alone in that. GDP growth in that other engine of demand, India, declined to 8% at last look).
The inflow of dollars into Chinese coffers is also slowing. According to the most recent government statistics, China's trade surplus totaled $123.7 billion in the first seven months of 2008, a 9% drop from year-ago levels.
No doubt, China's still growing, but its resolve on the inflation-fighting front is now being tested. A stronger renminbi would certainly help to hem in the inflationary beast. In this dollar-resurgent world, however, that will be more difficult than it once was.