By: John J. Critchley, Jr.
After disappointing earnings news from IBM (NYSE:IBM) on Tuesday night, investors are looking to Google (NASDAQ:GOOG) for some tech earnings love.
There has been increasing bearishness and downward earnings revisions from analysts in the past few weeks before the company's third quarter earnings announcement today. The consensus analyst estimate has dropped from $8.73 a share to currently an estimate of $8.61 a share. (click here)
The stock price has been on a tear since the last earnings report, rising from to $755 from $576 on July 17, 2012. The meteoric 23% rise has added over $46 billion in market cap and has vaulted GOOG into the top five of the most valuable companies in the US.
Currently, 42 analysts have a rating on GOOG with 12 maintaining Buy ratings, 22 Outperform and 8 Holds. As expected in the bandwagon analyst community world, there are no analysts with a negative rating on the stock even though the company just pulled back from an all time high and is up more than 26 percent over the last year. Over the past year, the stock has also outperformed both the NASDAQ 100 (NASDAQ:QQQ) and the S&P 500.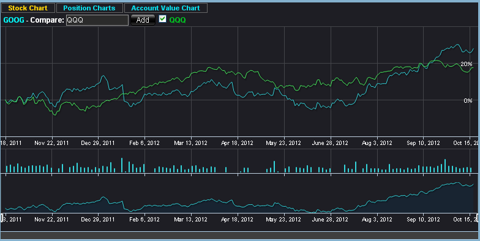 Source: http://sogotrade.com
However, more paramount than beating estimates and what ratings the analyst community has on the underlying, of course, is how GOOG performs after reporting earnings. In this area, GOOG has a spotty record in the last 5 quarters. The shares have gone higher in the following day in three of the last five reports and lower in the other two quarters.
The average non-directional based percentage move has been 5.78%
Options Play
The use of an option play before GOOG's earnings is complicated by the high price of the underlying. This high price translates into extremely high premiums for the corresponding options and makes any near term option buy very expensive in real dollar terms. For example, the October 750 straddle is trading at $37.50. Quite an expensive amount of premium to buy and potentially lose if GOOG has little movement post-earnings.

Source: http://sogotrade.com
However, With GOOG trading near all time highs, the implied volatility of the 30 day options is quite a distance from its 52 week highs. The 30 day implied volatility is trading around 27.05%, significantly less from the 52 week implied volatility high of 48.05% hit in January of this year.
This presents a compelling way to play the earnings release from an implied volatility standpoint.
Trade idea-A Medium Term Long Options Volatility/Premium Play
If you are wary of buying options that expire in a few days and would like to have more time for your "bet" to play out, one could go out to the November 12 monthly options, which present some enticing medium term value.
The play:
a) Buy November '12 750 straddle for $ 49.00. The implied volatility of this straddle is reasonably priced at 27.05% IV (Implied Volatility).
Net debit: $49.00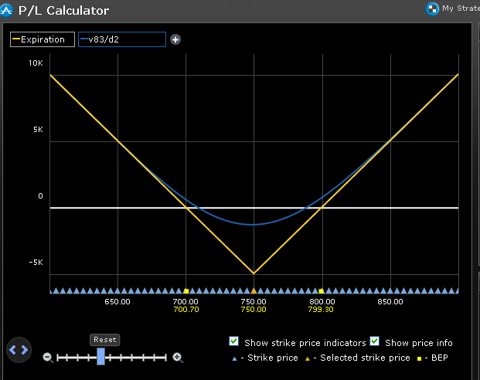 Source: http://sogotrade.com
Why the November 750 line? Why this is considered fairly priced? There are a few reasons:
1) The argument can be made that the straddle may be cheap if one factors in the fact that you have 30 days left before the November expiration, an earnings event and an potentially market moving macro event, the presidential election on November 6th.
2) If we look at the decline in 30 day Implied Volatility post-earnings over the following weeks, the average decline over the past four earnings periods has been approximately 16.725%.

The current 30 day Implied Volatility is around 27.05%. There will be a normal and expected downward move post earnings in Implied Volatility, but the move should not be as severe as in the past 4 quarters. If the 30 day IV drops as much as it has in the past 4 quarters, then we would see 30 day IV go to 10.25%. We don't expect that to happen. A more reasonable expectation would be for IV to mean revert and contract anywhere from 6 to 9% (just an educated guess). This would take IV within striking distance of the multi-year low of 17.81%, but nowhere near other historical post earnings IV drops.
3) The average 30 day Implied volatility going into an earnings release over the past four quarters has been 39.9625%.
In the chart below, the yellow lines point to the 30 day IV over the past 4 earnings release, whereas the blue represents the current 30 day IV going into the earnings release on Thursday October 18th. The current 30 day IV is approximately 27%, significantly below historical pre-earnings IV calculations.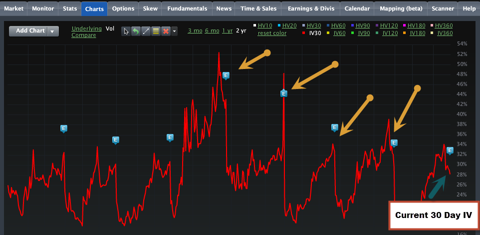 Source: Livevol(NYSE:R) Pro (www.livevol.com)

Risk: The earnings report does not cause the expected movement in the underlying. The vega of the November 750 options are approximately $.88 If the underlying does not move and IV contracts as expected (6%-9%) you can expect to lose anywhere from $10.00 to $15.00. This is a significant amount of premium to lose. Be forewarned. This play is for speculative money only.
Notes: Prices quoted where the prices at time of submission and do not reflect current market prices.
Disclaimer
We are not liable for any trading decisions made by any reader. NO advice is given or implied. The information offered in this article is for demonstration purposes ONLY and should not to be either construed as an offer or considered to be a recommendation to buy or sell any options.
Your use of this information is entirely at your own risk. It is your sole responsibility to evaluate the accuracy, completeness and usefulness of the information. You must assess the risk of any trade with a professional broker, or financial planner, and make your own independent decisions regarding any trades mentioned herein. This is not a solicitation to buy or sell any options, or to purchase or sell any credit spreads. Trading options only carries a high degree of risk, is not suitable for all traders/investors, and you may lose all of your premium money invested in the options. If you have never traded options before, we strongly recommend that you read a little background information made available by the government. Only you can determine what level of risk is appropriate for you. Also, prior to buying or selling an option, a person must receive a copy of Characteristics and Risks of Standardized Options.
Past performances DO NOT guarantee future results. Please consult with your own independent tax, business and financial advisors with respect to any trade. We will NOT be responsible for the consequences of anyone acting on this purely demonstration material.
Disclosure: I have no positions in any stocks mentioned, and no plans to initiate any positions within the next 72 hours. I wrote this article myself, and it expresses my own opinions. I am not receiving compensation for it (other than from Seeking Alpha). I have no business relationship with any company whose stock is mentioned in this article.