SVU Merger Rumors: In our September 6th report, we covered the reports from Bloomberg that Supervalu's (NYSE:SVU) advisers asked potential buyers to tender bids for the entire company even though suitors have inquired about individual parts of the grocery company. SVU's suitors at the time included Cerberus Capital Management and Royal Ahold. In our October 10th report, we touched upon how Ron Burkle, KKR & Company and TPG Capital were examining parts of SVU's operations as well as Spartan Stores (NASDAQ:SPTN), a Michigan area grocery chain that is averaging about $2.5B annual revenue. We were disappointed that Kroger (NYSE:KR) or Safeway (NYSE:SWY) has not stepped in with an offer to take SVU out because even though those companies are performing better than SVU, we believe that there are synergies that could be realized if those companies took SVU out, which would enable it to compete better against Wal-Mart (NYSE:WMT). It would be important for Kroger and Safeway to bulk up to better take on Wal-Mart especially because Wal-Mart is looking to grow its Neighborhood Markets operations, which will not bode well for traditional grocery retailers.
Safeway's YTD 2013 Earnings: We previously analyzed Kroger's recent earnings and now we will also evaluate Safeway's recent earnings. The good news for Safeway is that it grew its Q3 2013 EPS from continuing operations by 20% versus the prior year period. The bad news is that it achieved this by buying back 31% of its shares over the last 12 months. Operating profit has declined by 12% in Q3 2013 and YTD 2013 versus the prior year period due to the startup costs associated with the launch of its just for U personalized pricing program as well as the disposition of the Genuardi's stores in the Northeast. Identical-stores sales growth increased by 0.1% year-over-year in the quarterly period and is expected to increase to 1% in the upcoming quarter due to the just for U program, the roll out of its partner fuel loyalty program and the launch of its Wellness initiative."
While Safeway's identical-store sales growth of 0.1% for the MRQ was better than SVU's ID-store sales decline of 3.7%, Safeway's ID sales growth of 0.1% for the MRQ and 1% for the current quarter to date is still less than the 4% YTD 2013 that Kroger achieved. Despite the fact that the company has shown better financial performance than SVU in FY 2013, we believe that adding SVU could benefit SVU. We believe that if Safeway (or Kroger) was to acquire SVU, a potential deal would allow it to generate positive operating leverage which would be positively compounded by its share repurchase program to potentially provide 15-20% EPS growth over a 3-5 year period before taking into account share repurchase actions.
What Does SVU bring to the table for Kroger and or Safeway?
In our October 3rd report, we discussed how if Kroger or Safeway (or any other retail grocery chain in general) was to acquire Supervalu, we believe that the potential synergies that would come out of such a deal would more than offset any execution risks. We also believe that other food retailers should not hope that SVU will continue to struggle and it can continue to poach SVU's market share because we see SVU stepping it up with regards to price competitiveness and that even Kroger has not seen any positive operating leverage in this environment. The synergies that we discussed in our previous report included SVU's Save-A-Lot hard discount concept, the ability to refinance SVU's debt to a more manageable interest rate expense and increased purchasing power to compete against Wal-Mart. In this report, we will elaborate on how a takeout of SVU will lead to a rationalized competitive environment, rationalization of store assets and cash flows.
Rationalization of Competitive Environment: Supervalu has made efforts to bring its prices in line with its competitors and it is stepping up its efforts in FY 2013 and FY 2014. We think that Kroger and Safeway (and other grocery chains) should be looking at taking out SVU in order to prevent a price war between SVU and other grocery chains. All SVU has to do is survive, other chains have to worry about maintaining profit margins. Taking out the third largest grocery chain will allow for price rationality in the market coupled with increased purchasing power for the brave company that is willing to step up and acquire this once-great food wholesaler and retailer. If we were Kroger or Safeway, we would acquire the company, sell off the wholesale grocery business, sell Save-A-Lot to Aldi USA or merge it with Food-4-Less and identify the various store banners that it wants to keep or sell.
Rationalization of Store Assets: One reason why we previously praised SVU's former CEO Craig Herkert was because he had significantly reduced the company's capital expenditures budget. Our thesis was that he had done so by reducing the number of store openings and refocusing store openings towards licensee-operated Save-A-Lot stores and we were able to conclude that was the case. The company has remodeled 87% of its stores in the last 10 years which enabled us to conclude that the company is making sure that it offers an inviting environment for consumers to shop in. We expect that if a grocery store chain wanted to expand its store base, it would cost $10-$15M to build a new store. SVU carries its Property, Plant and Equipment on its balance at $6.261B net book value. For a company to replicate SVU's portfolio of ~1,040 retail outlets, it would cost at least $10.4B-$15.6B in order to do so. Plus, the company would not have SVU's portfolio of low-cost, hard-discount Save-A-Lot stores as well. Even if a PE firm took SVU out at $6/share ($1.3B), the enterprise value of the new SVU would be $7.6B, which compares favorably to the $10.4B-$15.6B cost of building new stores plus the PE firm would get Save-A-Lot as an extra add-in bonus that it could sell to Aldi USA or break it up and sell to the dollar store companies.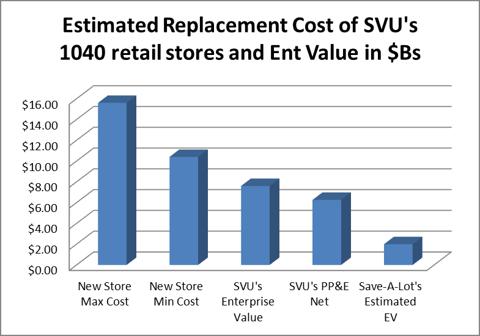 Source: Our Estimates, Debbie Weinswig and SVU's Q1 2013 10-Q
Cash Flows: Supervalu and its subsidiaries still generated $309M in free cash flows over the last twelve months, not including the inflow of $172M from the disposition of assets. The company also paid $509M in interest expenses over the last 12 months. The company's market capitalization is less than $500M and we believe that Kroger or Safeway could stabilize SVU's free cash flows if either firm was to take SVU out. We based this on the following observations:
SVU is steadily paying down its debt
Kroger/SVU or Safeway/SVU could get a better financing rate than SVU by itself
Kroger/SVU or Safeway/SVU would be able to get a better purchasing deal with food manufacturers than the premerger companies could individually
Even if one of these chains were to borrow money to acquire SVU, the cash flows generated by legacy SVU and the synergies of a combination of SVU with Kroger or Safeway would allow the acquirer to pay off the purchase cost in less than 4 years.
Conclusion: In conclusion, we are more optimistic about Supervalu's future. We think it was premature on the part of JPMorgan to ask if the company was going bankrupt because although the company has been struggling, it is still profitable and still generating free cash flows. The company made a serious error in its debt-funded acquisition of Albertsons even though it has paid down about $3.2B worth of that debt. We believe that there is value to be realized in Supervalu on behalf of its stakeholders, especially its long-suffering stockholders. We believe that a combination involving the sale of certain company assets as well as improvements in other areas will enable the company to arrest its sales and profit decline and stabilize and grow its revenues and profits. Since Wayne Sales has taken over as CEO of the company, he has replaced 70% of the company's executives with the addition of Kathy Persian as CIO to replace Wayne Shurts when he left to join Sysco (NYSE:SYY). We'd like to see Save-A-Lot's CEO Santiago Roces get replaced because that would leave CFO Sherry Smith as the last holdover from the Herkert era. While Save-A-Lot had a decent year in FY 2012, it is struggling this year and unless Roces can restore the momentum back to Save-A-Lot, SVU may need to replace Roces and his team.
Disclosure: I am long SVU. I wrote this article myself, and it expresses my own opinions. I am not receiving compensation for it (other than from Seeking Alpha). I have no business relationship with any company whose stock is mentioned in this article.
Additional disclosure: This article was written by an analyst at Saibus Research. Saibus Research has not received compensation directly or indirectly for expressing the recommendation in this article. We have no business relationship with any company whose stock is mentioned in this article. Under no circumstances must this report be considered an offer to buy, sell, subscribe for or trade securities or other instruments.