On Thursday, August 28 pre-market, Fleetwood Enterprises Inc. (FLE) reported a loss of $0.42 ($0.41 cont. op) per share or $29.1 million vs. a loss of $0.04 per share or $2.3 million. $0.01 was due to discontinued operations. Revenue fell to $289.9 million from $488.3 million, down 41% vs. a year ago. Analysts expected a loss of $0.18 per share on $346.8 million in revenue, missing expectations more than double.  
President and CEO Elden Smith stated: "Unfortunately, the rapid and accelerating decline of sales in the motor home industry during the first quarter caused heavy operating losses that were exacerbated by an aggressive discounting environment and downtime at our plants." Revenue for the RV unit declined 51% and down 15% for the manufactured housing unit.  
On August 20, Moody's cut FLE's rating to "junk" status. Shares dropped 19% that day. I wasn't surprised that Moody's was late in making the cut, since all the rating agencies seem to be late with everything. The "corporate family" and "probability of default" ratings dropped to "Caa3" from "Caa1" (which is 9 levels below investment-grade) and the trust preferred securities received a "Ca" rating, down from "Caa3".  
A year ago, FLE's market cap was around $750 million, now it sits at 163 million, a testament to the power of the rise in oil prices as well as a tightening of financing available. Both units suffered severe losses, especially the RV unit, which is in the midst of the worst year of a four-year downtrend. A flooding of deeply discounted RV's from now (and soon) out-of-business dealers should put tremendous pressure on FLE now and in the near future. 
The industry outlook is entirely negative, unless oil prices decline further and the housing downturn recovers soon, which we all know is not going to happen at all. Manufactured home shipment dropped 59% and wholesale RV shipments dropped 39%. Shipments of Class 'A' RV's, which cost $40,000 - $300,000, dropped 55% in July and 44% YTD. Do you see a lot of RVs on the road? I only saw ONE the entire last week and it's still summertime!  
FLE is not alone: Monaco Coach (MNC) suspended their dividend and will close 3 plants by September 17, cutting 1,400 jobs. In April they cut 300 jobs, and cut 318 more in the first three months of this year. Winnebago (NYSE:WGO) CEO Bob Olson also stated on June 20 that he expects no improvement in the industry for the rest of 2008. I believe Thor Industries (NYSE:THO) is the best positioned company in the industry given that they have already started aggressively discounting, which may help in the long-term but will hurt margins and add to the market flooding. THO announced preliminary sales on August 4 and said that RV sales were down 25% to $569 million from $755 million. 
For Q3, FLE expects to post a loss. FLE should be able to give guidance in the next couple weeks on the extent of the expected loss, but I expect the loss to be similar or greater than Q2's results. In my opinion, I believe that all the negative news that came out so far has already been priced in, and a slight recovery should take place toward the end of 2008, only if oil prices continue to decline. Otherwise, I would have to agree with the "no improvement" comments of the industry CEOs.  
Currently, 5 firms publish recommendations on FLE with 4 "Hold" ratings and 1 "Sell" rating.  
In 8 consecutive trading days in July, 11 directors and/or officers made direct purchases totaling 165,800 shares (right near the July low). What do they know? 
Technically, FLE is still in a primary downtrend and currently testing the $2 support level. Any break down below $2 warrants a short and a break out above $2.80 would be considered a "cautious" long on a double-bottom. FLE has failed the 50-day numerous times and the MA remains a valid resistance point.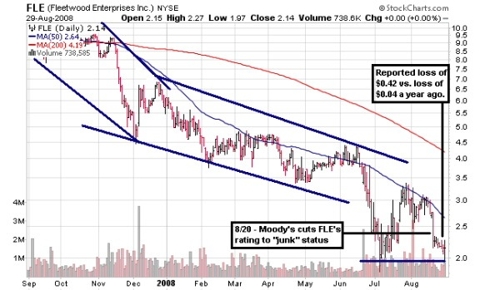 Full Disclosure: None