Financial markets are facing turmoil all over the world and it won't be over until major currencies stop swaying up and down. Commodities, stocks and bonds are not independent - financial market moves are governed by several factors, including export-import, growth rate, leading economic indicators, currencies, industrial production, unemployment, monetary policies and geopolitical events.
Among these factors, currency rates play a salient role in money markets, which was clear in the past few weeks. The Euro and USD as usual are playing a north – south game, which has left financial markets in a state of uncertainty.
Major economic data, released in the last week, has thrown light on the directional move of emerging markets across the globe. U.S. Durable Goods Orders were surprisingly up by 1.30% against the consensus 0.3%; August British Home Prices posted biggest the annual drop since 1990; German Consumer Confidence was at the lowest in over a decade; the monthly business climate index, calculated by the Munich-based economic research institute IFO, fell to 94.8 points from 97.5 points in July, its lowest level since August 2005; the German economy contracted by 0.5 percent in the second quarter of 2008 and showed hints of a recession; U.S. GDP was higher at 3.3% against the consensus 2.7%; and Euro-zone August consumer inflation reached 3.8% against 3.4% in the month of July.
All this economic data did a great favor for the U.S. Greenback and took the dollar near its highest closing level since January 2008. The dollar is once again in the limelight and investors are ready to take a chance on it. As soon as the U.S. dollar began to strengthen, funds that were parked in emerging markets started flowing back home. The raison d'être for this entire drama is that the funds were bought by investors in U.S Dollars and have to be redeemed in the same currency; therefore it was not worth it to keep Greenbacks in other currencies despite good returns in emerging markets.
The status quo did not leave even an iota of additional economic growth and started a financial crisis in major parts of the world, including the Euro-Zone. Already high levels of inflation, decreasing growth figures and tottering emerging markets left footprints for any economic activity. At this juncture, monetary policy makers have to take action in order to bail out the markets from such a crisis.
The European Central Bank [ECB] will have to make an announcement on Wednesday about the interest rate structure under the pressure of higher inflation and a slowdown in growth. The ECB may end up holding the same interest rate of 4.25% and could release a hawkish statement about inflation, pledging to support the economy for steady growth.
Did you ever think what will be the upshot of the status quo? Who is going to pay for this capsized economic shift? What will happen to emerging markets?
You will find answers to all these questions in a few weeks. What I can tell from here is that the present situation is looking quite complicated.
When the currency of a particular country appreciates significantly, its imports will become cheaper while at the same time exports will become uncompetitive. This will lead to an increase in imports and local industry will suffer from a lack of viability against imported goods. It invites a double blow of reduced domestic production and depleted exports. This will lead to a trade deficit, which is not good for any economy, and later rising imports will start taking their toll.
One can easily recognize from data released in the recent past shift that this has boosted the U.S Economic Indicators and stimulated a fall in Euro Zone growth. The rest of the world was happy with the euro appreciating against U.S. Dollar, which turned out to be a short lived glory. Now the ball is in the dollar's court, and if it gains, the same action can repeat sooner or later. Like India, many emerging economies also witnessed the same scenario as Europe and are paying up for that now. Henceforth, extremes can trigger again on the reverse side too, as market panics do come from acting behind the curve.
The present situation may lead to the collapse of the euro to a new level of 1.4240, inversely with the dollar index, which is technically on an intermediate uptrend and has even managed to close higher at 77.36, its highest closing in about 8 months, and could reach 79 in the short term.
This could lead to a smart rally in the Dow Jones index, to 11890-11970 levels, but the other markets like India, Dubai and even European markets may not take positive cues from this rally since investors will prefer to invest in U.S. Dollar-based markets with the intention of dual gains in a single investment from appreciating currency as well as appreciating markets. The similar attitude appeared over the last two years in emerging markets.
Commodities can also cough a bit this week as oil is poised to lose firmly its held ground after hurricanes Gustav and Hanna. The risk premium will be reduced either after the strike or failure. I feel that even if oil platforms are hit, production demand is not on the high side to trigger great spikes.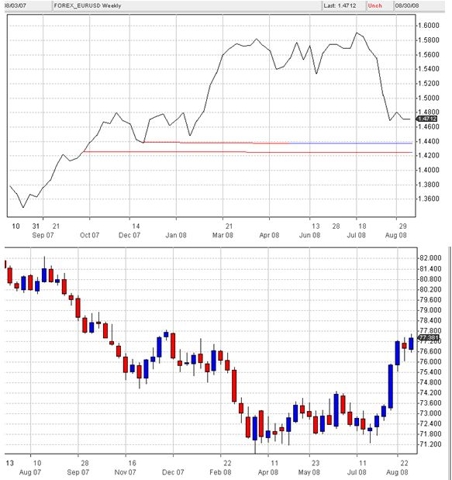 If the hurricanes don't hit any oil platforms, then speculators will unwind in hurry, and later oil can break $112 and test supports at $108 and $102. Gold and silver will unwind until there are panic lows at $775 and $12.2 respectively, to complete consolidation as appeals for safe haven instruments are reduced.
The coming week could be very crucial and you may see many markets across the globe will be sold off. Even technical charts are also indicating similar patterns being formed.