On Wednesday August 27, after-hours, Men's Wearhouse (MW) reported Q2 earnings (see conference call transcript) of $0.63 per share or $32.8 million on $545.3 million in revenue vs. $1 per share or $54.2 million on $569.3 million in revenue a year ago, a drop of 39% in income and a drop of 4.2% in revenue. Excluding a one-time item, MW would have earned $0.72 per share. Analysts expected earnings of $0.70 - $0.71 per share on $553.2 - $554.6 million in revenue. Shares gapped up $1.18, opened at $21.19 and closed at $21.61, up 8%.
Total sales for individual brands:
The Men's Wearhouse declined 6.2% to $362.7 million vs. $386.7 a year ago

K&G declined 4.7% to $96.4 million vs. $101.2 million a year ago

Moores

increased by 3.3% to $75.3 million vs. $72.8 million a year ago.
Same-store sales for individual brands:
The Men's Wearhouse declined 7.8% vs. a gain of 3.7% a year ago

K&G declined 8.9% vs. a decline of 6.9% a year ago

Moores

declined 2.8% vs. a gain of 8.4%.
In total, apparel sales made up 70.81% of net sales.
Obviously, lower traffic, due to weakening consumer spending power, is the culprit as is the case with other retailers (nothing new!). MW plans on opening 14 new Mens Wearhouse stores, 2 K&G stores, and 1 Moores store. Currently, MW operates 571 Men's Wearhouse stores, 106 K&G stores, 116 Moores stores (based in Canada), and 492 Men's Wearhouse Tux stores. As of February 2008, MW also operates 36 MW Cleaners retail dry cleaning stores in Houston, TX to test the market for complementary services.
The one-time item is for costs (expected at $9.8 million) is related to the closure of the Golden Brand Canadian manufacturing facility, a subsidiary of MW, due to the strengthening CAD, an increasing rate of competitor imports, and a weakening Canadian market.
For Q3, MW expects to earn $0.36 - $0.40 per share, adjusted, and analysts expect $0.53 per share. Management also revised their forecast for the fiscal 2008 year and expects to earn $1.50 - $1.60 per share, down from previous guidance of $1.75 - $1.85 per share. Analysts are expecting $1.63 per share. The guidance is based on the expectation of mid single-digit sales for The Mens Wearhouse, high single-digit decrease for K&G, and a low single-digit decrease for Moores. Since the K&G stores appeal to a lower-income demographic, I think it's appropriate to expect the highest decrease in sales to come from K&G.
Currently, 6 analysts publish recommendations on MW with 2 "Buy" ratings, 3 "Hold" ratings, and 1 "No Opinion". Over the past 12 months, insiders purchased 17,000 shares and sold 40,500 shares. Comparing Q2 to Q1, there was a 36% change in institutional ownership with a net 15.2 million shares sold.
Technically, MW formed an area gap. Around 90% of area gaps close within a week. MW still remains close to their long-term lows and has traded in a range of $15 - $26 since the start of 2008. A breakout above $26 is considered bullish and a break down below $15 is considered bearish. MW will likely meet resistance at the 200-day MA and trade in a range bound by both the 200-day MA and the 50-day MA.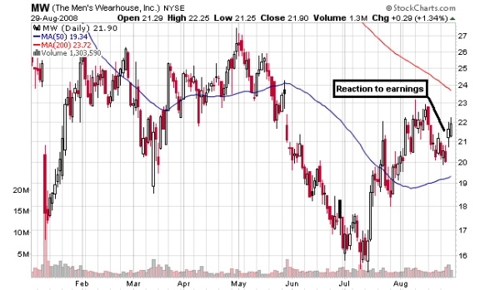 Disclosure: none