Recently I have been spending time to analyze several well known large cap tech companies. Many of these companies I have written about, such as Microsoft (NASDAQ:MSFT) and Dell (DELL), were darlings of the internet bubble in the early 2000s but have been largely out of favor in recent years. In this article I will evaluate another of these companies, Cisco Systems (NASDAQ:CSCO), and I'll give my opinion on whether it offers a good value to potential investors at this time.
Note: For more information on my investing philosophy please check out my profile or website.
Company Background
Cisco is best known for its switches and other networking devices that it offers worldwide for the information technology and communications industries. The company also offers several other communication products - some examples include call center and messaging applications, and telepresence systems that integrates voice, video, data and mobile into a sophisticated teleconferencing experience (Source: Yahoo). The company was founded in 1984, and currently has a market cap of $97.3B.
Business Prospects
Everyone knows Cisco as a networking company. This is still the core business, but the company has rapidly been expanding offerings and trying to position itself for a piece of the growing market for enterprise virtualization and cloud computing. The company finished a large restructuring project in 2012, where they now focus their strategy on 5 key areas, according to the most recent 10-K:
Core business (routers and switching)
Collaboration
Data center virtualization and cloud
Video
Architectures for business transformation
Hardware and Software products account for nearly 79% of sales. Related consulting services account for the other 21%. Within the product sales breakdown, 63% is for routers and switches. Collaboration and Video technologies each account for about 10% of sales, and the rest are under 5%. The company is seeing the most significant growth in the data center virtualization and cloud technologies, where revenues have increased more than 600% from 2010 levels. This however still makes up a very small part of Cisco's business.
The long term prospects however remain bright for Cisco. All of their business units appear to be relatively healthy - revenues have been increasing in all major product categories. The worldwide market for switches and routers remains strong, and has been showing CAGR rates in the high single digits. This IDC report from May 2012 shows the ethernet switch market reached $5.1 billion and grew at a rate over 7% from the 2011.
Even with economic softness in Europe, Cisco still managed to grow sales by 2.4% in the region over the past year (Europe is 28% of total sales). Growth was much stronger in the Americas (4.5%) and Asia (12.6%). With continued adoption of technology and the rising middle class in emerging markets, I don't see any serious slow down to Cisco's core business in the near future.
Shareholder Friendly
With any potential investment, I always assess how friendly I believe the company management is towards shareholders. There are several points to like here about Cisco in the steps they have taken the past few years:
A dividend was initiated in 2011
The dividend was increased substantially in 2012, and now the yield is around 3.0%
The payout ratio is only 19% so there is ample room for dividend increases
During Fiscal 2012 (July 2011 - July 2012) the company repurchased 262 million shares of stock for $4.4 billion. This represented about 5% of outstanding shares. There remains another $5.9 billion on the current repurchase program.
The outstanding share count has consistently been reduced over the past 10 years. In 2003 there was 7 billion shares, and today there is only 5.29 billion. This is a reduction of 25%, and shows the company is prudent with share repurchases and not giving out excessive stock options to management.
Cisco's Competitive Moat
In this recent graph from Infonetics Research, the world market share in the service provider router and switch markets is shown. These are the larger Edge and Core routers which are the cornerstones of the internet. Cisco still has by far the largest market share, and has increased from 31 to 39% the past year: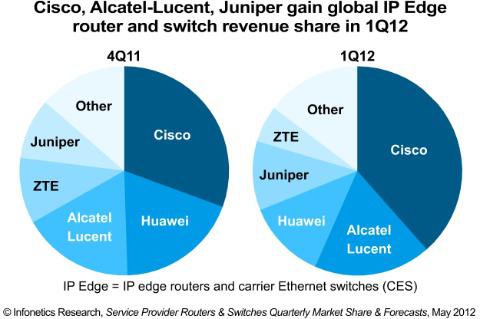 The summary of the report indicates that Cisco still maintains some competitive advantages as they have the largest installed base of routers in both operators and enterprises which is difficult to compete with.
According to the report from IDC I referenced earlier in the article, in the worldwide market for general ethernet switches, Cisco still maintains a whopping 65% market share, crushing its nearest competitor HP at only 8.3%. Clearly then this part of Cisco's business is very stable.
As nearly 50% of company sales still come from switches and routers where their moat is the strongest, the company for sure has some advantages over competition.
What Are The Risks To Cisco's Business?
Increased Competition
Cisco's competition has been growing in recent years. Part of this has been due to the company's decision to enter new markets. As mentioned above, the company has tried to capitalize on current technology trends by branching out from its traditional core business of routers and switches to position itself as a player in the enterprise data center virtualization and cloud markets.
In the company's 10-K, Cisco lists 27 major competitors, including big names Microsoft , IBM Corp (NYSE:IBM), Dell , Hewlett Packard (NYSE:HP), as well as more traditional networking companies like Juniper (NYSE:JNPR), Alcatel-Lucent (ALU), F5 (NASDAQ:FFIV), and Brocade (NASDAQ:BRCD). The company also states that barriers to entry are relatively low as new competitors in certain markets or niches do pop up frequently.
What I also feel here is that Cisco's core routers and switches are becoming more of a commodity business over time. As the internet and related technologies continue to mature the quality of competitor products and offerings have increased.
That being said, Cisco still enjoys very large market shares in its core products. As stated above in the business prospects section, the overall market for their core services continues to grow. I therefore don't see the risk of increased competition as one that is really threatening their core business in the near term. For long term holders though this should be re-assessed once a year to see how the market continues to develop.
Virtualization of Networks
Another risk that investors should watch closely is the development of the market for virtualized network devices. Recently in July, Virtualization software specialist VMware (NYSE:VMW) bought Nicira, which was a firm specialized in technology that essentially makes virtual networking devices. This would mean it was no longer necessary to use a physical hardware switch/router from a company like Cisco. Although I believe this could be a legitimate long term threat, I don't believe it will have any serious impact on Cisco's market share (and ultimately bottom line) anytime soon. Cisco devices are just too embedded in enterprises and service providers around the globe, that any drastic market shift towards virtual devices will be a gradual shift. Meanwhile Cisco also continues to grow several of its other businesses and products to offset this, such as the Unified Computing System which directly helps them to be relevant in cloud computing and virtualization.
Conservatively Financed
The following table summarizes key balance sheet figures from Cisco:
| | |
| --- | --- |
| Total Cash (mrq): | 48.72B |
| Total Cash Per Share (mrq): | 9.21 |
| Total Debt (mrq): | 16.33B |
| Total Debt/Equity (mrq): | 31.83 |
| Current Ratio (mrq): | 3.49 |
(Source: Yahoo! Finance)
The company does have some debt on the balance sheet, however the debt/equity ratio and current ratio are both quite healthy. Furthermore in the past 3 fiscal years, 2010-2012, cash has increased by approximately $9B where as debt has only increased by about $1B. The balance sheet has clearly gotten even healthier over the past few years.
Predictable Earnings
Cisco earnings have increased from 0.50/share in 2003 to 1.49/share in 2012. Over the ten year period, this represents a compound annual growth rate (OTCPK:CAGR) of about 11%. In general the earnings have risen predictably along with revenues. The only two year over year decreases were during the great recession 2008-2009, and then also 2010-2011 where there was a one time restructuring charge of $694 million.
I won't analyze cash flows in detail here, but looking at the past few years (2010-2012), cash from operating activities has been increasing as you would expect ($10B in 2010 to $11.5B in 2012).
I feel confident looking at the past record of Cisco that the company has a history of steadily increasing earnings along with the growth of the business.
Valuation
I prefer to calculate the intrinsic value of a business using a simple DCF method. For Cisco, I have used the following inputs:
Current EPS: 1.49
Earnings Growth Rate over 10 years: 5%
Growth rate after 10 years: 0%
Discount Rate: 6%
Confidence Factor: 75%
This gives me an intrinsic value of $27.55/share.
With this method I always use a relatively low discount rate, as I look at the discount rate as representing the best available return percentage that I have confidence in that I can obtain "risk free". If the long term US treasury rates were higher than 6%, then I would increase this percentage. Now of course currently the treasury rates are much lower than this, but to be more conservative on the valuation I have used 6% as the minimum. Instead of changing the discount rate higher to account for earnings uncertainty in the future, I add a confidence factor variable - in this case 75%. This means I simply take the resulting DCF intrinsic value and I reduce it according to how confident I am the earnings will materialize. So with 75% confidence, I have reduced the intrinsic value by 25%.
With a current market price at time of writing of $18.70/share, this provides a margin of safety of about 33%, with a potential upside of 47%. In addition it's worth nothing that there is about $6.12/share in net cash on the balance sheet after subtracting out debt. Overall I believe this shows Cisco is attractively priced.
Conclusion
Although the company may not generate the same level of excitement it did in the late 1990s and early 2000s, I believe the company still enjoys a very strong position in its core business. More importantly the company and its industry have good prospects, there exists clear evidence of shareholder friendly actions, and Cisco is trading at an attractive price. I expect the company to continue to chug along and grow at a moderate pace in the coming few years, and consequently the share price should better reflect this performance over time.
In summary, you don't need to buy the hot growth stocks to achieve market beating returns - slow and steady often wins the race, and buying well run solid companies like Cisco will make a great addition to any value oriented portfolio.
Disclosure: I am long MSFT. I wrote this article myself, and it expresses my own opinions. I am not receiving compensation for it (other than from Seeking Alpha). I have no business relationship with any company whose stock is mentioned in this article.