A few weeks ago Cisco announced its exit from the network load balancer market, paving the way for competitors F5 (NASDAQ:FFIV) and Radware (NASDAQ:RDWR) to grab share. However, the biggest winner may end up being Citrix Systems (NASDAQ:CTXS), which just inked a deal to become Cisco's go-to partner for such equipment.
$160 million in sales of Cisco's ACE ADC's are at stake.
As I wrote previously, F5 is the load balancing leader, owning nearly 50% market share.
In the wake of Cisco's announcement, F 5's competitors, including Citrix, offered steep discounts for those willing to convert from Cisco's ACE line.
F 5 responded in kind, kicking off a margin busting price battle, squeezing profits. As a result, all the related stocks have traded lower over the past two weeks - despite the top line opportunity for share growth.
Cisco's deal with Citrix reshuffles the deck yet again, positioning Citrix's NetScaler as the preferred option for current Cisco customers.
For Cisco, the deal allows it to keep control of its unified network solution. For Citrix, it gives them a shot at pocketing a substantial share of Cisco's low double digit ADC market share, worth some $160 million annually.
Cisco's end-to-end solution is a key to future growth.
Broadly, Cisco has recognized the tidal shift to cloud data and virtualization and the resulting potential for software defined networks poses a significant risk to its switch business. I wrote about the threat recently here.
As a result, Cisco's been building out its end-to-end Cisco Cloud Network Services offering. The soup-to-nuts solution is geared to provide data centers with one stop shopping for data management, control and security. NetScaler will become a part of this Cisco solution.
Cisco is also sharing resources with Citrix to develop solutions integrating their Unified Computing System servers and Nexus switches with Citrix's CloudPlatform. In this way, the two take aim at market leader VMware (NYSE:VMW), in a bid to disarm risk from VMware's software defined network push. While VMware remains a Cisco partner, the company's $1.2 billion purchase of Nicira this summer has many thinking its setting up more as foe than friend to Cisco.
This past summer, Citrix VP of Strategic Development hinted at a closer Cisco relationship at a Pacific Crest Investment Conference. When asked about VMware's Nicira acquisition, he is quoted saying "People seem to forget that Cisco is the 800 pound gorilla in the lower layers of networking and a very good partner of ours and I'd say a less good partner going forward with VMware."
Citrix is far from a small company, with a market cap north of $12 billion and nearly $2.5 billion in annualized sales last quarter. But it dwarfs in size to Cisco, which has a cash hoard of over $45 billion.
Whether the Citrix relationship becomes something much more is a wild card not worth betting on. But for investors looking for a double digit revenue and earnings grower in a high growth field, they could do far worse than Citrix, which has slumped 20% in the past month.
For those interested, here are Citrix's average monthly returns for Q4 over the past 10 years.
Source: Seasonal Investor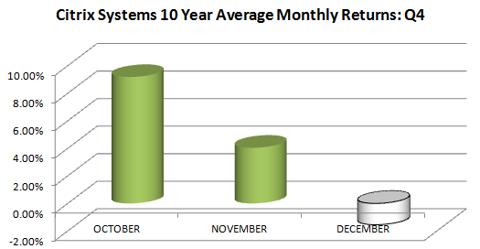 Disclosure: I am long CTXS, FFIV, VMW. I wrote this article myself, and it expresses my own opinions. I am not receiving compensation for it (other than from Seeking Alpha). I have no business relationship with any company whose stock is mentioned in this article.