Legend has it that Cornelius Vanderbilt began the family fortune with a $100 loan from his mother. He used the money to launch a ferry service across New York Harbor, which eventually turned into a fleet of more than 100 steamboats that traveled as far as Central America and Europe.
After conquering the steamship business, Cornelius, now known as "The Commodore," launched into another lucrative venture into transportation stocks. He built a second fortune with investments in railroads like the infamous New York Central.
Larger than life entrepreneurs built great fortunes in the 19th century. Their names became synonymous with the industries they built: John D. Rockefeller and oil, J.P. Morgan and banking, Fredrick Weyerhaeuser and timber, James J. Hill and railroads.
But nearly 120 years after the Commodore turned a $100 investment into one of the largest fortunes in the world, great wealth is still being made in this land of opportunity. The transportation sector made the Vanderbilts incredibly wealthy, and the industry remains just as important today as it was 100 years ago. And the transportation sector is currently a tremendous opportunity…
Finding Undervalued Transportation Stocks
Even Warren Buffett - the closest person America has to a modern day industrialist - has used the last few years to build an increasing stake in transportation stocks like Union Pacific (NYSE:UNP), Norfolk Southern (NYSE:NSC) and his biggest purchase by far, Burlington Northern Railroad (BNI).
BNI transports goods eastward from Pacific shipping ports, and commodities such as coal and corn around the Midwest over 32,000 miles of track in 28 states and Canada. It is currently trading at a forward PE of 14.

Railroads are coming back into vogue as their economy and their cost effectiveness make them popular again. That's why Warren Buffett took a $5 billion stake in the railroads.

Trucking also deserves a look. YRC Worldwide (NASDAQ:YRCW) and Knight Transportation (NYSE:KNX) were hurt along with the rest of the sector with the spike in diesel costs this spring. With energy prices starting to settle down, the larger concern for trucking companies is the overall economy, as a continued slowdown will be just as costly.
Shares in this transportation sector were down across the board because of a recent Wachovia Capital Markets analyst, who downgraded his rating on the entire trucking sector. He was "increasingly cautious" about freight demand in the fourth quarter.
But we've all seen how reliable these "experts" can be, and why it can be more profitable to beat the financial analysts at their own game. Trucking is an integral part of our national goods transportation network. And because it's tied so closely to our economy, it will also be one of the first sectors to see a turnaround. The trucking sector may be bruised right now, but it certainly isn't down for the count.
Transportation Stocks - Calling All Contrarian Investors
For contrarian investors like myself, buying when the rest of the crowd isn't in love with a particular sector or company is par for the course, as is the case with transportation stocks. The secret is to find value that everyone else is missing…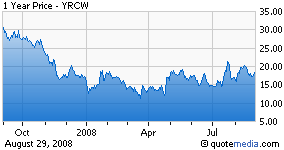 For example, YRC Worldwide is trading in deep value territory at only 62% of book value. With revenue over $165 per share, this firm is selling at approximately 10% of its sales. The forward PE is only 11.
Commodity, oil and agricultural products all had a significant price increase this spring and summer as energy prices impacted profitability across the board. Many have already seen their prices crash downwards along with crude oil, and it remains to be seen whether this will continue.
While slowing with the U.S. economy, international development around the world will continue to be an engine of growth to drive production in multiple industries and there will always be a need to transport these products.
As the great leaders and businessmen of the 19th century knew, markets can retreat, but after every retreat comes a new day of increased growth and higher market returns.
By investing like the great industrialists, we can follow their examples to great wealth. Build your fortune the same way as Vanderbilt and Buffett by investing in unloved and undervalued sectors like transportation…
And perhaps your $100 investment will create the world's next great fortune.