Investors tracking tech stocks Thursday were disheartened as Google (NASDAQ:GOOG) not only failed to meet expectations, but reported earlier than anticipated through a printer mishap. Tech shares tumbled 1.5% and Google fell 8.1% as advertisers paid 15% less per click on promotional material through the company. So far, of the 95 S&P 500 companies reporting earnings, 70 have exceeded expectations.
US Initial Jobless Claims increased by 46,000 to a seasonally adjusted 388,000 while expectations were for 365,000. The Federal Reserve Bank of Philadelphia's leading economic index increased to 5.7 in October from -1.9 in September. Anything above zero points to expansion. US Housing Starts increased 15% to an 872,000 annual rate last month. The forecast had been at 770,000. US Building Permits increased to 894,000 annual rate while the forecast was for 810,000.
National Association of Home Builders/Wells Fargo Housing Market Index (HMI) increased one-point to bring the index to 41. Of course any number below 60 points to poor conditions. Weak unemployment still plagues the marketplace as 12.1 million people were out of work in the US in September hampering the housing market still yet.
The last US Unemployment report had the unemployment rate at 7.8 % which is pointing toward recovery. The US budget deficit for 2012 (October through September) came to about $1.089 trillion. In 2012, the US government spent $3,538 trillion between mostly Medicare, Medicaid and Social Security. At its current pace, the US government is on target to perhaps hit $16.39 trillion in borrowing limits by the end of the year.
This is the fourth year that the budget deficit has exceeded $1 trillion. Operation Twist is still in effect as the Fed purchased about $1.89 billion in long-term Treasury's to replace the short-term debt of about $267 billion. The International Monetary Fund (IMF)) gave the US a warning that growth could virtually halt in 2013 if the "fiscal cliff" is not dealt with. Investors may have concerns over the "fiscal cliff" as Federal Chairman Ben Bernanke refers to the end of year expiring programs. This has been extended to the new administration to deal with after the election.
The fiscal cliff represents about $600 billion in expiring tax credits and automatic spending reductions. Thoughts are that if not dealt with, the US could spiral into a recession with potentially 2 million jobs at risk. The White House is to work on about $1.2 trillion of the automatic cuts unpleasant as it will be for both Democrats and Republicans.
The spending reductions could potential cut about $55 billion from defense and another equal amount from other domestic programs in 2013. Tax increases for the top income consumers may also be discussed. The cuts are expected to reach $109 billion in 2013 in both defense and non-defense programs. The US leaders could not agree on a sustainable solution for this problem last year, so whether they increase the debt ceiling or somehow work on long-term deficit reduction the problem can only snowball as time approaches the year end.
This market will be about the US recovery, containment in the Euro Zone and inflation. This is really viewed as more of a short-term phenomenon as a bit more of inflation is regarded healthy as long as employment is rising. Should the economy experience both high inflation and high unemployment, then stagflation would take over as we had experienced in the 70s. Hyperinflation is inflation spiraling out of control, from the excessive printing of money that can devalue the currency and make it ineffective in purchasing goods and services. Fed members are even questioning the possibility of deflation.
The National Inflation Association has concerns that the US economy may enter a state of hyperinflation 2013 - 2015. The $2.3 trillion in US government and housing debt through QE1 and QE2 and the buy program of mortgage debt worth about $40 billion per month with QE3 including an open ended condition may stimulate growth and employment, but at the risk of the US dollar devaluation.
The Euro Zone still is working on a sustainable solution for Greece's inability to agree on reforms necessary to qualify for its next tranche of bailout funds. It was suggested that Greece buy back their bonds held by private investors at a discount. Greece would deduct the bonds at face value from their total debt to make the debt seem more sustainable. Greece has also been working on privatizations allowing them to sell off state assets that they would normally collect small revenue from consistently.
The Euro Summit is in Brussels starting Thursday night where Euro leaders will discuss some of the debt crisis issues to find solutions for ailing countries such as Spain and Greece. The market has waited for Spain to request a line of credit from the European Stability Mechanism. Moody's credit rating agency rated Spain at Baa3 just above the junk rating. The Spanish 10-year bond yield came in at 5.34 %. The words of the President of the European Central Bank Mario Draghi had been what ignited the rally in the indices, but this is all null and void until a bail-out is requested.
German Chancellor Angela Merkel says that Spain does not need a bail-out and this is where it stops and the uncertainty comes in. The Spanish government needs to raise about $90 billion euros next year to start with a necessary $100 billion euros each year for three years thereafter. If the borrowing costs for Spain rise and they are prohibited from borrowing. The boost may be from the idea that Spain may request a rescue and without, they may lose their edge. They may find that they can no longer request a rescue.
On the stock side: JP Morgan Chase and Co. (NYSE:JPM) was down 0.74 % to $43.00. Citigroup Inc. (NYSE:C) was down 0.21 % to $38.35. Bank of America (NYSE:BAC) was up 0.11 % to $9.45. Alcoa Inc. (NYSE:AA) was up 0.44 % to $9.22. Boeing Co. (NYSE:BA) was up 0.50 % to $74.00. Caterpillar Inc. (NYSE:CAT) was up 0.77 % to $86.77. General Electric Co. (NYSE:GE) was down 0.39 % to $22.82. Halliburton Co. (NYSE:HAL) was up 0.93 % to $35.65. Hewlett Packard Co. (NYSE:HPQ) was up 0.27 % to $14.76. SPDR Select Sector Fund - Financial (NYSEARCA:XLF) was up 0.09 % to $16.31.
Friday, we have US Existing Home Sales due out at 9:00 AM CST.
E-Mini S&P 500 Chart.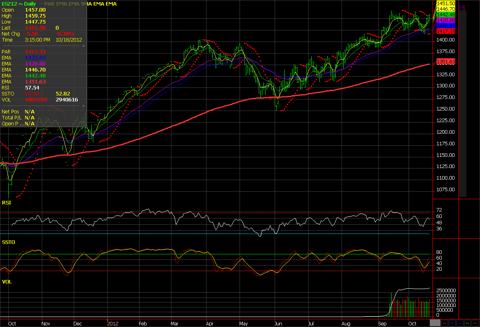 Friday, what to expect: We maintain a bullish bias unless the (December) E-Mini S&P 500 penetrates $1419.00. Friday, we anticipate an inside to lower day. Thursday's range was $1459.75 - $1447.75. The market settled at $1451.50. Our comfort zone or point of control for this market is $1454.50. Our anticipated range for Friday's trading is $1459.50 - $1442.50.
Disclosure: I have no positions in any stocks mentioned, and no plans to initiate any positions within the next 72 hours. I wrote this article myself, and it expresses my own opinions. I am not receiving compensation for it. I have no business relationship with any company whose stock is mentioned in this article.