One of the fiercest areas of competition within financial services is in high-yield savings products. Since together E*TRADE (NASDAQ:ETFC) and ING DIRECT accounted for almost 50% of high yield savings applications started online during May and June 2008, we decided to compare the performance of campaigns from these industry leaders. Both E*TRADE and ING DIRECT produced effective and engaging campaigns (according to the IAB post-click through engagement varies from 5-85%) but in our example one landing page performed measurably better.
We did a head-to-head comparison of post-click through advertising results for E*TRADE's Max-Rate Savings versus ING DIRECT's Orange Savings Account using Compete's Landing Page Effectiveness product. Below are examples of those landing pages from the week of May 12th.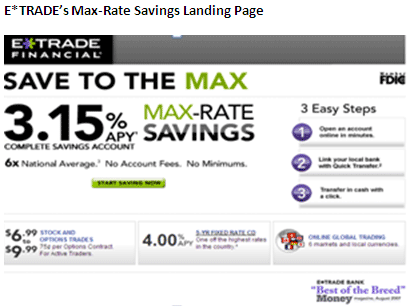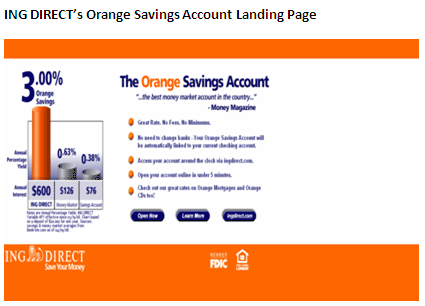 First, we looked at Engagement, which is the percentage of visitors to the ING DIRECT and E*TRADE landing pages whose next click is on the bank's domain. This metric, which is the inverse of Bounce Rate, provides a good understanding of which creatives and promotional messages were more compelling to consumers who came to these landing pages. While both landing pages have a high Engagement rate, E*TRADE clearly has a relative advantage over ING DIRECT on a percentage basis. The answer to E*TRADE's higher rate of engagement here is most likely because there are more opportunities to interact with the landing page across multiple E*TRADE products.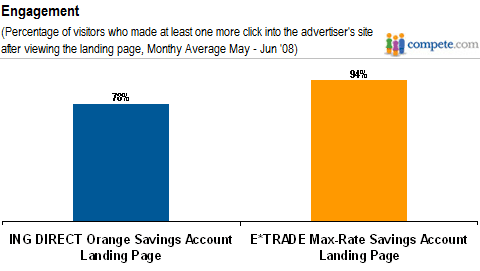 Next, we looked at Application Start Rates, which is the percentage of visitors to each of the landing pages who started an online application (see below). Almost twice as many of the visitors to the E*TRADE landing page started an application. For ING DIRECT, matching E*TRADE's comparable landing page post-click performance could have generated more than 21,000 incremental applications.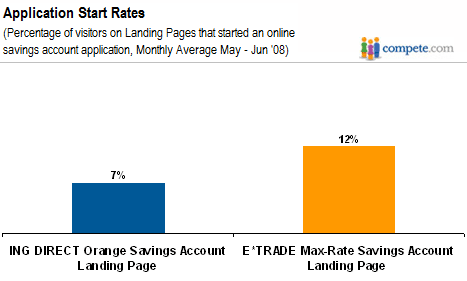 Certainly, E*TRADE's higher interest rate offer drove many of the visitors to this campaign to start an application. But E*TRADE's landing page also has a few tricks that ING DIRECT would be wise to at least consider testing on their own future campaigns:
Different language on the action buttons: While both landing pages have clear and prominent calls to action, ING DIRECT should consider testing the wording of its "Open Now" button to see if different messaging would be more compelling to consumers.
Comparison Messaging: ING DIRECT compares the yields on its account to Money Market Funds. E*TRADE compares its performance to a national average. ING could adopt comparison language that is more succinct and direct.
Limit Consumer Options: E*TRADE only allows consumers one path from the main body of the ad, that is to "Start Saving Now." ING Direct could eliminate its buttons allowing people to learn more or visit the homepage of the site.
Overall, both E*TRADE and ING DIRECT are doing a great job of building effective landing page experiences. However, with some minor changes, opportunities still exist to get even more return on their advertising dollar.