Google (NASDAQ:GOOG) reported Q3 results on October 18th.
Key highlights:
Consolidated revenue: $14.1 billion
Sites revenue: $7.73 billion, vs. consensus $8.12 billion
Networks revenue: $3.13 billion, vs. consensus $3.09 billion
Motorola revenue: $2.58 billion, vs. consensus $2.87 billion
Paid Clicks increased 33% y/y and 6% q/q
Cost-Per-Click declined 15% y/y
TAC: $2.77 billion, or 26% of advertising sale, +25% y/y
GAAP EPS: $6.53 per share
Non-GAAP EPS: $9.03 per share
What concerned me: Continued CPC decline, weak mobile monetization, core growth miss estimates
Google's CPC declined 15% during the quarter making it the fourth consecutive quarterly decline.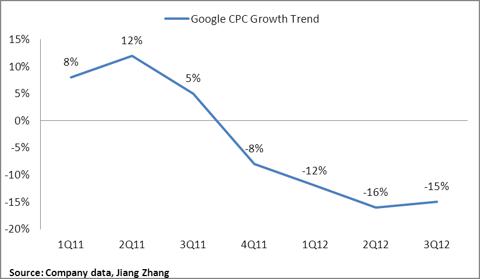 Mobile had a material impact on the CPC decline. According to management, there are 1.3 million Android activations per day. Given the large influx of mobile devices online, Google is only achieving scale and presence via Android and Chrome. However, the smaller screen on the mobile devices is pushing down fees to half of that on the desktop and the conversion rate on mobile is approximately a quarter of that of desktop, making mobile monetization extremely difficult.
Aside from weakness in mobile, site revenue growth continues to decelerate, increasing 15% y/y compared with +39% a year ago and +21% in the prior quarter.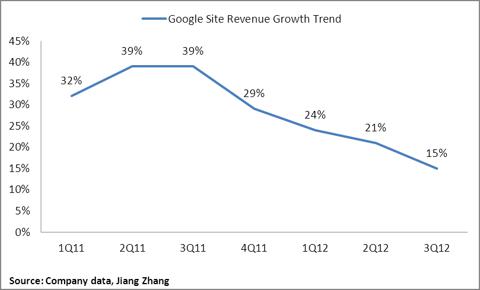 Higher than expected deceleration in the Google site could indicate that users are bypassing search engines to search for information and items directly on their preferred websites, such as Amazon (NASDAQ:AMZN), Wal-Mart (NYSE:WMT), and Wikipedia.
Finally, Motorola Mobility's revenue of $2.58 billion came below the Street consensus and also recorded a GAAP operating loss of $527 million for the quarter, which was a minor drag on the company's overall earnings.
Despite a weak quarter, I believe Google is still the best growth story in the internet space given the company's strong presence in the mobile OS space that is paving the way for the eventual ramp up in mobile monetization.
Disclosure: I have no positions in any stocks mentioned, and no plans to initiate any positions within the next 72 hours. I wrote this article myself, and it expresses my own opinions. I am not receiving compensation for it (other than from Seeking Alpha). I have no business relationship with any company whose stock is mentioned in this article.