Our sense is that the Street is taking too short-sighted and timid an approach with regard to Halcon Resources (NYSE:HK). It's cheaper than the Street would have you think, and given the track record of management, we see Halcon as set up for over-deliver mode as 2013 unfolds. Currently, the Street is modeling next year's cash flow using volumes below the low end of guidance and costs that are likely to be overly conservative. We'll get to that a bit later.
But First, A Brief History ... We owned Petrohawk (the original HK) for years and in the end, when it was acquired by BHP, it was one of our largest holdings out of roughly 25 E&P positions held at the time. And for that we thank you, CEO Floyd Wilson. Despite Petrohawk being part of the natural gas oversupply problem at the time, we always liked the fact that management set the bar high and then managed to soundly beat it. It's one thing to bag the Street and then gingerly hop over tepid guidance and call that a "beat." It's another to push the envelope of growth to the point that the entire buyside and sellside are dubious about even the low end of your range and then to repeatedly trounce the upper band. Petrohawk did this by being technologically ahead of the game, by leasing in the best parts of the play, (first in the Haynesville and then in the Eagle Ford, and, Wilson was in the process of checking out other plays when the company was bought out), and then rapidly optimizing its drilling solution. Having concentrated positions helped the company to lower operating costs concurrent with its high growth. So Petrohawk didn't just grow for growth's sake. When Petrohawk was acquired (for a nice premium) we were sad to see the company go. Petrohawk was reliable and management truly was under-promise and over-deliver of the best variety.
... And A Little More Recent History ... With piles of new cash in hand, Mr. Wilson was simply not content to go to the beach or to only pursue philanthropic efforts. Within days of the BHP transaction, Mr. Wilson was accumulating acreage in new plays that Petrohawk had been studying and plotting his return, this time as an oil company. And while he successfully targeted the Eagle Ford Shale under the original HK with very limited well control (2 wells some 70 miles apart), that was not the case with this new set of plays where he had access to logs from literally hundreds of wells and other data. While he was prohibited from playing in the Eagle Ford within a certain distance of BHP facilities, other plays that have since become new household names like the Utica, the Woodbine, and the Tuscaloosa were fair game. He was leasing in the Midland/Navarro play (one Halcon hopes to make a household name) early as well again with data in hand, not simply going after acreage where others had just announced a flashy IP as we have seen with some mid and small cap players who play the play chasing game. It's a matter of focused research and not simple closeology.
... Which Brings Us Into The Present. Mr. Wilson's new firm Halcon has been on the stage for almost a year now. We are owners, not renters and we do follow management teams from name to name over time. So as Mr. Wilson re-emerged late last year as the new owner of Ram Energy, and began to essentially reincarnate Petrohawk as an oil company in the form of Halcon, we took an interest. Knowing a little bit about the old HK helped prepare us for rapid growth, big deals, and the occasional bout of dilution. Mr. Wilson doesn't play small ball, and soon Halcon looked nothing like the mature oil, small fry Miss Lime player that was Ram. Halcon continued to acquire leasehold as it rapidly expanded the balance, taking positions in a variety of oil focused plays. Halcon then acquired built-to-be-sold GeoResources to gain immediate scale as well as entry into the Bakken (an area that had interested Mr. Wilson for some time) but where it's a little late to assemble a position piecemeal. I suspect the Miss Lime from Ram will get monetized and we'll be left with a technologically advantaged machine in the better parts of the plays listed in the table below. So, in a nutshell, 2012 was spent building a company with over 800,000 mm net acres of the oiliest unconventional plays in the onshore U.S. and in at least a couple of the conventional ones as well, giving Halcon a multi-year drilling inventory, oily (not just liquids rich as we are talking 60% black oil here) growth platform to exploit and or highgrade over time. And Halcon has a couple of stealth plays still to announce in the not too distant future, as the company has repeatedly indicated, which will be announced when it has secured more leasehold. Icing on the cake is the fact that today is the day when former Petrohawk employees are allowed to jump ship and rejoin Mr. Wilson. Except for a few that were already granted waivers most personnel who either stayed on with BHP or went elsewhere could not come home to the Hawk until now.
2013 Will Be Spent Turning The Drillbit To The Right. In 2013, look for the capital budget to flip-flop relative to 2012, with Halcon noticeably slowing down on the acreage acquisition front and ramping up drill spend to $825mm or roughly 75% of tentative 2013 capital budget of $1.1B. Over the next six months, Halcon should provide potentially catalytic details on several of its new plays. Results are likely on the Q312 call for the deep, high pressured Midland/Navarro play where the company continues to add acreage. Look for Tuscaloosa and more Wilcox and Woodbine results as well (both of which have seen solid early results) in the not too distant future with first Utica results should be released in early 2013. It's going to be an eventful next 12 months.
But The Street Apparently Doesn't Buy Current 2013 Guidance. At this time, most of the sellside analysts are not willing to go with even the low end of 2013 production guidance, although in resource plays it's common practice for analysts to gravitate to the middle of company guidance when companies have solid management teams and asset bases. Company guidance at first glance would appear to be lofty rising from 2Q12 pro forma levels of 14,900 BOEpd to a 2013 full-year average range of 32 to 38,000 BOEpd (60% oil). According to Bloomberg, Street consensus for volumes sits at 31,700 BOEpd, below the lower band. Based on that and analysts' take on the 2013 guidance ranges provided by Halcon, the Street average for 2013 EBITDA is $528mm yielding a forward TEV/EBITDA multiple of 4.8x which is not expensive given its growth. I'll get to the "cheaper than you think" part in a minute, but recalling the comments about the history of Petrohawk (guide then beat, guide then beat), one wonders at the motivations for conservatism on the part of the Street. We'll get into a simple model below, but what motivates the Street in general is commissions and deal flow. Being right is in there somewhere as well.
Deal flow: More drilling and less leasehold acquisition often means less deal flow. You rarely see analysts push harder than when deal dollars are on the line. So that impetus has likely faded somewhat in the minds of the many.
As for commissions and being right, analysts love nothing more than to put a number out they think can be beaten and then raise estimates repeatedly over time. Doing this consistently makes for happier clients. Sometimes I say that a company is "bagging" the Street, but in this case I think the Street is bagging investors.
And Here's Why We Think It's Cheaper Than You May Think:
On A Reserves Basis: Based on pro forma reserves (which are by this time of the year getting pretty stale), Halcon is trading at $35 per proved (1P only) BOE in the ground. That would be high for mature assets but is low for a rapidly growing player with good acreage where reserve growth will mark production growth and where most of the leasehold has not yet seen a rig but which is in many cases surrounded by strong offset operator results and/or a combination of well control and seismic mapping that indicate a high certainty of prospectivity. In other words, reserves will expand rapidly by mid-year 2013. By contrast, your average pure play Bakken player (admittedly a little more oil rich) is trading well north of $40 per proved BOE in the ground.
On A Production Basis: Valuing Halcon on a flowing barrel of production basis and using the 4Q pro forma numbers, as that's the first quarter where Halcon and GeoResources will be one for a full quarter, it is trading at $142,000 per flowing BOE (still less than your average Bakken who has been at it for 3 to 4 years at this point). Advance that metric to the average for 2013 and it is down in the mature company realm of only $73,000 per flowing BOE. That's not reasonable given Halcon's growth rate and expected high margins (we're expecting EBITDA per BOE approaching $50 late next year). And $73,000 figure is based on the annual average for the year. The exit rate for 2013 will necessarily be higher. So the longer Halcon sits here, the cheaper it gets.
On A Forward TEV Basis: As previously noted, the Street consensus (and this is just of the four guys who submit EBITDA estimates) yields a forward TEV/EBITDA multiple of 4.8x. Our simple summary model below yields a different result. Using the low end, mid point, and the high end of the guidance range for 2013 volumes, conservative differentials, near strip pricing (we think that will be low for oil and natural gas) and the midpoint of per unit cost guidance yields EBITDA in a range of $568mm to $661mm and forward TEV/EBITDA multiples of 4.5x to 3.9x respectively. The summary model is attached at the bottom of this piece. Given that a 6.0x multiple for this kind of expected oily production and this kind of asset base would be more reasonable, next 12 month upside of 25 to 30% would not be unreasonable.
Sum Of The Acreage Parts. We're not going to walk through each position and multiply the number of acres by some ballpark $ per acre figure as we don't see much value in that with names of this type. We could easily point to high dollar per acre leasehold in the Utica, Miss Lime, Bakken, and Eaglebine and get to a high share price number in a hurry. But that's generally not very real world and something that's left to names that are more cocktail napkin concept stories and not ones that are on the cusp of hockey stick like growth like Halcon. The acreage acquisition is a work fully in progress and a summary can be seen in the first table below.
Nutshell: Our sense is that as time passes and play results are revealed, the Street's comfort level will increase and their estimates will migrate to the mid line. I would not expect a linear path to the growth here, but again, I'm an owner, not a renter and like in any stock portfolio, Halcon's positions will contain some winners and some less than stellar plays. We would expect some high grading of the portfolio in the not too distant future. Liquidity here is strong (over $600mm if you don't expect warrant conversion soon), and the coming monetization of the Eagle Ford position will bolster it further as that is prime south Texas real estate. Combined with cash flow this obviates the need for another deal anytime soon unless Mr. Wilson sees something big he just can't live without, and then, chances are, his team will understand it better than its former owner.
A final note: This is not a full report but just a few thoughts made after the recent little pullback in the name. I'd note that the wind was seemingly taken out of the stock's sails by a recent selling shareholder secondary and my input on that would be 1) this is what EnCap does (help with early stage funding and then monetize, rinse and repeat) and 2) it didn't change anything from a shareholder perspective and 3) EnCap still holds a significant stake in the company. Given EnCap's low cost basis of $3.25 per share taking some off the table makes sense since again, it's what they do. For more thoughts on Halcon please visit us at our website at zmansenergybrain.com.
A Little Back of the Envelope Table

And A Brief Summary Model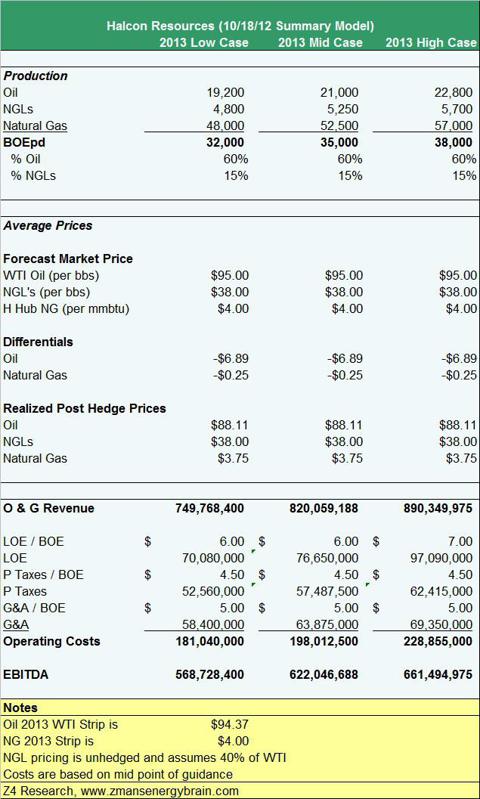 Disclosure: I am long HK. I wrote this article myself, and it expresses my own opinions. I am not receiving compensation for it (other than from Seeking Alpha). I have no business relationship with any company whose stock is mentioned in this article.