Google Inc.'s (NASDAQ:GOOG) third quarter earnings report hit the stock of the company severely. The stock closed 8% lower following the company's third-quarter results that missed street expectations. EPS of $9.03 missed by $1.62, and revenue of $11.33B (+51% Y/Y, boosted by Motorola acquisition) missed by $530M. (Source: Seeking Alpha)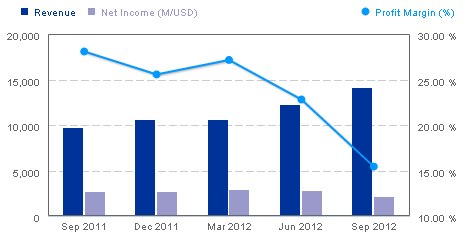 Revenue, excluding Motorola, slowed for the fourth consecutive quarter, dipping to a growth rate of 19% from rates of more than 20% for the past few quarters. At the same time, Motorola also revealed a bigger-than-expected operating loss.
Google's earnings report came on Wall Street more than three hours early on Thursday due to a glitch. This, coupled with the earnings disappointment, resulted in a halt in trading of Google's stock when the stock started dropping like a rock. Doug Anmuth, a stock analyst at J.P. Morgan Chase & Co., said, "During Google's stock halt, any investors who bought into the stock would be taking advantage of the sharp sell-off."
Google's Profit Sliding
The growth rate of Google's ads on its web-search engine and video site YouTube has been declining steadily since mid-2011. In the latest quarter, sales of the ads rose 15%, but that was down from 39% growth a year ago.
The growth rate for such ads fell not because advertisers were buying fewer ads. Google sold 33% more ads in the third quarter. The average price paid by web-search advertisers to Google per click dropped by 15% in the third quarter, Google said. Driving the declining prices for the ads was the shift by advertisers toward mobile ads, according to some analysts.
Google is also facing tough competition in its core search market. Microsoft Corp.'s (NASDAQ:MSFT) Bing search engine, powered by Yahoo (YHOO), has been capturing market share steadily.
Google is going to witness bigger revenue cut from ads that appear on Android devices than it does on Apple Inc.'s (NASDAQ:AAPL) iOS devices.
Monetizing Opportunity through Innovation: Google's Secret of Long-Term Success
On the earnings call Thursday, Google Chief Executive Larry Page said there is "tremendous innovation in advertising, which I believe will help us monetize mobile queries more effectively than desktop today."
He also said there are "more than 500 million devices powered by Google's mobile Android software and that come preloaded with Google's search engine and its other services and Google was on pace to generate $8 billion a year from mobile devices, including advertising and sales of music, movies and apps on Android devices."
A few months ago I wrote in an article on Seeking Alpha that Google Prepares To Tap Into M-Commerce Opportunity, where I mentioned how the strengths of the company would drive the stock price above $1000 in the long-term.
Mobile ad spending worldwide stood at $3.3 billion in 2011 and will be sky rocketing to $20.6 billion in 2015, driven by search ads and local ads. In the US over half of US mobile ad spend is local. Asia continues to dominate global mobile ad spend. Market leader Google is the main recipient of mobile ad spending.

M-payments, i.e. paying by mobile, recorded a transaction amounting to $240 billion in 2011 and could be over $1 trillion by 2015. Purchasing digital goods is the largest segment ahead of physical goods. 1 in 8 mobile subscribers will use m-ticketing in 2015 for airline, rail and bus travel, festivals, cinemas and sports events. The use of near-field communications or NFC, m-banking and mobile money transfer, is expected to record massive growth in the coming months and years.
Golden Buying Opportunity below $700
The stock of the search engine and online media giant fell as far as $676 yesterday, where multiple supports exist for the stock. At an estimated PE multiple of 16.5 for FY 2012 and an estimated PEG ratio of 1.05, the stock offers an excellent buying opportunity below $700.
Disclosure: I am long GOOG. I wrote this article myself, and it expresses my own opinions. I am not receiving compensation for it (other than from Seeking Alpha). I have no business relationship with any company whose stock is mentioned in this article.