One only gets to the top rung on the ladder by steadily climbing up one at a time, and suddenly all sorts of powers, all sorts of abilities, which you thought never belonged to you--suddenly become within your own possibility --Margaret Thatcher (British Prime Minister, 1979-1990, born 1925)
The stock market has climbed up the ladder of success ever since the Federal Reserve made its big QE3 announcements. It may now be ready for another kind of big move.
You can sense it in a number of stock sectors (look what happened to Google [GOOG] and the tech stocks), and I've been watching several other volatile sectors. Some have begun moving down the "ladder" after strong gains, which began in September.
The energy sector, as represented by the iShares Dow Jones U.S.Energy ETF (NYSEARCA:IYE) had a powerful move from the lows before the QE3 announcement to its recent high just two weeks ago. It's still ebullient but it's begun to demonstrate some choppiness. The upside bias is strong and may be setting the basis for yet another move.
The chart below of IYE illustrates its price movement over the past year as well as its Relative Strength Indicator (RSI) in the bottom box.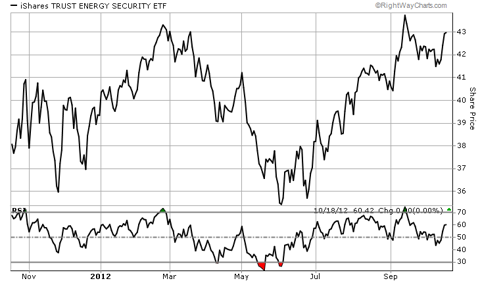 The very popular RSI or Relative Strength Indicator, is a momentum oscillator that compares the strength of gains against the strength of losses over a given period. RSI always ranges between 0 and 100.
Values below 30 and above 70 are typically taken as oversold and overbought respectively. A strengthening RSI indicates that gains are tending to dominate losses. Once the RSI climbs above 70, however, the sustainability of the gains is called into question.
Sure enough, when the companies that represent the major holdings in IYE moved much higher after being oversold in August, the RSI peaked up above 70. Exxon Mobil (NYSE:XOM) and Chevron (NYSE:CVX) make up almost 40% of the weighting in IYE.
Now we await the next move, and looking at the RSI on IYE it appears like it may be ready to rally again. But a number of the mid-size energy companies are beginning to correct along with their respective RSIs.
Take a look at this chart of Continental Resources (NYSE:CLR). Its share price and its RSI are heading south in spite of oil remaining near $92 and natural gas prices moving upward to $3.58.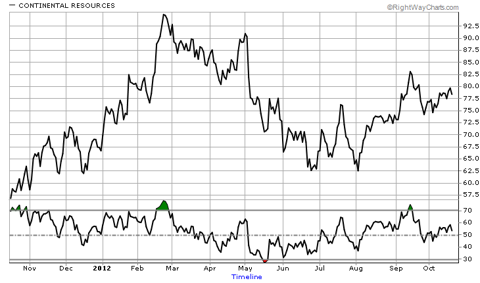 Another mid-size energy company that's been experiencing major accumulation and price strength is Devon Energy (NYSE:DVN). I've added an "Accumulation" section to the chart below, which shows DVN's stock price action and RSI. You can clearly see the huge spike in accumulation versus distribution, albeit on unimpressive volume.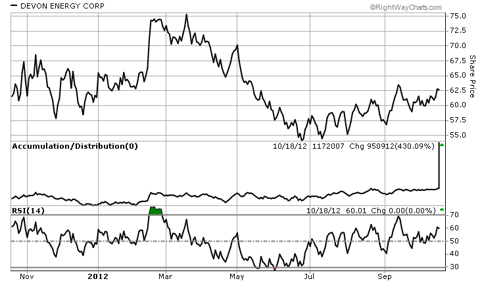 As we can also see, the RSI has begun to turn downward. Like CLR, the price appreciation of DVN shares has mainly been driven by speculation about a colder winter. Rumors still persist about DVN being a take-over target.
CLR's price gains are also connected to its big announcement of a sizable oil discovery in southern Oklahoma. Known as SCOOP, the oil-rich shale rock is the site of some of the state's oldest oil fields.
The CEO of CLR, Harold Hamm, has been speaking this week at a conference sponsored by Canaccord Genuity, an investment bank that offers coverage in the energy patch. Some big news may be pending.
Mr. Hamm, as of August 13, 2012, owned over 126 million shares of his company. This represents a personal investment of an astounding $9,878,400,000, or put another way, almost $9.9 billion.
CLR has a market cap of only $14.10 billion, so Mr.Hamm's stake in the company he founded represents over 70% of the outstanding shares. In fact company insiders including Mr. Hamm control 79% of the stock.
The energy sector and especially the mid-sized companies have had an excellent run the past 6 weeks. These include names like EOG Resources (NYSE:EOG) and Southwestern Energy (NYSE:SWN), which have benefited from the spike in natural gas prices.
This sector and these stocks may cool down in the days and weeks ahead. CLR and DVN announce their latest quarterly earnings on the same day, November 7. Investors may be cautious approaching that time as these companies step into the earnings confessional.
Don't forget the U.S. presidential elections, which happen around the same time. Tuesday November 6, holds a good deal of angst and uncertainty for the investment markets, and traders may begin to lighten up ahead of the outcome.
The indicators, the season and the stock market itself may be flashing caution for the time being, which may open the way for more favorable buying opportunities. Waiting and patience this time of year is often advantageous. Buy the dips and let the prices come to you!
Disclosure: I am long CVX, SWN. I wrote this article myself, and it expresses my own opinions. I am not receiving compensation for it (other than from Seeking Alpha). I have no business relationship with any company whose stock is mentioned in this article.