The following three stocks have each seen their share of difficulties in this rising market in light of unsettled and often complex trading environments. Yet while each has been adequately punished in light of events either attributable to the company or not, each occupies a leading market space in their own respective fields. Investors looking for a recovery play through a market leader may wish to consider the following companies. All values were taken as of October 18.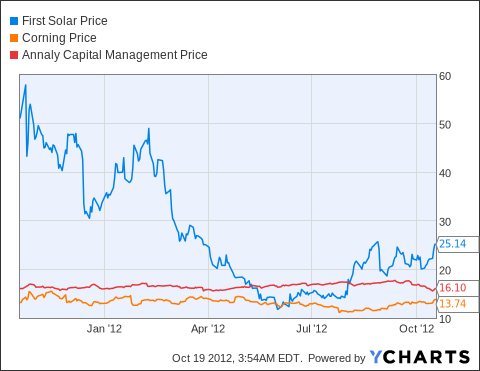 First Solar
Thin-film solar panel manufacturer First Solar Inc (NASDAQ:FSLR) has recently found strong support in the low $20 range despite having fallen from a high of $311 back in May 2008. Since this time, the company has struggled to stay afloat as the solar industry suffered from quickly deteriorating profit margins prompted by global overproduction. In light of essentially being squeezed out of the residential consumer market, First Solar has turned to seeking a recovery through its new business model of being a provider for turnkey utility-scale power plants. In doing so, the company appears to be striking a new wave of momentum as it gained increasing indications of growing international demand. In recent weeks, the company announced new projects and partnerships in Austrailia, India, Indonesia, and Dubai.
First Solar's ability to gain momentum in its current state bodes well for a near-term recovery. The company now trades at a market capitalization of $2.19 billion despite having $3.36 billion in total shareholder equity and $5.49 billion in total assets. Now trading with a forward price-to-earnings ratio of 6.35, it would appear that investors continue to discount the future of the company. Yet the company maintains a very liquid current ratio of 2.56 and appears more than eager to capitalize upon its latest projects. The company looks prone to breakout as it now trades at $25.14.
Corning
Specialty glass and ceramic manufacturer Corning Inc (NYSE:GLW) has maintained a rather lackluster experience on the market in the midst of a struggling economy. Since falling from $23 in February 2011 to the current price of $13.74, the company has lagged primarily over declining sales in its Display Technologies segment. As it stood in June 2011 according to the latest 10-Q, the company's Display Technologies segment had made up $626 million of the company's total $722 million in earnings. This relatively accounted for 87% of the company's earnings. By June 2012, Display Technologies had fallen to $371 million, or 79% of the company's total $470 million in earnings.
Yet while the Display Technologies segment remains the company's most important earnings generator, fears of its struggles appear to have remained grossly exaggerated when seen through the lens of the company's stock. Despite the 40% drop, the company had remained profitable through this difficult time and even now carries a below average forward price-to-earnings ratio of 9.61. Supporting a price-to-book ratio of 0.96, the company continues to trade below its book value.
However, the most surprising factor lies in the fact that the company has also been increasing its dividend. From 2011 to the most recent declaration, the company raised its quarterly rate from $0.05 to $0.09, an 80% rise in a little over a year's time. With a yield of 2.6% and a very low payout ratio of 19%, investors are likely to witness additional dividend growth over the years as the company begins to return value to its shareholders. With a rising dividend, the company appears likely to have its share price steadily gain over the course of due time.
Annaly Capital Management
Agency mortgage real estate investment trust Annaly Capital Management (NYSE:NLY) has recently suffered as a victim of federal intervention. As the Federal Reserve continues to maintain downward pressure on interest rates, this has allowed for increased mortgage refinancing and bond prepayments, two unwanted occurrences for the company's business model. As a result, the company's found its stock fall from $17.67 in late September to recent lows of 15.57 within two weeks. This remains somewhat of a volatile shock for a company now trading with a beta of 0.11.
Yet in order to combat these downward pressures from the Federal Reserve, the company recently initiated a large share repurchase program. Using $1.5 billion, the implemented plan could buy back 10% of the company's market capitalization at present. The share buybacks also reduce the amount of shares outstanding and help maintain the high dividend yield. With the help of the large share buyback, the company's stock appears to be turning a corner.
Conclusion
Through First Solar, Corning, and Annaly Capital, we see three cases of companies that have experienced large pricing dips in recent times. Yet each of these companies has also recently implemented policies or experienced developments that have helped contribute to a greater future. Investors looking to count on a recovery might do well to investigate each of these situations more carefully.
Disclosure: I am long FSLR, GLW. I wrote this article myself, and it expresses my own opinions. I am not receiving compensation for it (other than from Seeking Alpha). I have no business relationship with any company whose stock is mentioned in this article.