Two of the world's largest beverage companies, Pepsico (NASDAQ:PEP) and Coca Cola (NYSE:KO), reported their third quarter earnings this week. Coco Cola is better positioned in the market, as it was able to pass on commodity price increases to consumers. Its sales volume grew by 4%. Pepsi was able to increase its volume by only 1%. As commodity prices are expected to increase in future as well, Coca Cola seems to be in a better position to pass on price increases to consumers. Coca Cola has a higher next five-year growth rate of 7.5% as compared to Pepsi's 4.7%. Pepsi has a higher debt level compared to Coca Cola. However, Pepsi offers a better dividend of 3.1%. Nevertheless, we recommend investors to wait for a better entry point with regards to Pepsi.
Pepsico Inc. reported its financial performance for the third quarter yesterday. The results for the quarter showed a mixed performance. Reported earnings per share for the quarter were $1.2, beating the market estimates of $1.16. Earnings beat was mainly driven by lower interest cost and taxes; earnings for the quarter dropped by 5%. Reported revenue for the quarter was $16.65 billion, which fell short of the market consensus of $16.90 billion. Net revenue for the third quarter declined 5%, including foreign currency movement and structural changes. However, excluding the impact, net revenue experienced an organic growth of 5% for the quarter.
The company was able to increase its organic revenue, which was driven 4 percentage points by price increase and 1 percentage point by volume. This is positive for the company given the fact that there has been an increase in commodity prices and the company has been successful in passing on the price increase while its sales volume grew by 1%. However, the volume increase for the quarter has been on the lower side if we compare it to Coca Cola, KO was able to increase sales volume by 4% in the recent third quarter, despite price increases. Commodity price increase has been going on for a while and is expected to continue in future as well. Pepsi has been working on building brand loyalty in order to be able to grow and pass commodity price increases to customers. The company has been consistently increasing its advertising and marketing expenditures. Advertising and marketing expense for the quarter was 5.7% of sales.
The company's Chairman and CEO Indra Nooyi said: "Our disciplined pricing and sustained investment in brand building drove 5 percent organic net revenue growth reflecting 1 percent organic volume growth and 4 percent effective net pricing."
Pepsi depends heavily on emerging markets for growth. It experienced a growth of 14% in emerging markets for the quarter. Organic net revenue in Europe grew by 7%, and in Asia, Middle East and Africa it grew by 10%. The company has significant international exposure, which means that the company's top and bottom lines are affected by foreign currency movements. This is made evident by a 5% decrease in company revenues due to foreign currency movement in the recent third quarter.
Looking into each business unit would help us better analyze the company. Frito-Lay North America's performance was satisfactory, experiencing 3% organic growth for the quarter; operating profit for the segment increased by 1%. Quaker Foods North America's net revenues were in line with the same quarter of the previous year. However, operating profits of the unit were down 11% due to higher commodity prices and advertising and marketing spending.
Latin American Foods business' net revenue was up 13%, on an organic basis. Operating profit for the unit was in line with the same quarter of the previous year. In Europe, organic net revenue for the company was up 7%. Constant currency operating profit margin was up 3%.
Asia, Middle East & Africa (AMEA) unit experienced strong growth for the quarter. Organic net revenue grew by 10%. Within this unit, snacks experienced double-digit volume growth rate. Beverages' volume experienced high single digit growth rate. India and Pakistan experienced snacks volume growth of 12% and 27%, respectively. Beverage volume for India and Pakistan was up 23% and 25%, respectively. Constant currency operating profit for the unit grew by 14%.
To improve upon its efficiency and margins, the company is working on its productivity. Pepsi is expected to enjoy productivity savings amounting $3 billion by 2015, out of which, more than $1 billion are expected by 2012.
Despite the growing advertising and marketing spending, and the commodity price increases, the company was able to improve slightly upon its gross and operating profit margins.
| | | |
| --- | --- | --- |
| | 3Q 2011 | 3Q 2012 |
| Gross Margin | 52 % | 53 % |
| Operating Margin | 16.5 % | 16.8 % |
Source: Pepsico.com and Qineqt's estimates.
Pepsi reaffirmed its full-year earnings guidance, which is 5% less than the fiscal year 2011's core EPS of $4.4. Foreign currency exposure is expected to have a 3% unfavorable impact on 2012 EPS. Core constant currency net revenues are expected to grow in the range of low single digits. To maintain its strong cash position, the company has targeted an operating cash flow of $8 billion, and is working on improving working capital efficiency. In fiscal year 2012, the company expects share repurchases of $3 billion, which forms almost 2.75% of the total market cap. It is also expected to pay dividends of $3.3 billion in 2012.
The company offers a sustainable dividend yield of 3.1%. Sustainability of dividends can be inferred by the fact that in the past, Pepsi's dividends were covered comfortably by its free cash flow yield. The company is expected to have a strong free cash flow in the future as well. The chart below shows the dividends and the free cash flow over the years.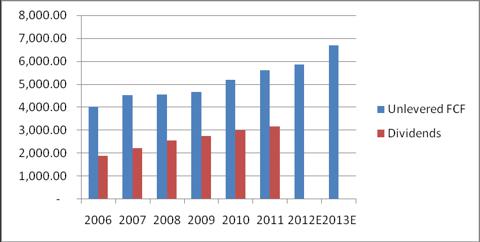 (Click to enlarge) Source: Bloomberg
| | | | |
| --- | --- | --- | --- |
| | PEP | KO | Dr Pepper Snapple Group Inc (DPS) |
| Dividend Yield | 3.1 % | 2.7 % | 3.1 % |
| D/E | 138 % | 97 % | 119 % |
| Gross Margin | 52 % | 60 % | 57 % |
Source: Yahoo finance
Pepsi offers a higher dividend than KO, but it is in line with DPS. However, Pepsi's debt to equity is on the higher side as compared to its competitors. Also, Pepsi has the lowest gross profit margin of 52% as compared to its competitors KO and DPS, with 60% and 57, respectively. Pepsi has to improve further upon its efficiency, and on increasing its market power, so that it can pass on commodity price increases to customers and improve its gross margin.
Valuations:
| | | | |
| --- | --- | --- | --- |
| | PEP | KO | Dr Pepper Snapple Group Inc |
| Forward P/E | 16x | 17x | 14x |
| PEG | 3.7 | 2.54 | 1.95 |
| Growth (next five year) | 4.7 % | 7.50 % | 7.80 % |
Source: Yahoo finance
Pepsi's forward P/E of 16x is not justified by the company's low growth rate. Its PEG of 3.7 reflects that it offers expensive growth as compared to KO and DPS who have a lower PEG of 2.54 and 1.95, respectively. Using median historical P/E of 15.5x and expected 2013 earnings of $4.41, we calculated a target price of $68. In our previous thesis on Pepsi, when the stock was trading at $71.69, we recommended investors to wait for the stock price to decrease before buying the stock. Since then, the stock is down 2.2% to end up at $70.10. We still recommend investors to wait for an ideal entry point.
Disclosure: I have no positions in any stocks mentioned, and no plans to initiate any positions within the next 72 hours.
Business relationship disclosure: The article has been written by Qineqt's Staples Analyst. Qineqt is not receiving compensation for it (other than from Seeking Alpha). Qineqt has no business relationship with any company whose stock is mentioned in this article.