This is the third and final part of my review of recent research on dividend stock investing. The first installment highlighted reasons for following a dividend stock investment strategy and provided supporting historical data. Advantages included serving as an inflation hedge, providing a growing income stream without the need to sell shares, and delivering superior long-term total returns with lower volatility. Dividend growth was found to be the key driver of returns. It concluded with some sub-groups of dividend growth stocks that have outperformed historically. Part two focused on macro trends and issues, such as investor demographics, interest rates, and potential dividend tax rate changes. Overall trends favor increased demand for dividend stocks, which may lead to lower yields and returns at least for the next few years while interest rates are at historic lows. However, on a relative basis, dividend stocks remain attractive, particularly as income will increase with dividend growth.
This article digs into the research around the topic of dividend growth. Reviewing several different research reports, including a very recent one from Goldman Sachs, it appears that the corporate stage is set for continued dividend growth. Between more efficient operations, high cash levels on balance sheets, low payout ratios, and undervaluation of dividend growth stocks as compared to dividend yield stocks, there are a lot of factors supporting the case for dividend increases.
Corporate Cash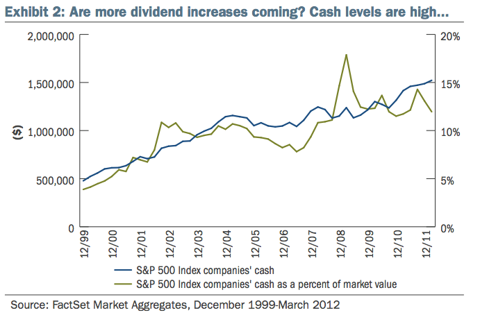 Since the financial crisis, corporations have improved operational efficiency and have more cash on their balance sheets. According to Columbia Management, the Federal Reserve reported that non-financial corporate cash levels were at the highest level since tracking began in 1952. As observed in the chart above, cash in S&P 500 companies continues to increase and is becoming a higher percentage of the market value. Eagle Asset Management [EAM] noted that the ability of corporations to pay dividends has improved thanks to a record $1.9 trillion in liquid assets on corporate balance sheets.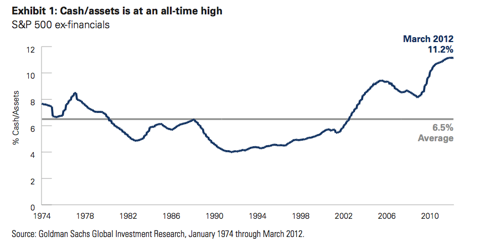 In addition, the levels of cash relative to assets on the balance sheet are well above historic averages. In a low-rate environment, excessive cash on the balance sheet does not add value. Corporations need to put that money to work. Options include: reinvesting in the firm, mergers and acquisitions, share buybacks, and increased dividend payments. The first two can help a firm grow, but are dependent on management making wise decisions and not wasting the excess funds. The latter two return value to shareholders, though most in this forum would likely prefer the dividends to the buybacks. By choosing companies from David Fish's CCC list, investors have some confidence that at least some of this cash will return to them through higher dividends, as these companies have at least a 5-year history of raising dividends and typically want to see that trend continue. Technology firms, such as Apple (NASDAQ:AAPL), Microsoft (NASDAQ:MSFT), and IBM (NYSE:IBM) seem particularly loaded with cash, and the latter two have not only raised dividends but also repurchased lots of stocks in recent years. AAPL just initiated a dividend, but with over $40/share in cash and over $40/share in EPS, there is a high probability of seeing dividend increases in the future.
Lastly, Commonwealth Bank & Trust Company [CBTC] cited Morgan Stanley research stating that in recent years, executives received more restricted stock than stock options. This creates incentive for them to raise dividends, as they will receive more income. While I don't believe this will be a driving force for dividend increases, it doesn't hurt to have management's incentives aligned with our goals! Dividend raises also signal corporate strength and build investor confidence in the firm and its stock. Goldman Sachs' report noted record levels of dividend increases in 2011 as confidence returned and corporate management was more willing to increase spending.
Low Payout Ratios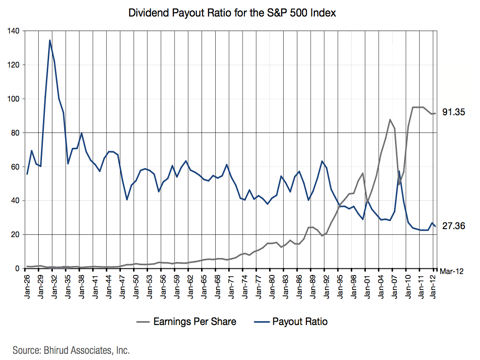 Further supporting the case for continued dividend growth is the near record low payout ratio for S&P 500 companies. Historically, the payout ratio has averaged around 55%; today it is near 27%, or half of the average level. This has occurred while EPS for the S&P 500 firms increased; dividend growth has not kept pace with earnings growth. The recent large drop in the payout ratio occurred as a result of dividend cuts, particularly for banks, in the 2008-2009 financial crisis. Financials could be an area of opportunity as they regain their footing and confidence, and begin to raise their dividends again. While a low payout ratio is not a guarantee for future dividend increases, it at least reflects that firms have the capability to raise dividends. At 27%, they have a lot of capability!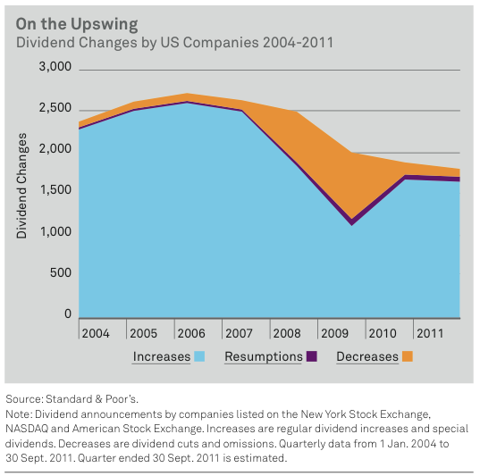 Blackrock reported that more companies are indeed rebounding from the crisis and increasing dividends. Opportunities favor lower payout stocks. EAM noted that high-yielders typically have higher payout ratios, leaving less room to grow the dividend unless earnings increase proportionally. This supports the rationale behind my High-Yield, Low-Payout model portfolio, which seeks to balance a decent income stream with the capability for above average dividend growth. I am thinking about developing a Lower-Yield, Low-Payout, High Dividend Growth model, more for total return investors, as I'm curious to see what stocks appear in that screen. I'd probably set a floor of 1.5% to ensure that an investor is at least getting a better yield than a CD.
Dividend Stock Valuation
In Part 2 of this series, I noted that while dividend stocks appear slightly overvalued, on a relative basis they are still a reasonable investment as long as interest rates stay so low. Obviously there will be sub-groups (by industry, by payout/yield) of stocks that are undervalued or at least less overvalued.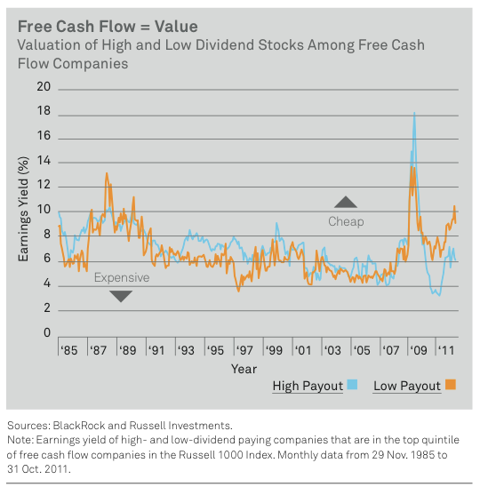 For example, Blackrock examined the top quintile of the Russell 1000 Index based on free cash flow strength, and found that stocks paying low or no dividends were trading at a discount to high yielders. Blackrock said this is "unusual - at least in recent history". While I'm less interested in the non-payers, stocks that initiate dividends tend to outperform, and firms with strong free cash flows and earnings definitely have that capability.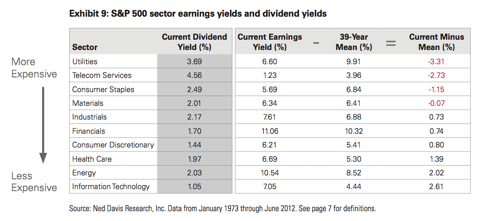 Not unexpectedly, stocks in some industries trade at a better valuation than those in other industries. Stock prices in the more stable, higher-yielding utilities, telecom, and consumer staples sectors were driven up this year as investors sought a replacement for low-yielding bonds. Stocks that used to yield over 4.5%, such as Kimberly Clark (NYSE:KMB) and Philip Morris (NYSE:PM) are now closer to 3.5%. Based on the Ned Davis research cited in the Goldman Sachs paper, consumer discretionary, healthcare, energy, and technology stocks offer the best valuations based on earnings yield (earnings / price) relative to their 39-year averages. I've been adding stocks from these sectors to my portfolio, such as Coach (COH), which is not yet on the CCC list, but has quadrupled its dividend in 3 years. I'm patiently waiting for entry points into Teva Pharmaceuticals (NYSE:TEVA) and Nike (NYSE:NKE).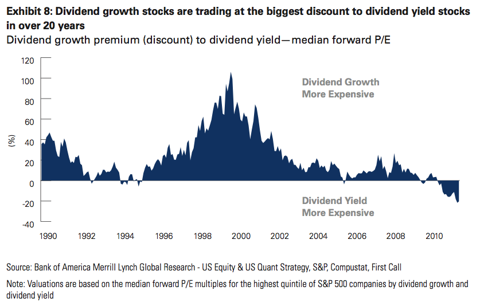 Finally, Goldman Sachs highlighted research by Bank of America Merrill Lynch that showed that dividend growth stocks are currently trading at the largest discount to dividend yield stocks in over 20 years. From the footnote on the graph, it appears they compared the forward P/E ratios of the top quintile of S&P 500 stocks based on dividend growth to the top quintile based on yield. I find it interesting that with this metric, dividend growth stocks are almost always the more expensive group. This suggests that investors place a premium on growing firms, which makes sense. With higher yielders having been bid up as income investors seek yield, relative valuations have shifted in favor of the lower-yielders with strong dividend growth prospects. I wonder if using a PEG ratio (PE to Growth rate) would be fairer, since the companies in these groups are different (growing vs. more mature).
Summary and Stocks of Interest
With cash balances at all-time highs, firms operating more efficiently, and payout ratios near all-time lows, the stage is set for continued dividend growth. In the current low interest rate environment, firms will have a difficult time justifying excessively large cash stockpiles on their balance sheets. With limited growth opportunities in the current tight economic environment, a good portion of this cash should make its way back to shareholders through buybacks and dividend increases.
Looking at the trends in the valuation section, investors should focus on stocks with low payout ratios, higher dividend growth rates, and in the undervalued technology, energy, healthcare, and consumer discretionary sectors. The table below highlights some potential candidates for consideration (Data from Yahoo Finance, 10/18/2012 and October CCC list).
| | | | | | | | |
| --- | --- | --- | --- | --- | --- | --- | --- |
| Stock | Ticker | Price | Sector | Payout Ratio | Yield | Cash/Share | 5-yr DGR |
| Nike | NKE | $97.57 | Cons. Disc. | 38% | 1.5% | $7.25 | 13.8% |
| Hasbro | (NASDAQ:HAS) | $39.05 | Cons. Disc. | 48% | 3.8% | $6.14 | 20.6% |
| Coach | COH | $57.37 | Cons. Disc. | 28% | 2.1% | $3.22 | 58.7%* |
| Chevron | (NYSE:CVX) | $114.65 | Energy | 25% | 3.1% | $10.94 | 9.0% |
| Chubb | (NYSE:CB) | $81.19 | Financials | 27% | 2.1% | $7.80 | 9.8% |
| Steris | (NYSE:STE) | $36.45 | Healthcare | 29% | 2.1% | $3.21 | 30.4% |
| AstraZeneca | (NYSE:AZN) | $47.63 | Healthcare | 45% | 6.0% | $7.30 | 13.9% |
| Teva | TEVA | $41.41 | Healthcare | 21% | 2.1% | $1.37 | 24.1% |
| Intel | (NASDAQ:INTC) | $21.67 | Technology | 36% | 4.0% | $2.10 | 14.4% |
| Microsoft | MSFT | $29.50 | Technology | 38% | 3.1% | $7.40 | 12.9% |
| IBM | IBM | $194.96 | Technology | 23% | 1.6% | $10.78 | 21.4% |
*Coach's DGR is for 3-years (2009-2012).
Sources:
BlackRock Investment Institute (March 2012). Means, Ends, and Dividends: Dividend Investing in a New World of Lower Yields and Longer Lives.
Eagle Asset Management (June 2012). Dividends Deliver: Dividend-oriented investments can offer much more than income.
Columbia Management (April 2012). The Tip of the Iceberg for Dividend Stocks.
Westwood (April 2012). Dividend Paying Stocks: Fact vs. Fiction.
Commonwealth Bank & Trust Company (June 2012). Monthly Investment Commentary: Reviewing the Risk and Reward of Investing in Dividend Paying Stocks.
Goldman Sachs Asset Management (August 2012). Why Dividend Growth Matters.
Disclosure: I am long AAPL, KMB, MSFT, CB, IBM, COH, INTC. I wrote this article myself, and it expresses my own opinions. I am not receiving compensation for it (other than from Seeking Alpha). I have no business relationship with any company whose stock is mentioned in this article.