Michael Kors Holdings (NYSE:KORS) sells branded apparel for men and women as well as branded accessories. It has enjoyed enviable growth. Unfortunately, it has been bid up 90% to very high valuation multiples, well above its large cap peers which have only appreciated by about 20% year-to-date. When compared to its peers, it is readily apparent that investors should stay away from KORS shares at current price levels. This stock's high price multiples should dissuade investors from buying at current prices until its valuations descend closer to those of its peers.
Growth vs. Value
As human beings we love compelling growth stories. The Michael Kors growth story is about the rise of the affluent in China, a very interesting and popular macroeconomic phenomenon. Unfortunately, stories like this one sometimes increase stock multiples beyond reasonable levels.
Regardless of how shiny a stock is, investors should never buy a stock because the company is fancy, disruptive, or fun to read about. Instead, investors should be focused on growing the value of their assets. Stories, drama, the next big thing, and other distractors cannot justify paying one dollar for fifty cents.
Instead, investors should buy stocks trading at prices which make them good deals. A poor company trading at a dismal price may be an excellent trade. Michael Kors Holdings shares are trading at the other extreme: Michael Kors Holdings is a great company trading at overly enthusiastic valuations which should be avoided. Its metrics are provided with other large cap apparel stores:
| | | | | | |
| --- | --- | --- | --- | --- | --- |
| Ticker | Company | P/E | Earnings Growth Est. | P/S | Sales Growth Est. |
| KORS | Michael Kors | 62.3 | 28.5% | 7.3 | 43.9% |
| | Gap | 20.6 | 10.5% | 1.2 | -1.8% |
| LTD | Limited Brands | 20.5 | 14.5% | 1.4 | -0.6% |
| | Ross Stores | 19.2 | 12.9% | 1.5 | 9.1% |
| | Nordstrom | 18.3 | 12.4% | 1.0 | 4.7% |
Future valuation multiples of a company can be modeled over time by utilizing expected growth and trailing valuation multiples for KORS and peer stocks. Graphs of future price-to-earnings and price-to-sales ratios based on analyst earning growth estimates and historical sales growth follow: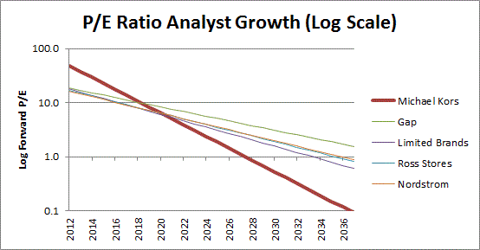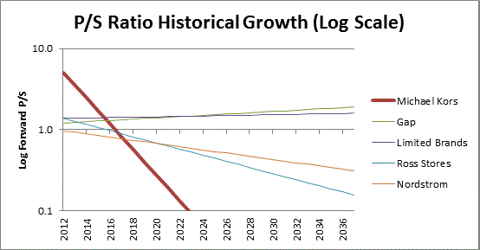 The projected crossover dates span well into the future which demonstrate how KORS shares are overpriced. Even assuming that long term analyst growth rates will continue indefinitely (which is itself ridiculous) it would take eight consecutive years of sustained, phenomenal earnings growth for Michael Kors Holdings' current price-to-earnings ratio to be equivalent to that of its large cap peers.
These projections illustrate the absurdity of current valuations for KORS. Analyst estimates for faster-than-economic growth are not predictive more than three or so years, yet somehow investors are paying prices for KORS which imply they can see the distant future. Investors are more likely overenthusiastic than psychic.
Estimated convergence years were calculated below for KORS:
| | | |
| --- | --- | --- |
| KORS Peer | P/E Equivalence | P/S Equivalence |
| Gap | N/A | 2015 |
| Limited Brands | 2020 | 2015 |
| Ross Stores | 2020 | 2016 |
| Nordstrom | 2020 | 2017 |
Investors should avoid Michael Kors at current prices. Instead, they should consider other large cap apparel stores as more reasonable alternatives since their relative valuations do not require the absurdity of almost a decade of sustained, phenomenal growth. In particular, Nordstrom is reasonably priced, especially when contrasted Michael Kors.
Please read the article disclaimer.
Disclosure: I have no positions in any stocks mentioned, and no plans to initiate any positions within the next 72 hours. I wrote this article myself, and it expresses my own opinions. I am not receiving compensation for it (other than from Seeking Alpha). I have no business relationship with any company whose stock is mentioned in this article.