After an impressive run up from January to March, Hot Topic (NASDAQ:HOTT) has been trading sideways ($9-$10), waiting for the next catalyst to drive the stock forward. I expect this catalyst will come from Hot Topic outperforming the consensus sell-side estimates on both the top and bottom line for 12Q3 and FY2012. Top line growth will be driven by strong same store sales and Torrid store growth.

I expect GPM% to improve ~150Bps as material costs lessen into the end of the year. SG&A% will most likely remain flat as the company laps its cost reduction efforts going into the back half of the year. Hot Topic's operating margin has been on a tear, improving +201Bps in FY2011 and +352Bps/+316Bps in 12Q1 and 12Q2, respectively.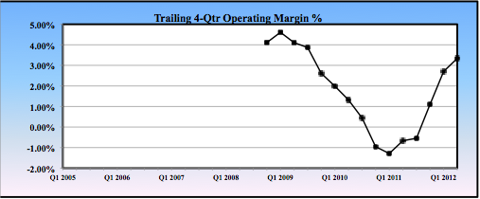 The operating margin improvement has been driven by both SG&A leverage and GPM% improvements. SG&A ballooned since 2009 and has only begun to come down under new leadership of Lisa Harper, taking control in March 2011.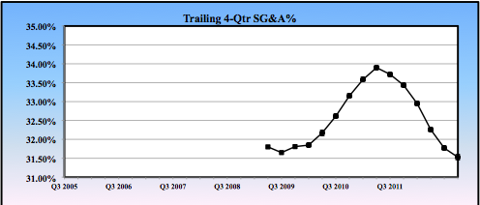 GPM% has also improved as material costs have decreased and Torrid merchandise mix continues to shift towards in house brands. There is some chance of GPM% weakness as Hot Topic stores have been more promotional in 12Q3 (Hot Bucks).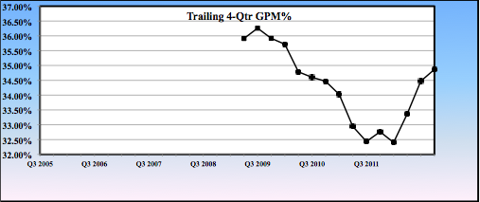 Hot Topic's long-term story is the Torrid brand. Since 12Q1, Torrid store growth has exploded, growing from 164 stores to an expected 195 by the end of FY2012. Torrid's GPM% contribution (~500-700Bps) is much higher than Hot Topic's. As Torrid stores begin to make up a greater portion of total sales, GPM% has a chance to return to Hot Topic's historical rates of ~36%.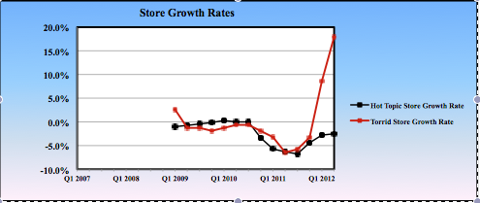 As long as Hot Topic continues to keep aggressively expanding its Torrid store base and maintain mid to low single digit sales store sales growth, expect earnings to follow. Currently I expect Hot Topic to earn 44 cents vs. a 42 cent consensus in 2012 (53 week year) and 57 cents vs. 50 cents consensus in 2013. With a 26.5 P/E multiple that would place the stock at $15. Since Hot Topic still remains range bound, now is a great opportunity to pick up shares when HOTT dips under $9.
Disclosure: I have no positions in any stocks mentioned, and no plans to initiate any positions within the next 72 hours. I wrote this article myself, and it expresses my own opinions. I am not receiving compensation for it (other than from Seeking Alpha). I have no business relationship with any company whose stock is mentioned in this article.