Stocks To Trade
Today, we are looking at an earnings trade in Bunge (NYSE:BG), longs in Capital One Financial (NYSE:COF) and Intuitive Surgical (NASDAQ:ISRG), and shorts in Dow Chemical (DOW) and NetApp (NASDAQ:NTAP).
For an earnings trade, we are looking at Bunge. BG was one of our top picks for earnings season, and we believe the company will outperform the market during this earnings season. BG has held up well despite market weakness, and we believe that the earnings will be good for the company. What's working for BG is that prices of crops have skyrocketed. BG receives two-fold strength on that setup. First, it receives higher margins on its own goods sold, and it also operate as a fertilizer company. With higher prices, more farmers will want to plant crops, meaning better demand for BG fertilizers. We believe BG is going to have a very solid report, with lots of earnings growth. Expectations are for a 150% increase in EPS YoY, and we believe the company's sub-10 future PE shows a lack of proper pricing. Therefore, we like a bull put spread to hold on the company.
Trade: BG, Nov17, 65/62.50 Bull Put Spread
Max Gain: 11%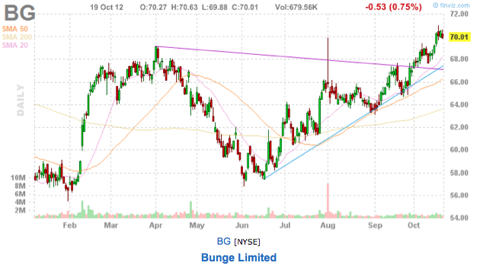 For longs, we like the looks of COF and ISRG. Both companies had very solid reports, and have remained strong despite market weakness. We believe both are solid candidates for Nov17 option spreads, as they have shown that buyers still want to own these stocks, despite market general weakness. COF beat expectations and had a very solid report on the back of recent acquisitions, and it is looking well-positioned right now with a mix of credit, loans, and personal banking. We believe it has shown a nice support level at $56, which has held for several months. We like that area to look at for an options spread that can work with lower risk and lower gains.
ISRG also looks great. The company had a solid report that looked even better after its weak report two quarters ago. The beat and better looking market are very enticing. Buyers are bidding the stock up on the news, and it is now sitting above the 20-day, 50-day, and 200-day MA. That movement has attracted us to ISRG. 505 is a level that sits below all of those MAs, and it will be very solid for the stock moving forward. The company has outperformed during recent weakness, and 510 was the breakout point on earnings.
Options Trade: COF, Nov17, 55/52.50 Bull Put Spread
Max Gain: 5%
Options Trade: ISRG, Nov17, 505/550 Bull Put Spread
Max Gain: 20%
For shorts, we like the looks of Dow Chemical and NetApp. Dow has been making lower highs all year long in a long-term downward wedge, with a support line built at 28-29. The company is starting to show another top, and we believe a break of the 50-day MA would continue this trend. The company reports earnings next Friday, so the move may be disrupted by that. Yet the five-day trend next week into earnings may be weak as expectations are low for the report. The company is expected to see a 40% decline in EPS YOY, and a 6% decline in revenue. With blue chips struggling, DOW may be sold off into earnings, and that 50-day MA is strong support. If it breaks, see ya...
Additionally, for a bearish options play, we like NetApp. The company went through a major correction in September that bucked the market trend, and the stock has little catalyst right now. The recent hiring of CSO Jonathan Kissane makes it less likely for an acquisition, and a similar company Avnet (NYSE:AVT), issued a recent earnings warning. We believe the same may occur for NTAP. Cloud has not looked strong this earnings season, and the company is expected to see about a 25% correction in EPS YOY. The $36 line looks likely to hold at the 200-day MA into earnings on November 14.
Stock Trade: DOW, Short
Breakout point: Break of 50-day MA
Options Trade: NTAP, Nov17, 34/36 Bear Call Spread
Max Gain: 11%
Tomorrow's Outlook
The market is closed for the weekend. Outlook for the week will be out in our weekly outlook article.
Our Moves/Holdings
We had a great day in the market due to options expiration. We had Williams Sonoma (NYSE:WSM) expire worthless for an 18% gain. We had Intuit expire worthless for a 12% gain. We had Crocs (NASDAQ:CROX) expire worthless for a 25% gain. We had Alexion expire nearly worthless for a 15% gain. We had Equinix (NASDAQ:EQIX) expire worthless for a 25% gain. Finally, we had an 11% gain in Netsuite (NYSE:N), as it also expired worthless. We closed Visa (NYSE:V) long for neutral on our trade there. We added a bull put spread in ISRG.
We have the following positions:
In our Short-Term Equity Portfolio, we are long CBRE Group (CBG).
In our Options Portfolio, we are long Intuitive Surgical, Urban Outfitters (NASDAQ:URBN), Discover (NYSE:DFS), Wal-Mart (NYSE:WMT), and ExxonMobil (NYSE:XOM). We are short United States Oil (NYSEARCA:USO).
In our Earnings Alpha Portfolio, we are long Allstate (NYSE:ALL), Michael Kors (NYSE:KORS), Disney (NYSE:DIS), and Continental Resources (NYSE:CLR). We are short Polo Ralph Lauren (NYSE:RL). We have a reverse iron condor in Chipotle (NYSE:CMG).
In our Goldman Sachs Up/Down Paper Portfolio, we are long CSX (NYSE:CSX), Teradata (NYSE:TDC), and Host Hotels (NYSE:HST). We are short Royal Dutch Shell (NYSE:RDS.A).
Charts courtesy of finviz.com.
Disclosure: I have no positions in any stocks mentioned, and no plans to initiate any positions within the next 72 hours.
Business relationship disclosure: The Oxen Group is a team of analysts. This article was written by David Ristau, one of our writers. We did not receive compensation for this article (other than from Seeking Alpha), and we have no business relationship with any company whose stock is mentioned in this article.