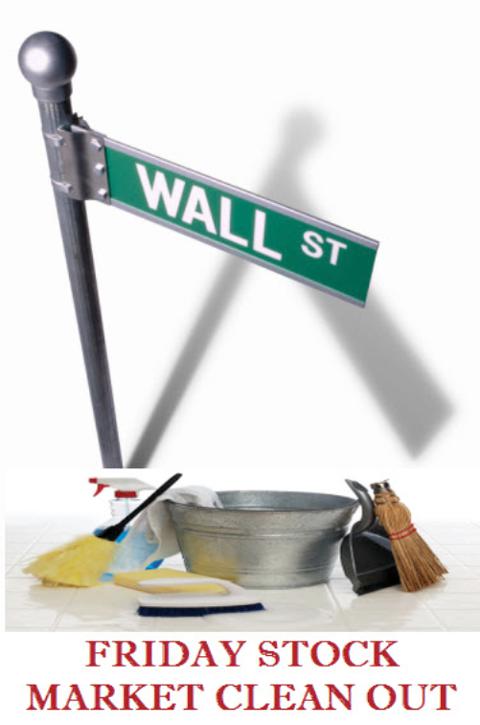 We're back to square one on the week as far as most major indexes are concerned. But you wouldn't know it by Thursday's and Friday's action. We're also back to the previous matter of light volume rallies and heavy volume selling, meaning distribution. Earnings overall were expected to be weak, but corporate revenues weren't expected to decline by this much. The litany of disappointments is quite long: (NASDAQ:MSFT), (NYSE:IBM), (NASDAQ:INTC), (NASDAQ:GOOG), (NYSE:CMG), (NYSE:MCD), (NYSE:GE), (NASDAQ:AMD) and so on.
The normal rotation away from tech to more conservative sectors like financials (NYSEARCA:XLF), consumer discretionary (NYSEARCA:XLY), healthcare (NYSEARCA:XLV) and so forth came to an abrupt end, at least on Friday. Better relative performance? Perhaps, but most carbon-based investors could care less about such arcane institutional distinctions. Friday was a "get me out" day.
The dollar (NYSEARCA:UUP) was stronger, which crushed precious metals (NYSEARCA:GLD) and (NYSEARCA:SLV), and commodity tracking sectors (NYSE:DBC). Overall, a very ugly day. Stocks had their worst day in four months, which is the opposite of the previous week's headline of best week in five months -- wash, rinse and repeat.
In the eurozone, EU ministers have an agreement to provide a banking regulatory vehicle. But the details and calendar of doing so are sketchy. The Spanish delay strategy is clearly designed to seek a better set of conditions for a bailout. They don't need one "today," but will eventually. So the meme going around bullish circles today that the eurozone is fixed is laughable.
There isn't much to add, as now the FOMC meeting next week is in focus, not to mention the election and other potential surprises. The FOMC will make another announcement on Wednesday. They have very few tools left at their disposal, except perhaps lowering bank reserve requirements. Cutting interest rates to zero doesn't seem a sensible option. Perhaps even the glamor of the Bernanke/Draghi Put is fading as well. Another presidential debate, then it's a sprint to the finish. Given the tightness of the polls, ZeroHedge posted the notion of a Gore/Bush type of election outcome, which could take us to the fiscal cliff in a political mess. How fun would that be?
We had moved a substantial amount of the major index positions from long to cash at the beginning of the week. This seemed dumb by Thursday morning, but now seems neither astute nor dumb. So is it a buying opportunity, or just a move to the sidelines for now? We choose the latter for now. Trying to make sense of markets, especially in this centrally planned economy, can make anyone look foolish.
As indicated, volume was higher on selling, as no doubt many trailing stops were triggered. Breadth per the WSJ was quite negative, approaching a 10/90 day.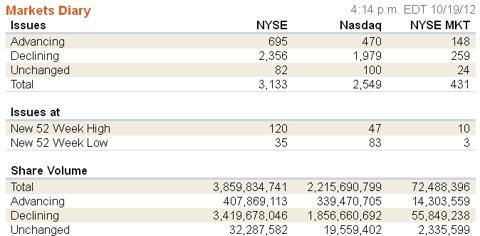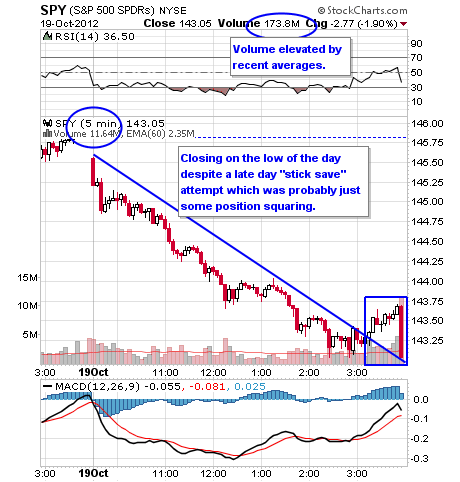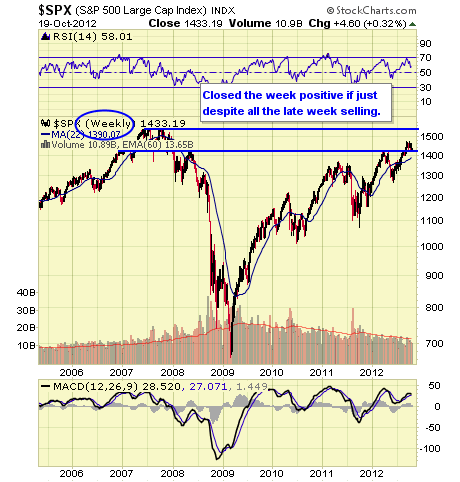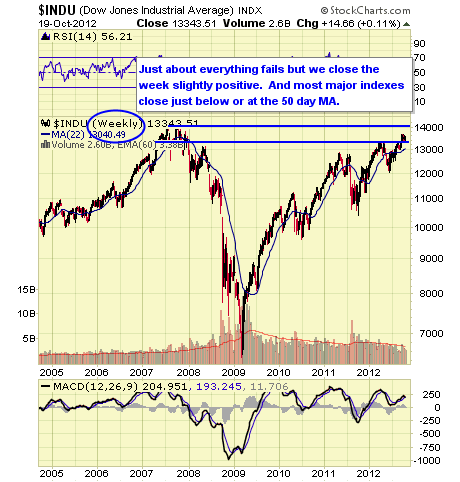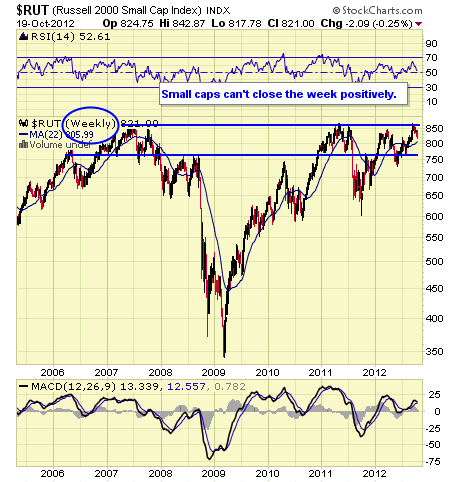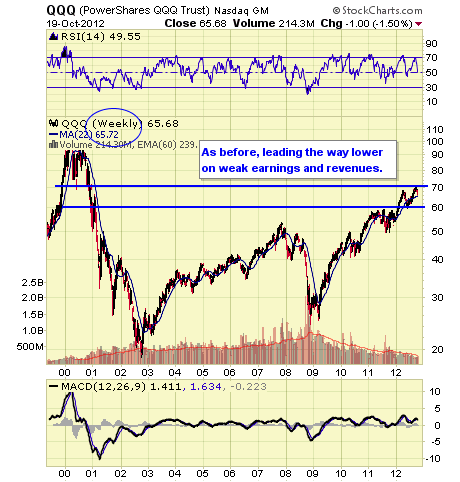 Continue to U.S. Sector, Stocks & Bond ETFs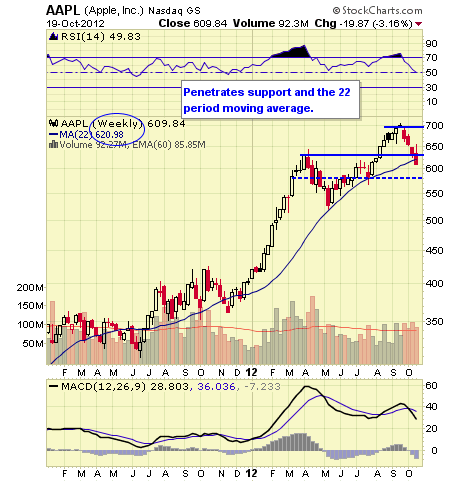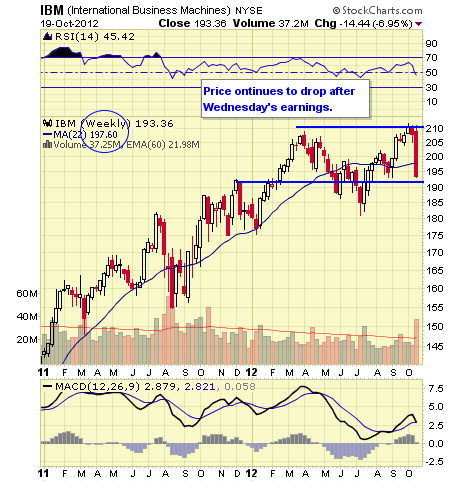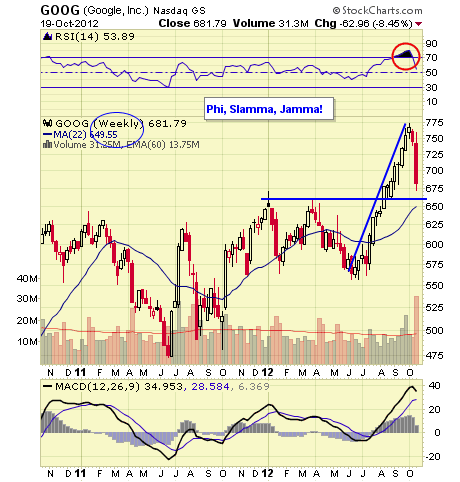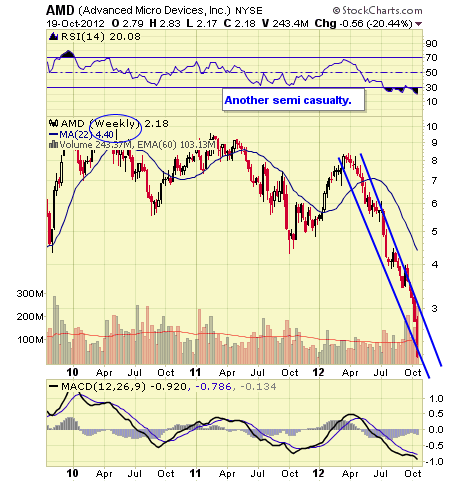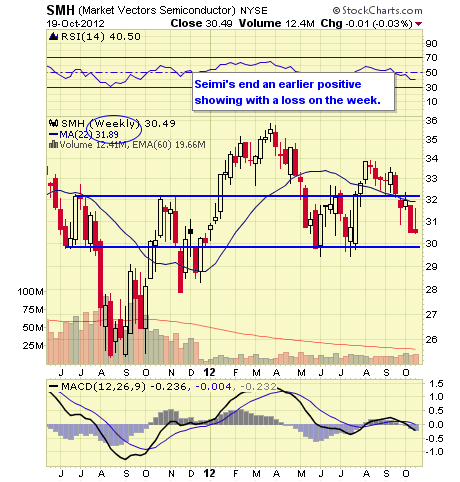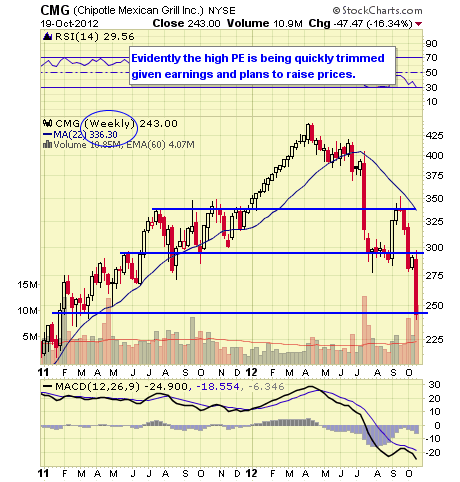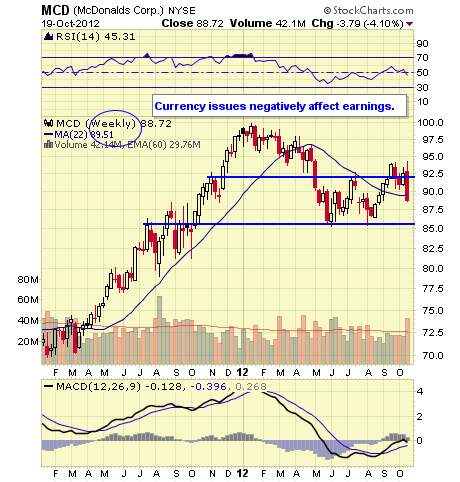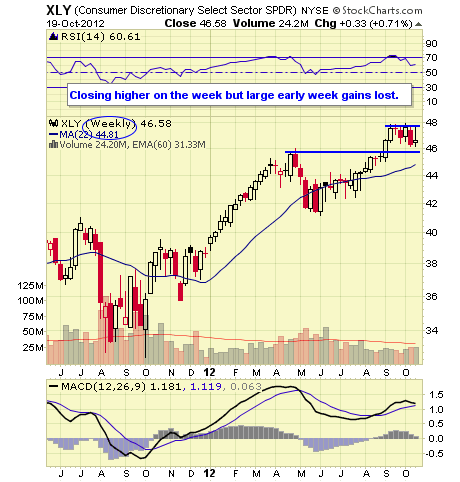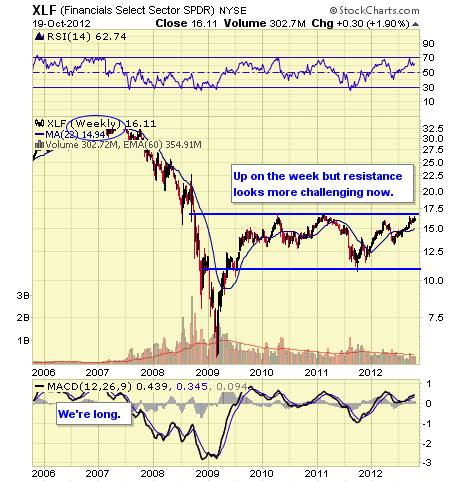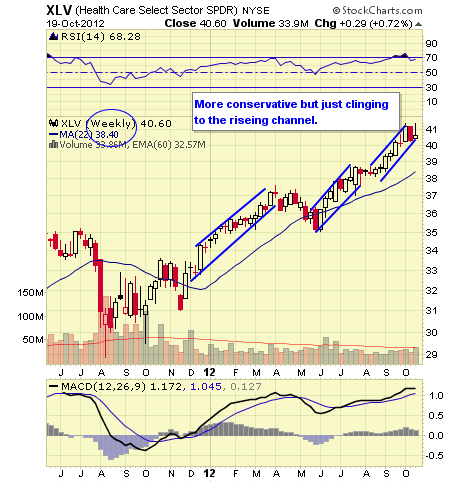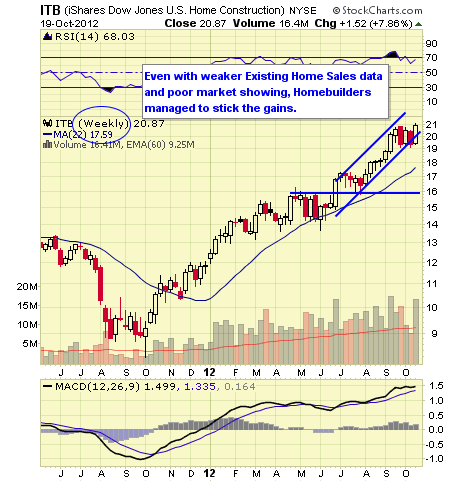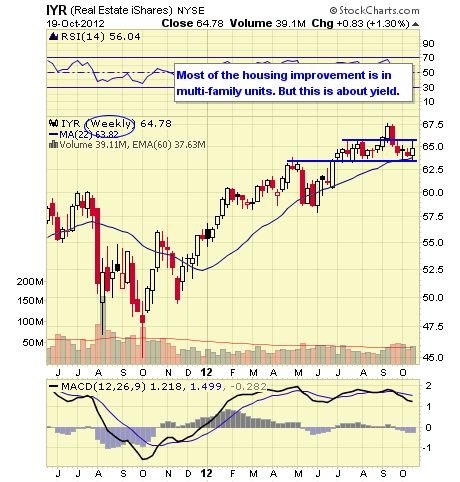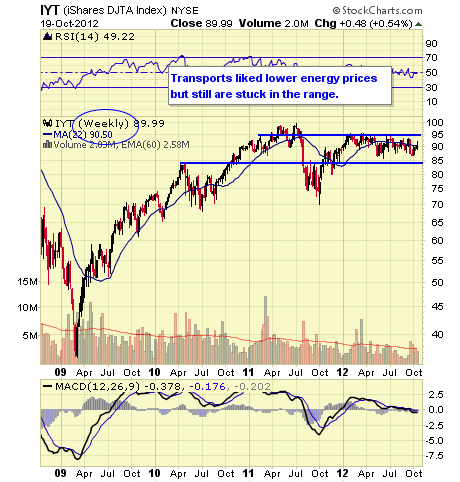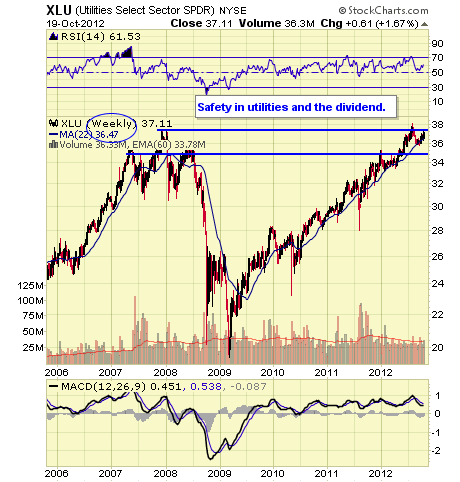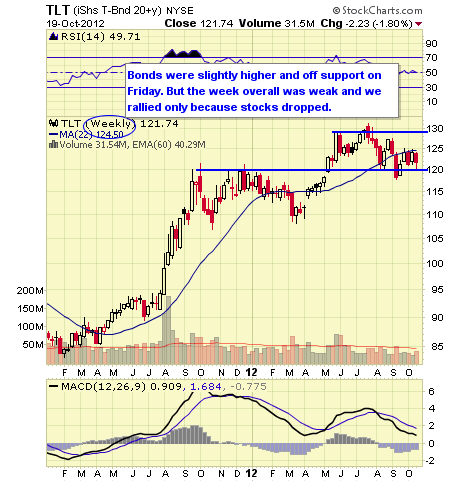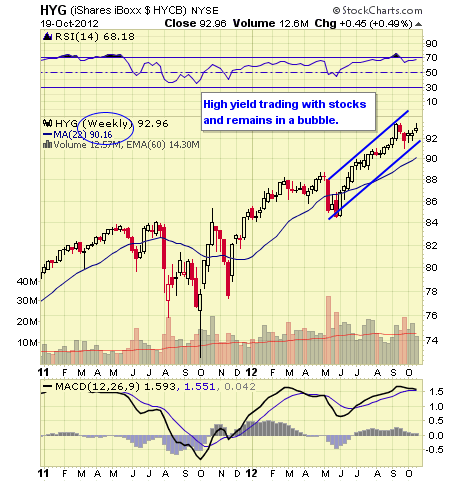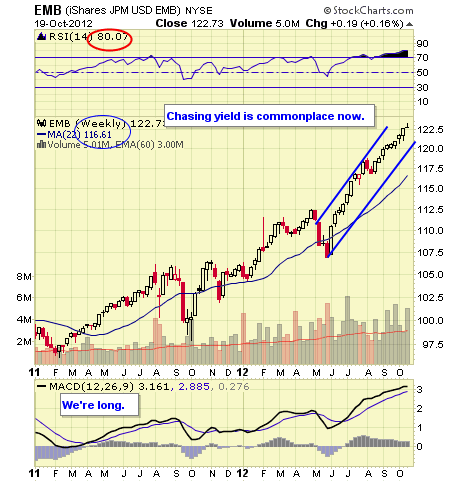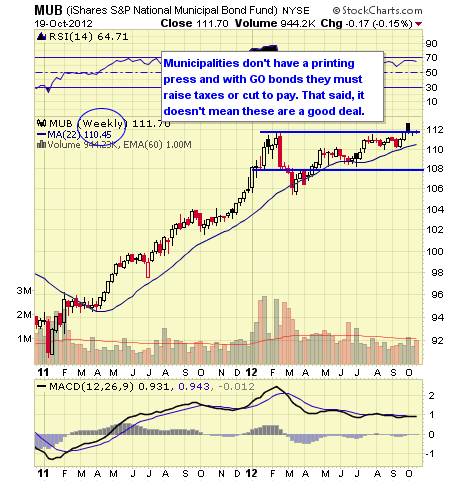 Continue to Currency & Commodity Market ETFs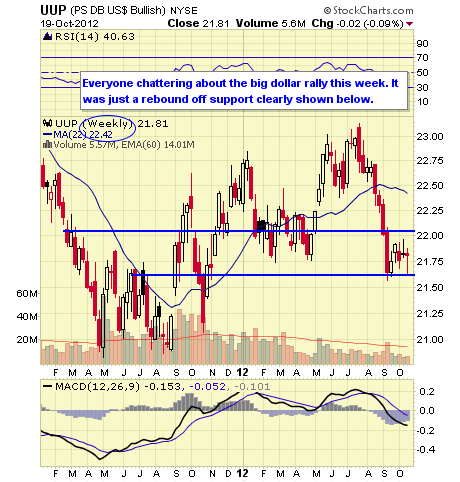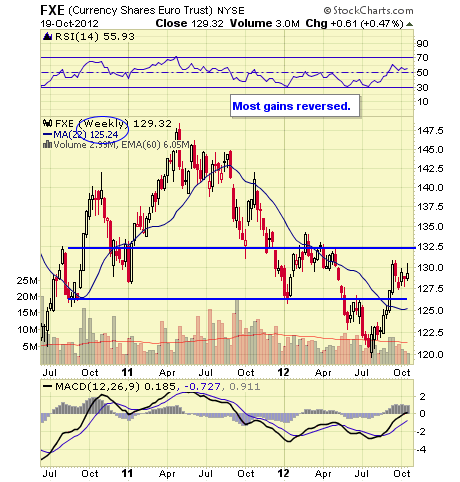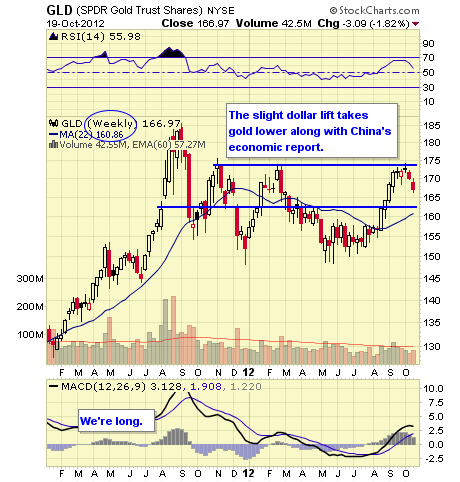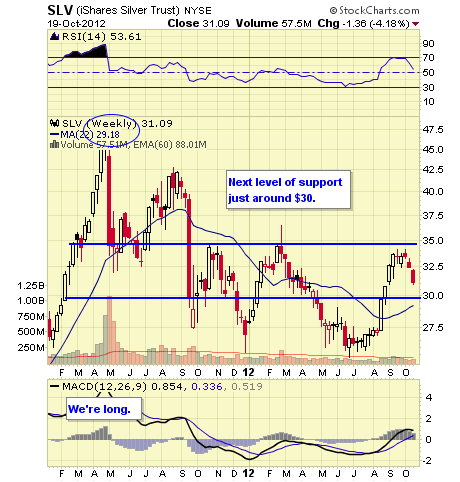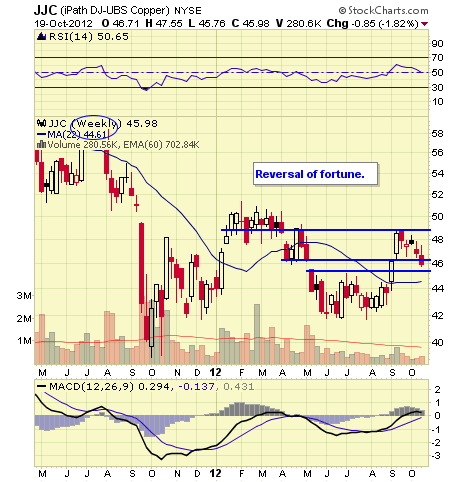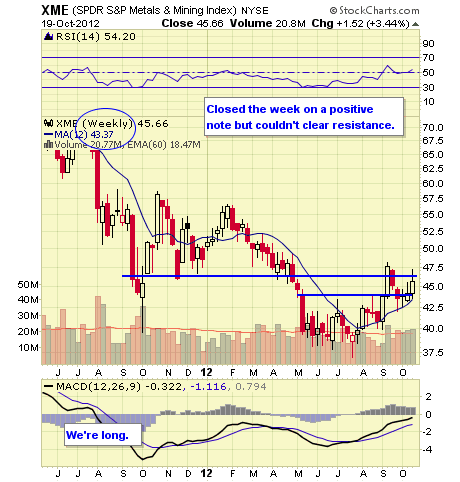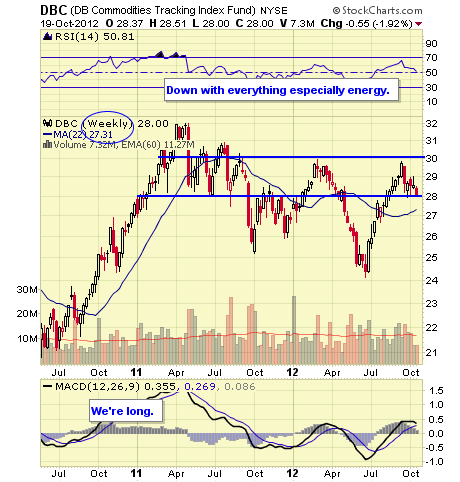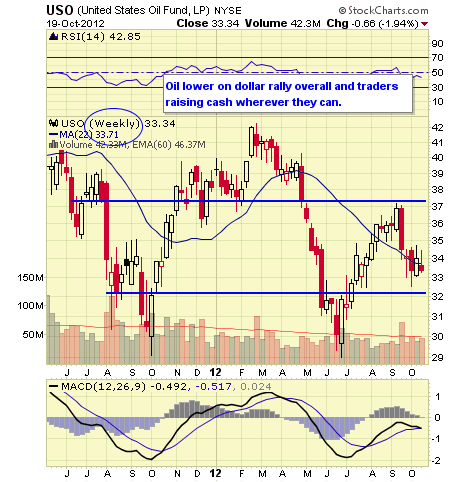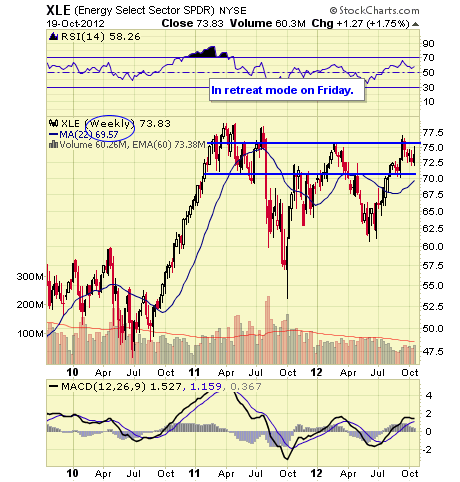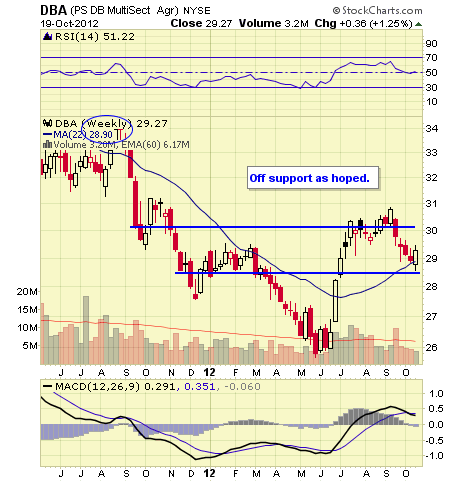 Continue to Overseas Sectors & ETFs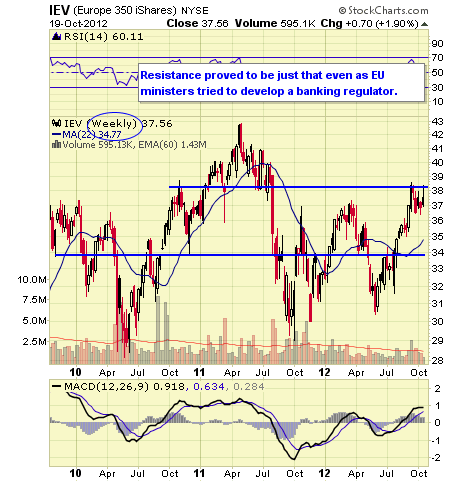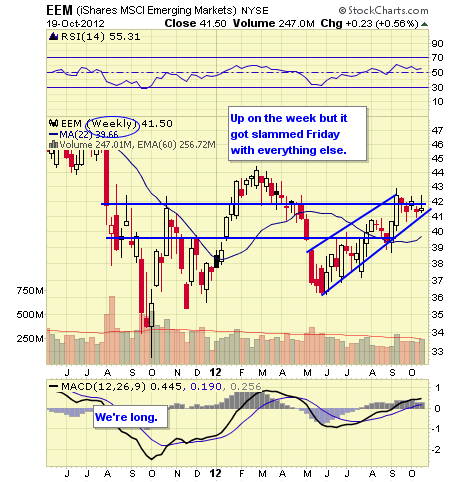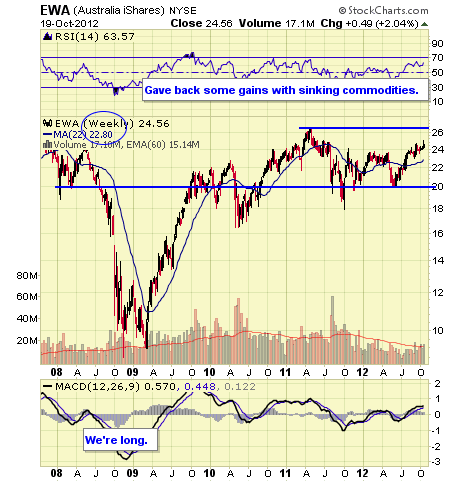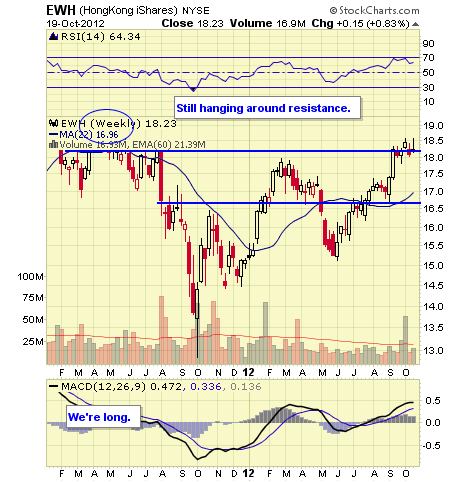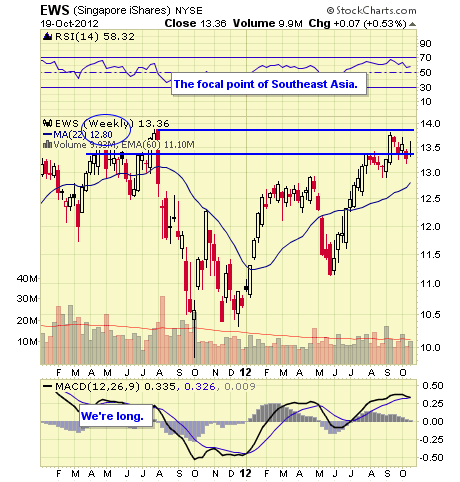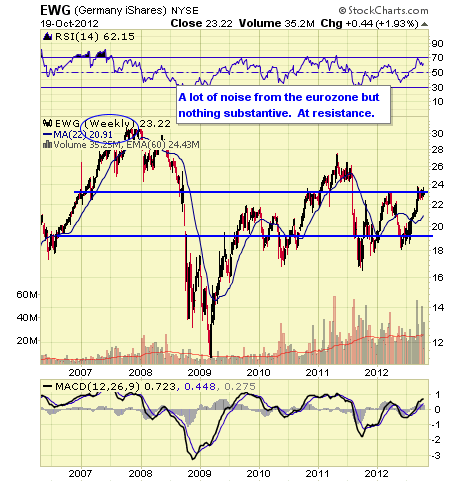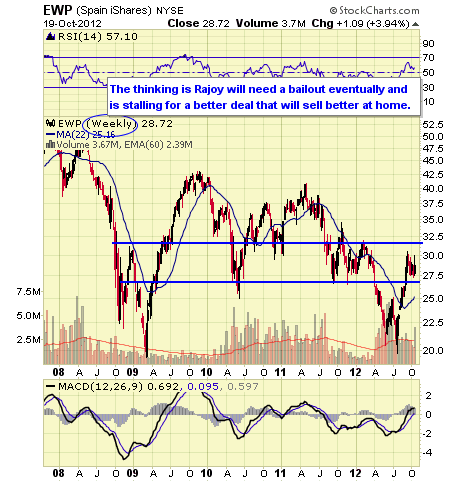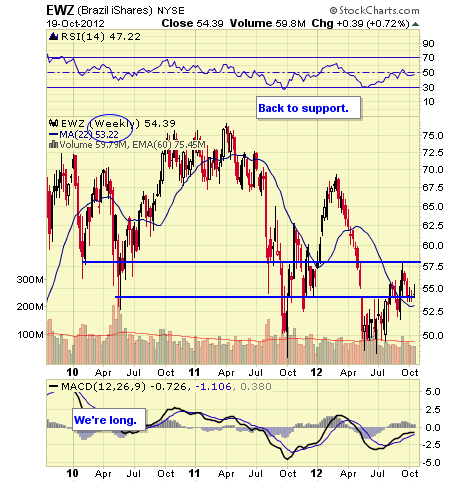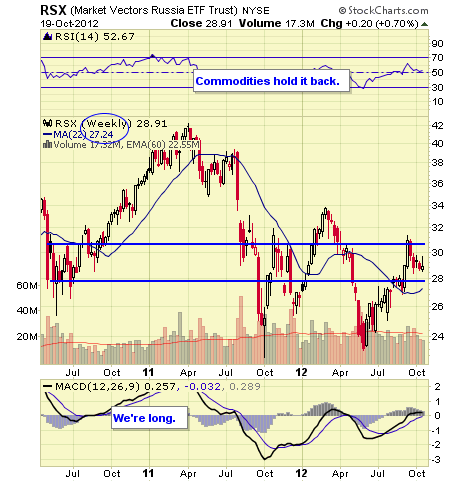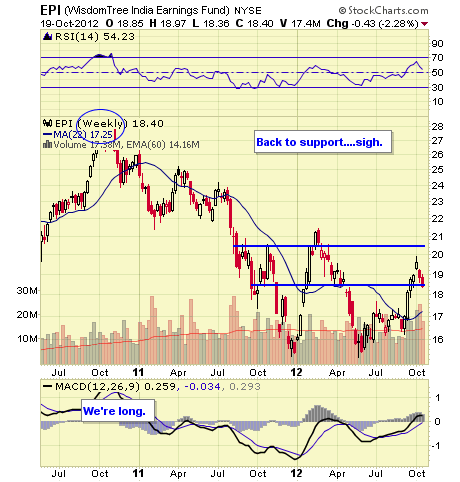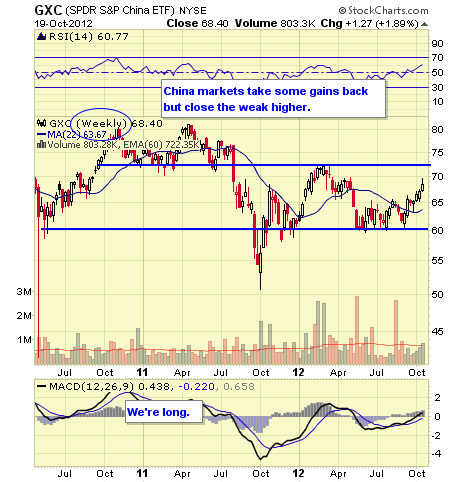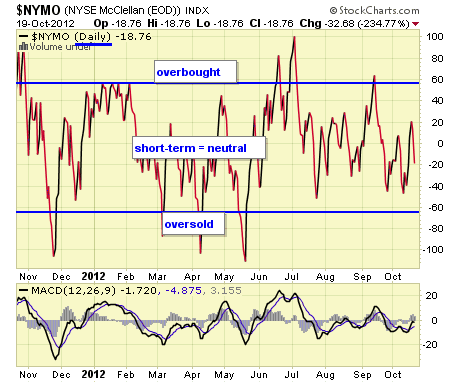 The NYMO is a market breadth indicator that is based on the difference between the number of advancing and declining issues on the NYSE. When readings are +60/-60, markets are extended short-term.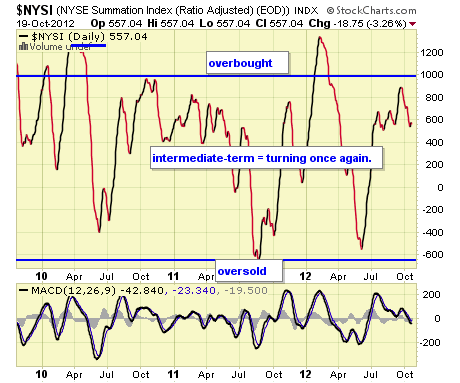 The McClellan Summation Index is a long-term version of the McClellan Oscillator. It is a market breadth indicator, and interpretation is similar to that of the McClellan Oscillator, except that it is more suited to major trends. I believe readings of +1000/-1000 reveal markets as much extended.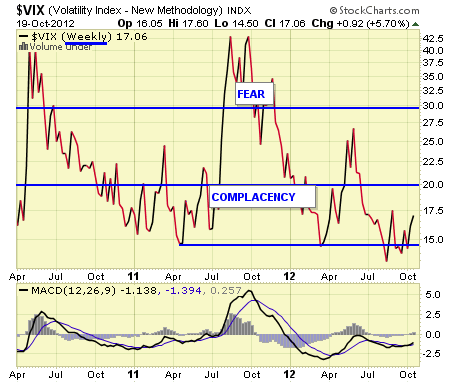 The VIX is a widely used measure of market risk, and is often referred to as the "investor fear gauge." Our own interpretation is highlighted in the chart above. The VIX measures the level of put option activity over a 30-day period. Greater buying of put options (protection) causes the index to rise.
Concluding Remarks
If you went away for a week and just now looked at weekly performance for most major averages, you'd just shrug, saying no big deal. But in fact, it was a big deal, as some sectors (tech and commodities) saw outsized losses, and late Thursday and Friday was a killer.
Volume once again picked up, as distribution in equities overall continues, and this is what matters. Insiders have been net sellers, as the uncertainty about taxes, healthcare costs, the fiscal cliff and elections have them taking their gains if they have them. This is important.
Next week, we have the last debate, and I wonder how many would rather watch Monday Night Football? Then the Fed issues another closely watched statement on Wednesday. More earnings are on the way, but the trend with those has been poor, especially on the revenue side.
Disclaimer: The ETF Digest maintains an active ETF trading portfolio and a wide selection of ETFs away from portfolios in an independent listing. Current "trading" positions in active portfolios, if any, are embedded within charts: Lazy & Hedged Lazy Portfolios maintain the follow positions: VT, MGV, BND, BSV, VGT, VWO, VNO, IAU, DJCI, DJP, VMBS, VIG, ILF, EWA, IEV, EWC, EWJ, EWG, & EWU.
The charts and comments are only the author's view of market activity and aren't recommendations to buy or sell any security. Market sectors and related ETFs are selected based on his opinion as to their importance in providing the viewer a comprehensive summary of market conditions for the featured period. Chart annotations aren't predictive of any future market action rather, they only demonstrate the author's opinion as to a range of possibilities going forward.
Disclosure: I have no positions in any stocks mentioned, and no plans to initiate any positions within the next 72 hours. I wrote this article myself, and it expresses my own opinions. I am not receiving compensation for it. I have no business relationship with any company whose stock is mentioned in this article.