Apple (NASDAQ:AAPL) is by far the most widely known tech name in the investment community and, indeed, the general public. The company has been a meteoric success story, delivering incredible shareholder value over the last 10 years with its iPod, iPhone, iPad, iMac, and MacBook Pro lines of products. Ahead of the iPhone 5 launch, there was a near mass-hysteria, with the stock reaching record highs of $705.07/share.
After the launch and the seemingly disappointing first-weekend sales (likely due to supply issues) despite generally good reception of the device, analyst downgrades started piling in and sentiment started to turn. Unfortunately, the market is all about psychology, and so the drop began: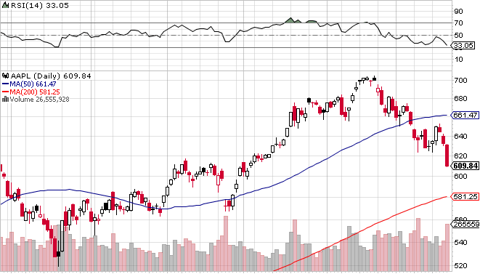 The share price sliced through the 50 day moving average like butter and is now on its way to test the 200 day moving average.
Now, the company is scheduled to report its earnings on October 25th, so technical analysis won't mean too much in light of the material fundamental news on the way. If the earnings report is good (and that means beats the analyst estimates of $36.23B in sales and $8.85/share in earnings) and guidance is strong (analysts expect $54.76B in sales and $15.43/share in earnings), then the stock will likely rocket on back to new highs.
However, if the company misses on either - and given the lousy macroeconomic environment this is not a farfetched idea - then it'll see some, likely overdone, selling pressure. Apple will fall, but will find valuation support in light of the fact that it currently trades at a modest 14.34x earnings and has $117B in cash and equivalents on the balance sheet (likely to have increased significantly over the quarter).
The following Apple suppliers are quite levered to Apple's success. Should Apple miss its revenue or earnings expectations in either the report or in the guidance for the current quarter, then a sharp drop is not out of the question. Similarly, if Apple's results meet/beat expectations, this could be seen as a major positive catalyst. In short, these names will likely be highly volatile.
1. Cirrus Logic (NASDAQ:CRUS)
Cirrus Logic is a fabless semiconductor company that develops high-precision analog and mixed-signal integrated circuits for consumer and industrial markets. What everybody cares about, however, is that the company is an Apple-supplier. In particular, it supplies audio chips to Apple for its iPhone products.
In FY2010, FY2011, and FY2012, according to the firm's latest 10-K, revenues from Apple represented 35%, 47%, and 62% of Cirrus's sales, respectively. This increasing reliance on Apple has been a boon for the company over the last several years, as evidenced by the firm's share price appreciation, which has "gone exponential":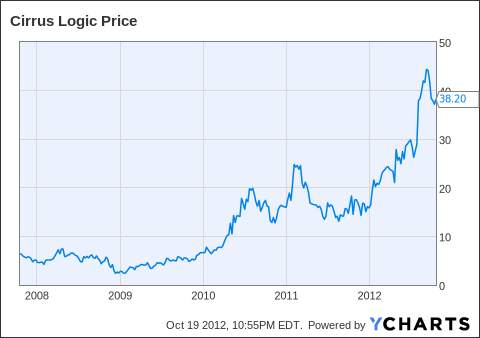 While the company has seen strong quarterly revenue growth over the last 5 years, its growth is almost entirely levered to Apple's iPhone sales growth. Cirrus reports on October 29th, but Apple's report on the 25th should strongly hint at what Cirrus's report will bring.
2. Fusion-io (NYSE:FIO)
Fusion-io is a developer of high performance, software driven flash solutions to accelerate databases, virtualization, cloud computing, and big data. As far as Apple is concerned, it is a 10% or greater customer as of Fusion-io's latest 10-K filing.
It is important to note that Fusion-io's products don't actually go into the latest iProducts, so the actual sales numbers out of Apple don't really mean too much directly. The important factors here are the following:
General expansion of the Apple ecosystem, as Apple relies on Fusion-io's products in order to make sure that its websites as well as its iCloud is able to handle an increasing number of users.
Sentiment surrounding Apple. In trying to predict near to medium term trends, sentiment is key and a strong Apple will be a wave that raises everybody. On the flip side, a weaker Apple will mean that investors are less likely to assign Fusion-io a lofty multiple.
The reason I emphasize sentiment so heavily is that Fusion-io is by and large a "growth" stock. Despite taking in only $359.3M in revenues during FY2013 and posting a GAAP net loss of $0.06/share, the company is valued at a staggering $2.62B. Now, this represented 82% revenue growth over FY2011 and guidance for FY2013 calls for 45-50% increase in revenues with non-GAAP gross margins staying in the 56-58% range, so the premium valuation is understandable albeit at risk in the near term if one of its major customers does poorly.
Fusion-io reports on October 24th, a day before Apple results, although the Apple report will still very likely have an effect on the share price either way.
Disclosure: I have no positions in any stocks mentioned, and no plans to initiate any positions within the next 72 hours. I wrote this article myself, and it expresses my own opinions. I am not receiving compensation for it (other than from Seeking Alpha). I have no business relationship with any company whose stock is mentioned in this article.