Deckers Outdoor's (NASDAQ:DECK) stock is trading around $36.81, close to its 52-week low of $34.60, down 63% in the last one year. The stock trades with a P/E multiple of 9 times versus its forward P/E multiple of 8 times. One of its close competitors Nike (NYSE:NKE) is trading with a P/E multiple of 19 times and a forward multiple of 16.5 times. VF Corporation (NYSE:VFC) trades with a P/E of 17 times and a forward P/E of 16 times. Just on a valuation basis, Deckers looks attractive relative to its peers.
As of June 30th, 2012, the major institutional holders of the stock are Luxor Capital Group (8%), T. Rowe Price (6%), Wellington Management (6%), Goldman Sachs (6%), and Tiger Global Management (5%).
The company is expected to report earnings after market close on Thursday, October 25th, 2012.
Looking at the balance sheet, the company has $115 million in cash & cash equivalents, and no public debt. Also, the company has a $200 million secured credit revolver, which matures in 2016. At June 30, 2012, the company had no outstanding borrowings under the Credit Agreement, and outstanding letters of credit of $189. As a result, $199,811 was available under the Credit Agreement at June 30, 2012. A strong liquidity position has allowed the company to survive through a sluggish economy.
An option for the company would be to issue additional debt to reduce the cost of capital on the balance sheet. The timing and the structure of the debt will be important.
During Q2 2012, the company completed its $100 million stock repurchase program and authorized a new $200 million program. A good use of capital has given the stock downside protection.
The company has two profitable and established footwear brands in UGG and Teva, which have expanded in various geographies.
The company consists of a proactive management team, which has managed a strong balance sheet and strong brands.
Conclusion: Given the valuation of the company's stock, the performance in the last one year, and a strong balance sheet, Deckers Outdoor is a stock worth your radar screen. Risks related to investing in the company are higher energy prices that will discourage consumers driving to stores, and an overall weak macro environment, which will impact consumer spending.
The chart below compares share performance over the past year. "E"s mark earning reports.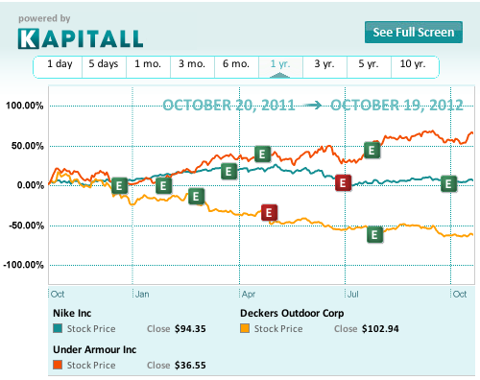 Written by Kapitall's Sabina Bhatia. Tool provided by Kapitall.
Disclosure: I have no positions in any stocks mentioned, and no plans to initiate any positions within the next 72 hours.
Business relationship disclosure: Business relationship disclosure: Kapitall is a team of analysts. This article was written by Sabina Bhatia, one of our writers. We did not receive compensation for this article (other than from Seeking Alpha), and we have no business relationship with any company whose stock is mentioned in this article.