Back in February of this year, I wrote "The State of the Gold Bull and the $1764 Price" here at Seeking Alpha. It was an explanation of the significance of Gold at $1764 per the analysis of Jim Sinclair, thought by many to be the most accurate forecaster for gold on earth. This reputation is impressive as it spans not only the current bull market but the one in the '70s as well. To go over his remarkable calls of the past, you can peruse my February article. Here, I will just look at where we are now in Sinclair's amazing projection.
In the above article, I was anticipating a major resistance developing to block gold's rise at this critical swing point of $1764 because Sinclair had predicted just this development clear back in July, 2011 - way before gold had gone anywhere near this level! In my February article's linked post at my blog ("$1764 Update" from November, 2011) my thought then was:
I somehow suspect we're going to get maybe one more knock down to the 140 ema area and maybe a scary break of it before we're through...
And that's been exactly the storyline on gold since then - the big scary 200-day moving average breakdown. This filled the web with stories about the end of the gold bull market. In a picture, this is what happened: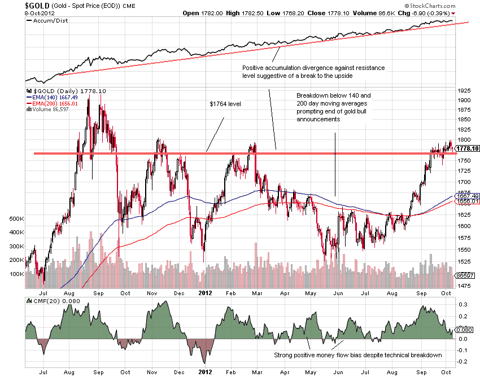 We did indeed get not one, but many smackdowns from what now has become just what Sinclair said it would be - the biggest resistance point of the entire bull market. Those who point to price manipulation (including Sinclair) suggest that the upcoming election will have the manipulators trying to keep gold tame with maybe another smackdown over the next month or two. Those who favor a low gold price favor Ben Bernanke and a continuation of current policies. A new administration would not effectively change these policies in my opinion, but the threat is there.
At this juncture, I can simply quote what I said in the February piece, because it is as germane now as it was then if not more so:
Now as we are approaching this attractor-repeller $1764 area again, it may behoove us to review the words of Jim Sinclair concerning it: ... a move above $1,764 would be the equivalent of $524.90 in the sense that you would go from the runaway that was born at $524.90, into a hyperbolic market ... a move above $1,764 brings into focus prices as high as $12,000, so we are approaching the most critical milestone in the entire gold bull market. It will be reasonable to assume that every effort will be made not to allow gold to get through that price. $1,764 should put up the biggest battle of the entire bull market. The number where confidence is lost is $1,764 ("Jim Sinclair-Gold Milestone at $1764 Paves Way to $12,000" King World News-Blog, 7/15/11")
The investment implication of this favors buy and hold gold positions. If you trade much, you should only try buying the massacres when they subside. Option based positioning with gold runs into the big problem of timing gold moves. Predicting what gold will do is much easier than predicting when it will do it. Buy and hold would involve products like UGL, which is a 2X tracking of the gold price. Then there is DGP, also a 2X tracker, but this is an ETN (Exchange Traded Note), not an ETF. The only big difference is that an ETN is basically a debt instrument (a "note") and it is only as good as the full faith in the issuer. In a prolonged debt crisis, gold would likely go sharply up but an issuer of ETNs could possibly disappear, and so could the ETN value. I prefer ETFs whose value is determined by the spot gold price, not those that promise to hold gold for you or those that require good faith from you.
So for new positions in gold, the obvious question is "Do I wait for another massacre of the gold price?" They seem to be happening with great regularity this year each and every time gold pokes its nose above $1764. Why not just wait until the next dive to $1600?
To gauge the prospects for a buyable retreat back down from Sinclair's $1764, let's take a small survey of those prognosticators who have had a recent history of getting gold's behavior right.
From Jordan Roy-Byrne:
Readers are well aware that in the summer we forecasted the rebound in precious metals and resistance targets of $1800 for Gold, $57 for GDX and $35 for Silver. Over the coming weeks look for precious metals to continue to correct and consolidate. This current correction could be the final chance to accumulate the metals and the shares before they advance to test the all time highs. ("Gold and Gold Stocks Readying for Upturn Against Stocks", SafeHaven, 10/10/12)
From Dan Norcini via King World News - "Acclaimed commodity trader Dan Norcini updates KWN readers globally on what the key players are doing right now". Norcini is also seeing a move down "... the short bias remains negative". But he sees it not going much lower than $1700 this time:
... people have to understand that there should be very strong central bank buying in that $1,700 to $1,720 zone, so it will be very difficult for the bears to take gold through that support. (King World News-Blog. 10/10/12)
King World News also noted recently that:
Now we have Norcini, Fitzpatrick, Turk, Hathaway, Davies, and von Greyerz, all calling for this pull back in gold to be very shallow, somewhat like what we have seen so far. Gold may trade in a somewhat narrow range while it consolidates its recent gains, before accelerating to the upside once again. (King World News - Blog 9/26/12)
And Thomson Reuters GFMS, a leading consultant on precious metals, who called for much lower gold over the next couple months in April of this year, correctly seeing the big dip to $1530, has this to say now:
Looking ahead, we would caution that gold has become increasingly vulnerable to a near-term correction ...Having said that, we expect any correction in gold to be short-lived and temporary, with the price forecast to find support in the low $1,700s ( Thomson Reuters GFMS Gold Outlook for Next Three Months, Monex Precious Metals, 10/5/12)
And from the well respected Aden Sisters as reported at the millionaireby33.com blog:
I like to follow the Aden Forecast run by the Aden Sisters, Pamela and Mary Anne Aden. As reported in MarketWatch here are their recent thoughts on gold:

"the train has left the station, and another leg up in the bull market is getting started."

Bottom Line: My gut has been telling me gold will not give one more final correction to those who have been waiting to get into the gold market (especially to those who got shaken out). I follow gold commentary closely all over the globe and many have been anticipating one more sharp move to the downside. When everyone wants something to happen, its best to take the other side of the trade.

As James Turk from GoldMoney.com recently said, we may never see $1580 gold and $27 silver again. ("Aden Sisters: Gold train has left the station", My Investment Diary, 8/23/12)
The consensus of these able minds on gold seems to be a move down from $1764, but probably not another rout to $1600 or lower; and they agree that this pull back will be very short-lived.
I personally think a new gold smack down could go a little deeper than Dan Norcini's $1700, something splashy enough to be fare for the voting public. The loose money influence wants all the status quo people to remain after November - no major policy shake-ups. But if we get this kind of move, it likely will be very fleeting. As Norcini goes on to say of the strong central bank buying he sees coming up and the shorts' reaction:
The swap dealers and commercials will be aware of the central bank buying and will try to step in front of those buyer orders so they can cover.

This type of action would allow both commercials and swap dealers to cover a great deal of shorts in a very brief period of time."
If you are watching this development like a vulture sitting on a limb, you may be nimble enough to take advantage of it. But you may not want to stubbornly wait for $1600 gold again. The consensus of the survey above is a shallow, quick sell down to around $1700. The Aden Sisters use the phrase "the train has left the station," which would infer they don't anticipate much more of a pullback than what we've seen already coming off the recent $1790 - we've been down to around $1730.
If they are right about there being no big run to new highs until after the elections in three weeks, I would view any quick trip gold makes down below $1700 between now and then as the next good buy zone.
Disclosure: I am long UGL. I wrote this article myself, and it expresses my own opinions. I am not receiving compensation for it (other than from Seeking Alpha). I have no business relationship with any company whose stock is mentioned in this article.