The market is willing to give benefit of the doubt, however, there are limits to the market's generosity. More so, there are limits to exactly what and how far in the future, the market is willing to discount today. Both Google (NASDAQ:GOOG) and Apple (NASDAQ:AAPL) were clobbered this week for different reasons. Google fell because it failed to impress, and Apple because of the overall market sentiment - but also, because investors might have nothing to discount, after the company's record quarter numbers that everyone is expecting are announced (my assumption).
In the case of both Apple and Google, the only question for those who have held onto these stocks for a long time is where to sell and take profits. Why you ask? Because these stocks have given extraordinary profits.
First let's look at the Apple chart below:
Click to enlarge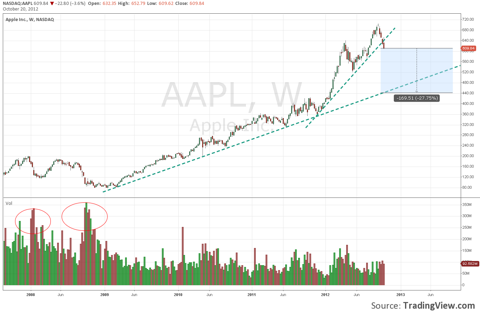 As you can see, Apple is riding high in the sky. That, coupled with the fact that investors have extraordinary returns, makes everyone very trigger happy (ready to sell). And that trigger-happy feeling many times has nothing to do with the stock itself. I mean I can give you many reasons for selling Apple (here and here), but that's beside the point. What matters is that Apple fell for no apparent reason other than overall market sentiment, which is always a reason to sell when you are riding on 1000% appreciation.
However, notice the volume action all through 2008 (in the above chart). Volume was quite big, even though the stock didn't do anything in 2008, investors were piling in. And all those who bought the stock two-three years ago, have many reasons to sell it today. I don't think there are many investors out there, who think the stock might appreciate ten times over once again.
Now lets look at Google below: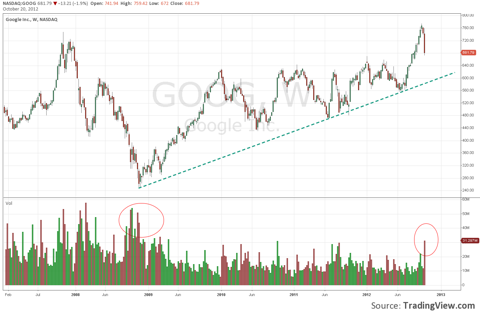 If you ask me, Google is dead money to buy and hold. It is, however, one of the best swing trading stocks around. Anyone who is expecting to make money holding Google from these levels (I am not talking about many years ago, mind you), will probably have to wait a long time.
Now notice at the volume in the above chart. Look at the volume piling in the stock at the beginning of 2009 where the stock bottomed. Many of those investors have all the reasons in the world to sell today, when the company fails to either surprise or disappoint. And if you look at the volume spike on Friday (right hand side of the chart), you can see that many investors are rushing to the exit. And if you ask me, they are the same ones that were piling in several years ago.
A note on volume
In all my years of investing, I have noticed that big spikes in volume happen either close to new highs or new lows. New highs are usually accompanied by good news, which the smart money knows can't last forever and sells, while those that don't have any insight buy, because they see pie in the sky.
In both of the above charts, it is clear when a big bulk of investors piled in the stocks. While in Apple's case, it is not very clear that investors are dumping shares like there's no tomorrow, I think in Google's case, we have more evidence.
Now let's look at Nokia (NYSE:NOK):
I have talked about Nokia before - Nokia: An Opportunity In A Globally Recognized Brand - and I can give you many more reasons to buy Nokia today. However, this piece is not about more fundamental reasons to buy the stock and not about their recent quarterly results. Many writers covered the recent results, among them Qineqt and Jacob Steinberg, who had a good piece on European demand for Nokia's new Lumia phones.
I want to focus more on volume action and what I see unfolding, as the company reinvents itself. Please look at the chart below: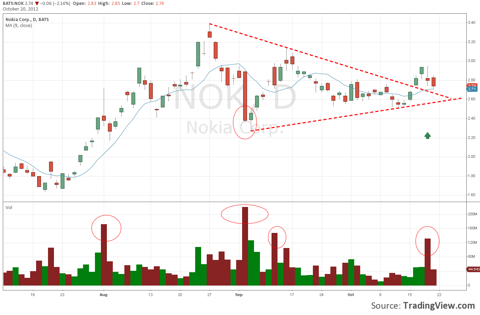 As you can see in the above chart, the big spikes in volume all happened on down days. That to me says that the market is buying the dips on weakness, and taking positions. As a side note, please notice that the stock fell as much as Google on Friday, although it posted quarterly losses, while Google simply had worse-than-expected results.
Now lets look at the bigger picture: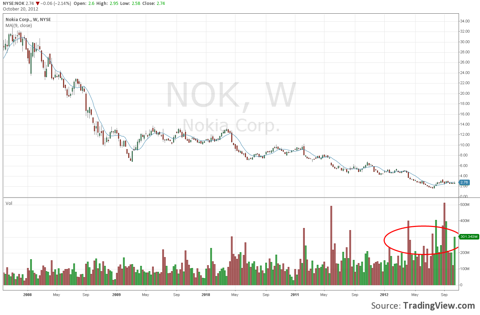 Look at the volume piling into the stock at these current low levels. Especially the last two-three months or so.
Like I said, big spikes in volume happen close to the top, where investors sell and the stock falls, or at bottoms, where investors pile in and a stock rises.
And judging by volume action alone, my conclusion is that investors are buying the dip and piling into the stock, taking big positions in Nokia that I think might give investors above average, if not extraordinary returns, over the next few years.
Disclosure: I have no positions in any stocks mentioned, and no plans to initiate any positions within the next 72 hours. I wrote this article myself, and it expresses my own opinions. I am not receiving compensation for it (other than from Seeking Alpha). I have no business relationship with any company whose stock is mentioned in this article.