Real estate marketing websites such as Realtor.com, Trulia (TRLA), and Zillow (NASDAQ:Z), according to many real estate professionals, have been using some questionable practices in order to generate revenue from increased search engine traffic. Ben Caballero, the co-founder and chairman of The National Association of Real Estate Professionals (NAREP), has gone so far as to state openly that this is a "deliberate strategy" to reap in revenues by profiting from real estate professionals through expired, confusing, and duplicate listings. More listings (even if expired or duplicated) means more search engine presence. Many think that these misleading websites also decrease credibility amongst listing agents.
The NAREP, in order to combat these marketing websites, is launching its own organization aimed to "provide a high profile internet source of reliable national real estate listing information." The organization also plans to demand that members cease all syndication and sharing of listings on sites that are not owned, operated, or a member of an MLS. This aims right at the throat of companies like Trulia and Zillow, because real estate marketing websites rely heavily on MLS listings that are syndicated to them nationwide. If they lose this information, they may see their river of revenues quickly dry up.
According to Caballero, when commenting on the October 9th registration launch:
"For NAREP to achieve a critical mass of listings, we will need broad support among real estate agents and brokers...We are just getting started, but our pre-launch exceeded our expectations. Our reception has been overwhelmingly positive."
The NAREP is not the only one raising concerns. Redfin, the self proclaimed "first online real estate brokerage for home-buyers and sellers" has commissioned and released a study by the WAV group that also targets non-MLS member real estate marketing websites.
The study claims that many of the listings on these sites show non-active or expired offers as "active."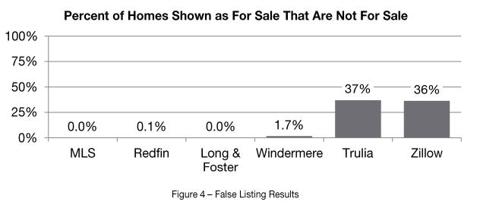 Zillow has responded to the accusations through Geekwire.com, stating:
"There is no gold standard for listings data, so comparing Zillow's MLS-only listings to an MLS isn't going to give you the whole picture. For example, Zillow has hundreds of thousands of for-sale-by-owner, new construction and foreclosure listings, which often aren't listed on an MLS. In addition to these listings, home shoppers visit Zillow for deep info on all homes, Zestimates, price cuts, community, rental listings and historical home information, all of which typically can't be found on a brokerage site."
Conclusion
While sites like Zillow may provide unique aspects and services, such as Zestimates, will these be enough to continue growth and significant revenues if an enormous portion of their listings are confiscated by the NAREP? If these MLS listings disappear for Trulia and Zillow, there is no way they will receive the same amount of hits and generate the same amount of traffic as they do now. They will need to carve out niches for their other services - such as "deep" researched home info, historical home information, and mortgage estimates. If the heavy traffic from listings goes away, the companies will need to adapt and pursue new paths for growth. I would be nervous investing in either Zillow or Trulia, as there is a possibility that the NAREP has discovered a way to repossess a large source of their search engine traffic, and therefore revenues.
Disclosure: I have no positions in any stocks mentioned, and no plans to initiate any positions within the next 72 hours. I wrote this article myself, and it expresses my own opinions. I am not receiving compensation for it (other than from Seeking Alpha). I have no business relationship with any company whose stock is mentioned in this article.