The S&P 500 index has witnessed a significant rally of 15% from its lows of 1,278 in early June 2012 to a high of 1,465 in mid-September. Since then, the US markets have moved sideways for 24 trading sessions until Friday, when the S&P 500 index declined by 1.7%. This article discusses the prospects of Friday's market decline as the beginning of a meaningful correction in US equities. I certainly believe that the US equities might witness some profit taking over the next two months.
Before discussing the prospects of a correction, I would like to point out that US markets rallied by 15% in the last four months primarily due to the liquidity factor fuelled by QE3 in the US. Certainly, corporate earnings have been robust in the recent past. However, the most recent rally was primarily driven by liquidity. I am certain about this because the rally came amidst a slowing global economy, which reduces the earnings optimism on a relative basis. Therefore, what were the markets discounting, with Europe in a recession, China in a sharp slowdown and US continuing with sluggish economic growth? It was the liquidity factor.
Coming to the current scenario, investors do need to understand that excess liquidity can fuel upside in markets for short term. Over the long term, market participants will revisit the fundamentals and corporate earnings expectations. Accordingly, market valuations will adjust.
I had discussed in detail about corporate earnings and its prospects in the medium term in one of my earlier articles. Broadly, my expectation is that corporate profit after tax has peaked out at record levels for the medium term. Hereon, the profits will decline in line with sluggish global economic growth. The most recent earnings miss by Google (NASDAQ:GOOG), Microsoft (NASDAQ:MSFT), General Electric (NYSE:GE) and McDonald's Corp. (NYSE:MCD) is just a reflection of the medium-term earnings trend for corporate.
According to the S&P, of the 115 companies, which have reported 3Q12 earnings so far, nearly 27% have missed estimates. The number of companies missing estimates is relatively high in energy, materials and industrials as compared to consumer staples, healthcare and financials.

Going forward, I do expect a higher number of companies to miss analyst estimates. We have already witnessed the impact of few big earnings misses on Friday. Therefore, from a corporate earnings perspective, investors need to be cautious and wait for more negative news before considering exposure to stocks.
Investors can however consider exposure to stocks in relatively defensive sectors. I did mention earlier about a lesser number of stocks missing earnings estimates in the consumer staples and healthcare sector. Investors can consider two good ETFs in these sectors.
The Vanguard Consumer Staples ETF (NYSEARCA:VDC) seeks to track the performance of a benchmark index that measures the investment return of stocks in the consumer staples sector. The ETF has a low expense ratio of 0.19%. In terms of sub sector exposure within the consumer staples sector, the ETF has 19% exposure to the household segment, a 17.8% exposure to soft drinks segment, a 16.6% exposure to the packaged foods & meats segment, and a 16% exposure to the tobacco segment.
The Vanguard Health Care ETF (NYSEARCA:VHT) seeks to track the performance of a benchmark index that measures the investment return of stocks in the healthcare sector. The ETF also has an expense ratio of 0.19%. In terms of sub sector exposure within the healthcare sector, the ETF has 45% exposure to the pharmaceuticals segment, a 16% exposure to the biotechnology segment, a 14.9% exposure to the healthcare equipment segment, and a 7.3% exposure to managed healthcare.
Among individual stocks, Johnson & Johnson (NYSE:JNJ) is a good investment option. I like this highly diversified healthcare company, with products as well as regional diversification. Further, the sector catered to by JNJ is not very prone to economic shocks. JNJ has been a good dividend payer in the past, with a dividend yield of 3.4%. In my opinion, the stock is excellent for a long-term portfolio. It also commands a higher rating than the U.S. sovereign rating.
Besides the corporate earnings factor, another looming crisis is the fiscal cliff issue. I personally believe that tax cuts will be extended and the fiscal cliff issue might just be of academic importance in the end. But before we see this decision, there will be several debates and discussions, which will keep the markets nervous.
Also, with the Presidential elections in November, one can expect some policy paralysis in the near term. The corporate sector will also hold back on its spending and hiring as it waits for a clearer policy and tax picture. In such a scenario, it is very likely that the real unemployment rate (U6), which is currently at 14.7%, trends higher or remains stagnant at current levels. Market participants will not take this positively.
The coming debt ceiling issue will create more nervousness for the markets. When the debate for increasing the debt ceiling was ongoing last time, the consumer confidence slipped to a record low in a non-recession period. This clearly indicates the negative impact of such an event on the economy and market participants.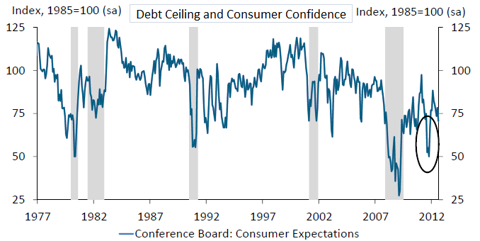 Considering these factors, there is hardly any positive trigger for the markets in the near term. With the Eurozone in recession and China in a phase of a sharp slowdown, the global gloom can also depress equities. I am certainly not of the opinion that equity markets are in a bubble. I had discussed the reasons in one of my earlier articles. Therefore, I view any correction as a great opportunity to consider exposure to stocks, which look relatively expensive at this point of time. A 10-15% correction in markets can make these stocks attractive buys for the long term. On correction, the following stocks can be considered:
BP Plc (NYSE:BP): Long-term exposure to oil exploration companies is a must if one is bullish on the energy sector. Geopolitical tensions, weaker currencies and demand from emerging markets will be the key growth drivers for energy stocks. I personally like BP, which gives me a dividend yield of 5.1%, besides looking promising for long-term capital appreciation. The company is an attractive long-term buy for several other reasons as well. It has an excellent and diversified asset base, presence across the value chain, and presence in alternative investment themes. Further, the TTM P/E is at an attractive level of 7.6. Overall, BP is well-positioned to take advantage of the long-term appreciation in crude oil prices.
Total SA (NYSE:TOT): The French oil giant is another excellent long-term investment option. A strong dollar and cost associated with the North Sea natural gas spill has depressed the stock in the near term, which provides a good buying opportunity. Like BP, TOT has integrated operations and is a globally diversified player. TOT also offers a very attractive dividend yield of 4.8%, and is trading at a low TTM PE of 8.3.
Seadrill Limited (NYSE:SDRL): I like Seadrill as it caters to the oil and gas sector, which I am bullish on for the long term. Also, the company offers a high dividend yield. SDRL provides offshore drilling services to the oil and gas industry worldwide, is also an excellent long-term buy, in my opinion. The company has a diverse asset base of 24 drillships & semi-submersibles, 21 jack-up rigs and 21 tender rigs. Further, 18 newbuilds would serve as long-term revenue drivers once they come into operation in 2013 and 2014. SDRL currently has an order backlog of USD20.3 billion, which gives revenue visibility in the foreseeable future. Being the second largest ultra-deepwater player also serves as an advantage for SDRL in the long term. Investors can consider the gradual accumulation of this exceptionally high dividend yield (8.1%) stock.
Besides these stocks, investors can consider exposure to the SPDR S&P 500 ETF (NYSEARCA:SPY). It has been proven that beating the index is not an easy task. Therefore, the strategy should be simple -- beat the index or invest in the index. From this perspective, SPY looks interesting. The ETF provides investment results that, before expenses, generally correspond to the price and yield performance of the S&P 500 Index.
Disclosure: I have no positions in any stocks mentioned, and no plans to initiate any positions within the next 72 hours. I wrote this article myself, and it expresses my own opinions. I am not receiving compensation for it (other than from Seeking Alpha). I have no business relationship with any company whose stock is mentioned in this article.