Now that we're in the final calendar quarter, too many preferred stock investors are either ignoring, or are unaware of, the risk associated with purchasing shares of trust preferred stocks (TRUPS) above a certain price in today's market.
The provisions of the Wall Street Reform Act that change the formula for Tier 1 Capital, a key measure of bank reserves, go into effect on January 1, 2013. Big banks (assets greater than $5 billion) will no longer be able to count the value of their outstanding TRUPS shares toward Tier 1 Capital reserves starting on that day. It is for this reason that banks have been redeeming their TRUPS at an increasing pace over the last two years as January 1, 2013 approaches (there are a total of 72 bank-issued TRUPS currently trading on U.S. stock exchanges without suspended dividends).
Further, standard prospectus language allows the banks to redeem their TRUPS shares, regardless of the published call date, for the first 90 days of 2013 because of the Tier 1 Capital formula change. So even if a TRUPS is "call protected" (has yet to reach its published call date), such securities will become redeemable on January 1, 2013 just like other TRUPS that have exceeded their call dates (for more detail see the March 5, 2012 Seeking Alpha article titled "The Hidden Risk Of Buying Today's Trust Preferred Stocks").
Final Dividend Quarter
Since the calendar quarter is the most popular TRUPS dividend schedule and we are now in the final dividend quarter before the new regulations go into effect, the risk of TRUPS redemptions is extremely high.
In the event that your shares are redeemed by the issuing bank, you will receive the "redemption price" in cash in exchange for your shares. The redemption price is equal to the security's par value ($25 in this case) plus an amount for the partial final quarter depending on how many days have passed since the last regular quarterly payment.
Here in the final dividend quarter before the new regulations kick in, you would not expect preferred stock buyers to be paying more than the redemption price on any given day for TRUPS shares since the redemption price is what they are going to receive in cash in the event of a call.
11 of 32 TRUPS are Over-priced
There are currently 32 bank-issued TRUPS still trading that use the calendar quarter for their dividend schedule [1]. That is, these 32 TRUPS will reach their next, and possibly last, ex-dividend date in December just days before the new regulations are implemented.
21 of these 32 TRUPS are priced as you would expect; they price at about their redemption price every day and have for several months now.
But take a look at the market prices of the remaining 11 TRUPS that use the calendar quarter for their dividend schedule (October 19, 2012 prices shown here).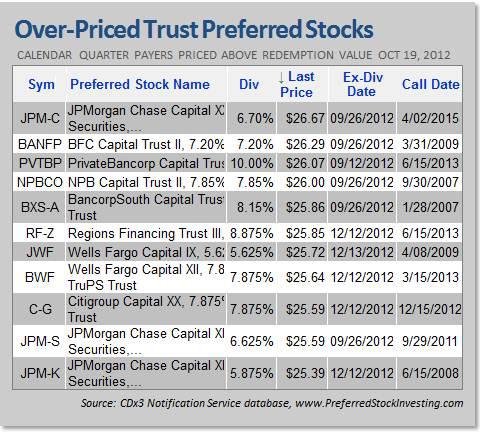 These TRUPS are trading above their redemption price and, consequently, represent extreme risk of a capital loss to those preferred stock buyers considering purchasing shares of these 11 securities.
The JPMorgan (NYSE:JPM) TRUPS that appear on this list are particularly interesting.
The bank has informally stated that it is only going to be redeeming about half of their TRUPS but has declined to say which ones. Investors are betting heavily that JPM-C, JPM-K and JPM-S are not among those that the bank chooses to call.
Notice that JPMorgan's JPM-C is the highest priced of the over-priced probably because of its April 2, 2015 call date. Those purchasing shares of JPM-C at $26.67 are apparently unaware that this security will become callable on January 1, 2013 and will remain callable for the 90 days that follow. The same is true for the other four seemingly call protected issues: PVTBP from PrivateBancorp (NASDAQ:PVTB), RF-Z from Regions (NYSE:RF), BWF from Wells Fargo (NYSE:WFC) and C-G from Citigroup (NYSE:C).
JPM-C paid its most recent dividend on October 2 and becomes callable on January 1, 2013 (regardless of its published April 2, 2015 call date).
JPM-C's 6.7% dividend rate calculates to a daily dividend of $0.00465. If JPMorgan were to announce on December 1 that it is calling JPM-C for January 1 (at least 30 day's notice is required) they would owe shareholders for the final 89 days since the previous dividend payment (October 2), so the redemption price would be about $25.42 per share.
JPM-C closed last Friday with buyers paying $26.67 per share.
While there is no way to tell in advance which banks will redeem which TRUPS between now and January 1 (or shortly thereafter), what we do know is that (A) redemptions of these securities within the next 90 days are currently more likely than ever and (B) in that event, preferred stock investors purchasing shares for a market price above the redemption price will realize a capital loss.
Now that we are in the last dividend quarter before the new regulations go into effect, it is unclear why a buyer would pay more than the redemption price on any given day for TRUPS shares as is the case with each of the 11 above-listed over-priced securities.
Footnotes:
1. The data source for the 32 TRUPS described in this article is the CDx3 Notification Service database. The following image shows the complete filter criteria used to identify these 32 securities. The designation of 'September' for the ex-dividend month provides issues using the calendar quarter as described in the article.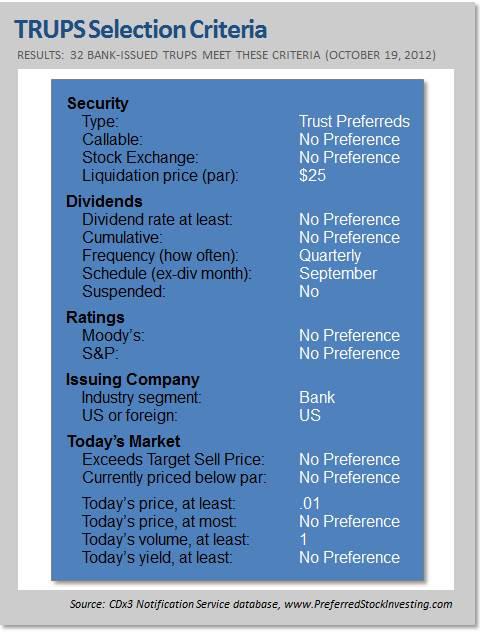 DISCLAIMER: The CDx3 Notification Service is my preferred stock email alert and research newsletter service.
Disclosure: Preferred stocks identified within this article are for illustration purposes only and are not to be taken as recommendations. I have no positions in any stocks mentioned, and no plans to initiate any positions within the next 72 hours. I wrote this article myself, and it expresses my own opinions. I am not receiving compensation for it (other than from Seeking Alpha). I have no business relationship with any company whose stock is mentioned in this article.