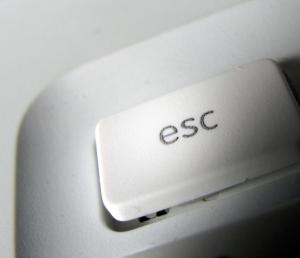 "The PC Is Dead!" screams Barron's, with an RIP headstone on the cover, adding:
As the PC era wanes, Dell and HP will fade from view.

Already, tech investors, long accustomed to a lift from Windows, are primed for disappointment.
Talk about a premature announcement of death. In only a few days, we will begin to get the measure of the PC's future. Barron's analysis of "BW8" (Before Windows 8) data is useless. AW8 (After Windows 8) is when the PC industry's massive advancement is put to the test.
Why is Wall Street seemingly so worked up and pessimistic about the PC industry's future? Barron's suggests that:
Today, smartphones and tablets do almost all of the day-to-day tasks a PC does -- including sending e-mail, surfing the Web, and editing photos -- and do some of them better.
That analysis in grossly wrong about the coming AW8 period in which we will see the PC/tablet/phone (and TV and game console) markets merge in new ways.
Obviously, Barron's has little faith in Windows 8 and the new products about to be revealed to consumers. But the article (and similar negative pieces appearing elsewhere) raises an important question: Why now? Why make such an absolute analysis of an untested strategy just before it's initiated? Do publications/pundits simply want to be the first to say it? Or is there something else afoot?
When Wall Street talks, be wary
Jeff Miller wrote "Why Individual Investors Must Be Critical Consumers Of Information" on Seeking Alpha recently. He discusses the problems faced by investors in sorting through all the pronouncements being thrown about nowadays. Too often, there are reasons to question or discard what we hear and read.
Barron's article and its brethren are a case in point. They should be lightly read, if at all, and are best viewed as support for a contrarian opinion: That the PC industry is taking a significant step forward, which could produce significant sales and earnings growth.
It's okay to be skeptical
Remember that when Wall Street senses opportunity, their first action is to establish a position - not to alert the media and other investors. In fact, Wall Street has been known to make head fakes - i.e., talk up or down an investment they wish to sell or buy.
So, here we are, days away from the PC industry's major, watershed event. Yet, Wall Street is not only belittling it, it's also telling us to expect more bad things from a moribund industry. As proof, they are using the latest, but irrelevant (BW8), earnings reports. Why? Likely Wall Street is being neither simplistic nor magnanimous (i.e., helping us avoid disappointment and loss). More likely, Wall Street has a plan that benefits itself. As skeptics, we can argue that the new Windows 8 strategy makes the beaten-down PC stocks a buying opportunity.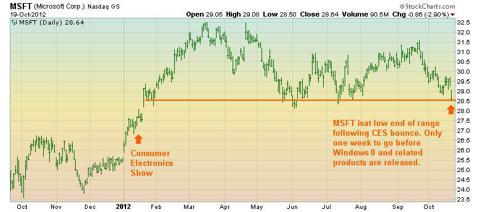 (Chart courtesy of StockCharts.com)
Look to the near-term future for the real information
To learn how well the PC industry's Windows 8 strategy succeeds, we need not wait long. Here are some key dates:
Beginning October 26, 2012 - Windows 8 and associated products are released. Expect busy showrooms and numerous product reviews that generate interest and excitement. Customer reviews will grow, helping measure product quality and desirability.
November-December 2012 - Holiday shopping season - Overall, it could be good, given consumers' rising confidence, spending and borrowing. Sales data and analysis will help measure success. Special days are:
November 23, 2012 - Black Friday sales report
November 26, 2012 - Cyber Monday sales report
January 8-11, 2013 - Consumer Electronics Show - Here we will get a look at what's next. This is when consumers and investors are reminded that all the new stuff released in October isn't the end of the R&D cycle. Building on whatever success has come in the preceding months, investors will develop a vision of future prospects.
January-February 2013 - The first AW8 earnings reports. Here is when we get the real meat. How have the PC firms succeeded in the new Windows 8 world? Now, Barron's can prove that the PC is dead - or not.
The bottom line
Wall Street doth protest too much. The cacophony of warnings should be viewed at least as overly simplistic. Realistically, a healthy dose of skepticism suggests that Wall Street is helping itself first and a wise strategy is to be contrarian: To buy some of those beaten-down PC stocks that they say are bad for our financial health.
Wall Street simply does not have the information to make such negative pronouncements (no one does). The real information will start coming after the Windows 8 release.
So, should we take the risk, run counter to Wall Street's warnings and buy some PC stocks? Why not? Investing is always a weighing of return and risk. In this case, the recent PC stock price drops have increased potential return and decreased risk.
My "AW8 opportunity portfolio" is: Microsoft (NASDAQ:MSFT), Intel (NASDAQ:INTC) and Dell (DELL). I explain my rationale in "This Market's Gift: 3 Unloved Tech Stocks With Upside Potential."
Disclosure: I am long MSFT, INTC, DELL. I wrote this article myself, and it expresses my own opinions. I am not receiving compensation for it (other than from Seeking Alpha). I have no business relationship with any company whose stock is mentioned in this article.