Throughout the years, here at Nortia Research we've gathered several data about data center related stocks, including past performances post-earnings.
As Q3 2012 earnings season opens this week, it may be interesting to have a look at some of these data with a slightly different approach, to see if some investing strategies may be implemented in anticipation of repeated patterns.
Past Performance Is Not an Indication of Future Results
Having reminded that past performances are no guarantee for the future, the chart presenting how the companies under our radar screen behaved post-earnings in the last 6 quarters shows some interesting data: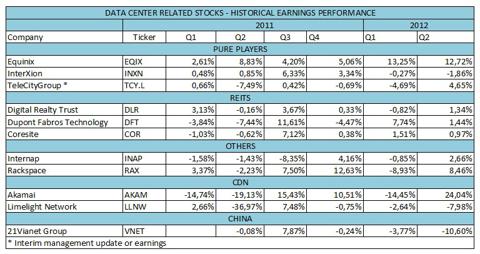 (click on the charts to enlarge)
In order to make it simpler to analyze potential areas of interest among these numbers, we'll be highlighting at least a couple of trends, namely winners and losers, and post earnings surprises.
Winners and losers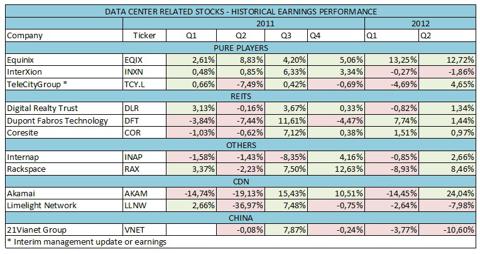 Equinix (NASDAQ:EQIX) looks like quite a boring stock to own at earnings, having moved only on the upside in the last six quarters after announcing its numbers. With a history of beating both its own guidance and analysts expectations, the company has historically delivered good numbers and the market seemed to appreciate it.
At the opposite side of this pattern is 21Vianet Group (NASDAQ:VNET), the Chinese network-neutral data center provider that experienced a decrease in its stock price 4 times out of 5 earnings reports. The company had its IPO in April 2011.
Internap (NASDAQ:INAP) and Limelight Networks (NASDAQ:LLNW) were in the red 4 times out of 6, while InterXion (NYSE:INXN) and CoreSite (NYSE:COR) experienced 4 upward movements in the same time frame.
If we try to search for a common trend among these companies, we'll find out that positive reactions after earnings are slightly higher (55%) than downside movements, although this analysis probably doesn't make much sense - we'd rather look at sub-sectors, to find some useful indications out of these data.
Network-neutral providers have generally delivered good upsides post-earnings for investors (70%), with REITs coming next at 60%. This positive pattern for both groups seems to find a confirmation in the strong price increases achieved by all stocks in these two groups, on average, in the last two years.
Option strategy in expectation of large upside/downside movements
Everyone knows earnings season can be a very risky time for shareholders - however, some companies seem to be more likely to deliver numbers that surprise either on the positive or the negative side.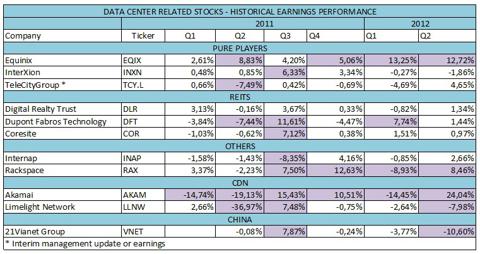 On this chart, we've highlighted those post-earnings performances that exceeded 5%, both on the upside and the downside.
Equinix isn't only delivering positively, but its stock enjoyed at least two increases larger than 10%.
What really stands out, however, under this kind of analysis is Akamai (NASDAQ:AKAM), that has always experienced stock movements larger than 10% post-earnings, in both directions. Competitor Limelight Networks also comes close, with its stock moving more than 5% on 3 occasions, or 50% of the times, including a -37% in one occasion.
Rackspace (NYSE:RAX) and Dupont Fabros Technologies (NYSE:DFT) have also delivered, historically, large movements after announcing their quarterly results.
Options traders might consider some of these companies for their bets in anticipation of a strong post-earnings reaction. In particular, Akamai might be an interesting stock for a strangle strategy, that doesn't need to forecast the direction of the price, but would be a pure bet on the market still reacting vehemently to the company's numbers.
Disclosure: I am long EQIX. I wrote this article myself, and it expresses my own opinions. I am not receiving compensation for it (other than from Seeking Alpha). I have no business relationship with any company whose stock is mentioned in this article.