Yahoo's (NASDAQ:YHOO) PR department may be keeping both analysts and the financial media in the dark as far as the precise intentions of the company's intrepid new CEO, but it doesn't take an official statement to discern what Marissa Mayer is up to. Every decision that Mayer has made over the last two months- from the renewed focus on engineering to the free lunches at Yahoo's URL cafeteria; from the gift wrapped iPhone 5s for every employee to her hiring (and firing) choices- points in the same direction: Googlization.
Welcome to -

Less is More
Mayer is a notorious detail oriented fashionista obsessed with functional design. (The spartan Google Home page was Mayer's creation.) Case in point: Yahoo's soon-to-be-released revamped Home Page.
Fig. 1: The Old Yahoo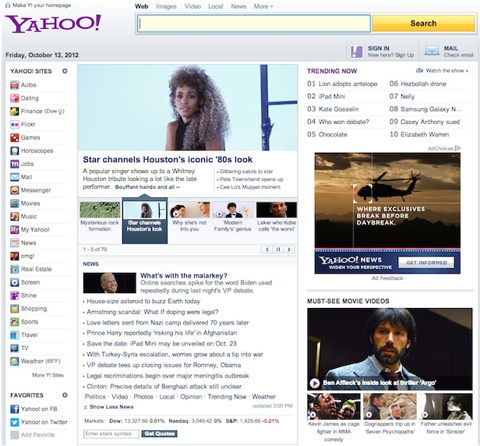 Fig. 2: The New Yahoo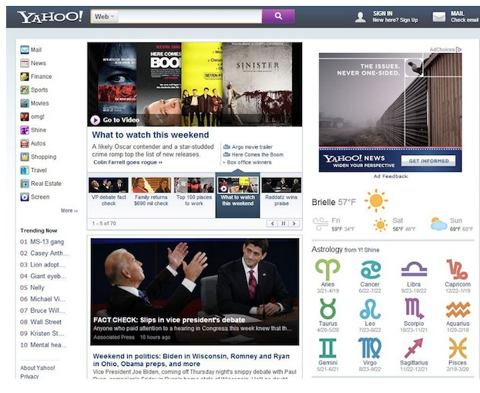 The clutter of links on the left hand side is gone. The Yahoo! Logo is in white, instead of the garish purple we've all come to loathe. Astrology has its own separate module. The Search bar has been cleaned up and centered. Instead of just headlines, the news river has story summaries.
But most importantly, the new Home Page is far more visual and intuitive to use. The dogpile of hyperlinks - an artifact from the dial up days, when link aggregating web portals were the destination of choice - is history. (Good riddance.)
It's Alright to Fail If You Fail FAST
The breakneck speed at which Yahoo is being reorganized is vintage Mayer.
"It's totally fine to fail, you just have to fail fast," Mayer told the audience at Fortune's Most Powerful Women Summit. The key to success is to make small investments with a few people. That way, innovation is fostered and failure doesn't hurt much.
Mayer has informed Yahoo's developers that if an idea can't translate into a full-fledged, ready for delivery product in 6 months -- "don't even bother."
By making a lot of little bets in different areas instead of focusing all of the company's energy on one make-or-break product, Yahoo will operate more like a nimble, cutting edge Venture Capital firm than a bloated media dinosaur.
It's worked before. Many of Google's (NASDAQ:GOOG) greatest hits started off as small bets that aimed for big audiences. Gmail and Google News both started out as a pet project in Google Labs.
Agile Development
Mayer is crowd-sourcing Yahoo's ideas while they're still young and malleable. This mirrors Google's "agile" product development cycle: New ideas are introduced, pruned, and finessed before they go too far in the wrong direction. Small, incremental changes happen continuously, so the real reactions of users can be observed, collected, and incorporated into future designs.
Fig. 3: Agile Development Cycle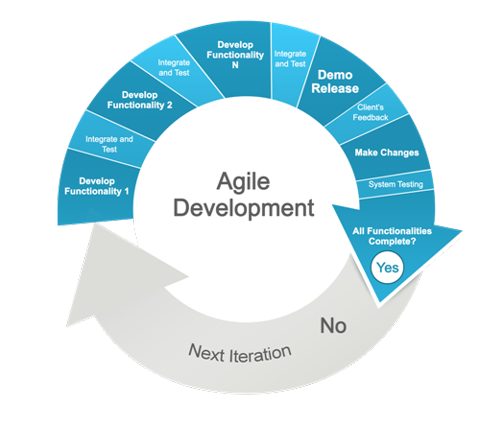 The other way that Google inspires its work force is its incentives structure.
The Rule of $100 million
A.K.A. "The Mayer Rule." The Rule of 100 million is simple: If a product doesn't have a real shot at of reaching 100 million users or generate $100 million toward the company's top line, "don't bother." While that may seem like a very tall order at first blush, the reality is that the time it takes for a game changing product to achieve widespread adoption has diminished considerably.
Fig. 4: Years To Reach 50 Million Users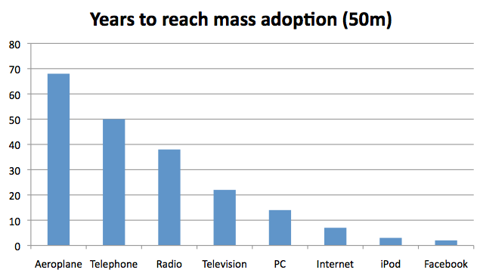 The overnight sensation phenomena is accelerated even further via the network effect of social media. It took Facebook four years to reach 100 million users. Instagram will do it in two. Pinterest hit 10 million users faster than any stand alone site in history.
Good Artists Copy, Great Artists Steal
What better way to remake moribund Yahoo in Google's image than by siphoning off Google's own talent? When it comes to raiding her former employer, Henrique de Castro, Andrew Schulte, Patricia Moll Kriese, Trish Crawley, and Anne Espiritu are only the tip of the iceberg for Mayer. Like her own Xavier's School For Gifted Youngsters, Mayer built an elite training school within Google, the Associate Program Managers.
The APM program represents the crème de la crème of Google's elite: Three hundred potential future Google CEOs-in-training. Some of them have gone on to found other companies, like former APM Kevin Systrom, the founder of Instagram. Others helped develop products like Google Toolbar and Google Analytics. Zuckerberg confidant and current CFO of Facebook, Bret Taylor, founded FriendFeed. Others have moved on to companies like Dropbox.
What all of them have in common is Mayer, who started the program back in 2002 and never let go. One of the first things Mayer did after accepting her position at Yahoo was to shoot off an email to every APM on her Contact List to let them know that she would be in touch. Mayer herself is a venture capitalist, with the inside track on virtually every promising new startup in Silicon Valley. Mayer has promised that she intends to add many such "aqui-hires" to Yahoo's talent pool.
Bottom Line
Meg Whitman recently told The New York Times that Hewlett Packard (NYSE:HPQ) "needs four more years to have confidence in itself."
It's taken Marissa Mayer three months to restore morale and reverse analysts' opinion of Yahoo.
More importantly for Yahoo, investor expectations are modest. Mayer doesn't have to work miracles to impress Wall St., she only has to put Yahoo back on the path to growth. Monday's earnings report provides an excellent entry point for investors looking for a company with Google's DNA, but without the premium price tag.
Disclosure: I am long YHOO. I wrote this article myself, and it expresses my own opinions. I am not receiving compensation for it (other than from Seeking Alpha). I have no business relationship with any company whose stock is mentioned in this article.